Presented By: Lotus Equity Group
How Newark Is Becoming a Hub for Tech and Innovation
---
---
With companies like Amazon eyeing Newark, the city has emerged as a hub for startups and tech companies. We discuss the city's unprecedented growth with Ben Korman, Founder and CEO of Lotus Equity Group, and explore how the city's history of innovation and future development plans are creating an environment for businesses to thrive.
We know that Newark is on the rise as a hub for innovation. Why is Newark so attractive for start-ups and more traditional companies?  
It may seem surprising, but Newark offers some of the fastest internet connectivity in the United States – all for a fraction of what it might cost in New York City. The city features something called Newark Fiber, a citywide, city-owned connection that takes advantage of Newark's long history of tech innovation, allowing companies access up to a 10-gigabit connection for less than 20 percent of what they would pay for in Manhattan. This type of innovation isn't new for Newark, and it's now creating a destination for pioneering tech companies to grow and prosper.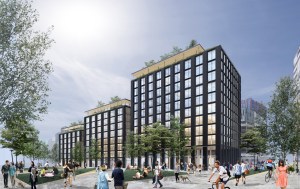 You mentioned that innovation isn't new for Newark – the city has a history of tech?
Yes – the first Bell company's headquarters were built in Newark in 1917. The original copper telephone lines laid under the streets of Newark have now been replaced with fiber. Companies like Audible and Prudential are helping paint a vivid picture of what to expect from Newark in the near future.
How is the city on the rise?
 There are so many signs that Newark is on the rise. Goldman Sachs has invested over $575,000,000 in housing, education, and retail in the city. Edison Properties is spending over $100 million on its Ironside Newark office project – which will include the new headquarters of Mars Wrigley, and the 500 jobs they're bringing to the city – and other infrastructure investments. Basketball superstar Shaquille O'Neal, a Newark native, has invested in his hometown, contributing to the development of the city's CityPlex 12 movie theater and partnering with Boraie Development on the $75 million, 168-unit rental building One Rector. Amazon's Audible is headquartered here, and the Grammies opened their east coast museum here last year.
We've all heard that Amazon is considering Newark for HQ2. What are your thoughts on this? How would this impact the city?
Newark is one of the 20 U.S. cities designated as a finalist to host the second headquarters of Amazon. If chosen, this would bring 50,000 jobs to Newark over the next 10-15 years. Regardless if Amazon settles in Newark, the city is set to see unprecedented growth. Projects like Riverfront Square are set to fundamentally shift the way the city works, igniting significant growth and creating a true 24/7 live, work, play destination.
What is Riverfront Square?
 Riverfront Square is Newark's most transformative mixed-use project, encompassing 12 acres in Newark's Central Business District. Riverfront Square will include up to 2 million square-feet of Class A office space, 1.4 million square-feet of residential space including up to 2,000 apartments, 100,000 square-feet of retail, 185,000 square-feet of hotel and conference space (including 240 hotel rooms), and 30,000 square-feet of arts and cultural space.
What makes Riverfront Square so different?
We're planning to incorporate different types of retail, most of which will be small, neighborhood-supporting, tenant-operated retail, like bike shops, bookstores, coffee shops, or your local barber. We're allocating units for food-related outlets, and large retail for more of a destination, Brooklyn Bowl-type establishment, or a beer garden.
Our design creates an authentic, urban experience. We're also excited to be building the country's largest mass timber building – putting Newark even more on the map. Importantly, we're looking for new, sustainable methods of construction that would put the city at the forefront of these trends. We've previously announced the commercial office building will be the nation's largest mass timber building, which is game-changing for cities around the world.
What do you mean by "mass timber"?
The main office building, at 12 stories and 500,000 square-feet, will be the largest timber-constructed building in the U.S. Using mass timber enhances the wellness of a company's employees and has a very low carbon footprint. We're working with Michael Green Architecture to create a building that truly stands out.
How does Riverfront Square fit into the neighborhood and Newark more broadly?
Riverfront Square is in a prime location – located adjacent to the Newark Broad Street station. Only 17 minutes to Manhattan's Penn Station, Riverfront Square will be within easy walking access of PATH trains, Newark Light Rail, NJ Transit, and Amtrak, while also being just a 10-minute drive or train ride to Newark Liberty International Airport.
In terms of the neighborhood, Riverfront Square will be joined in helping define Newark's future by Broad Street Axis, a 3.7-acre site that will be developed immediately adjacent to Newark's Broad Street train station, on the site of the former Westinghouse property. The site is scheduled to include office, retail, hotel, and residential elements, anchored by a large public plaza. The project will be an example of the "transit villages" Newark Mayor Ras Baraka has spoken of, with entire communities, including sizable pedestrian space, connecting to easily accessible transit options.
Broad Street Axis is the final piece to fully transform the North Broad Street District, which already houses Audible, IDT, and Cablevision, into a fully functioning tech and business corridor.
Riverfront Square will be woven into the broader neighborhood – continuing the revitalization of the Broad Street corridor.