Presented By: RXR Realty
Placemaking Beyond Manhattan
---
---
Real estate firms often look at the bottom line when evaluating new acquisitions and capital improvement projects. However, this is not the strategy for RXR Realty, a vertically integrated owner, operator, and developer in the New York Metropolitan area. Seth Pinsky, Executive Vice President and Fund Manager at RXR, describes the company's investment strategy outside of Manhattan as seeking to achieve three goals.
"First, we look for investment opportunities that will result in appropriate, risk-adjusted returns for our investors. Second, we look to build on the strengths of the communities in which we are investing, improving the lives of those who are already in these communities by creating new services, employment opportunities and amenities, while also attracting new businesses and residents. Finally, we look to address some of the major issues confronting our region, with a focus, in particular, on renewing our region's infrastructure, preserving our region's historic fabric by repurposing seemingly obsolete assets for 21st Century uses, and creating new commercial and residential space that is affordable to a diverse population."
The second prong truly speaks to the company's practice of placemaking; for RXR, finding the balance between new and updated assets and a neighborhood's authenticity is just as important as the bottom line. Pinsky elaborated, "In designing, leasing up and managing our commercial and residential properties, we work very hard to strike this balance, thinking of ourselves as much as stewards of the community as real estate developers."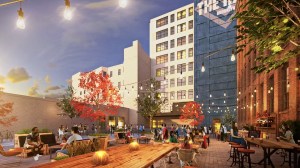 RXR is applying this mindset to its growing Brooklyn footprint through three major assets: The Hall, 470 Vanderbilt Avenue, and 475 Clermont Avenue. "Brooklyn is one of the most incredible success stories of the 21st Century. The key, going forward, is to figure out how to continue to accommodate new residents and businesses without losing the existing residents and businesses that form the fabric that have made the borough so attractive," continued Pinsky.
Additionally, beyond these traditional assets are unique partnerships and acquisitions that differentiate RXR from typical New York based developers. RXR recently purchased the rights to expand Long Island University's Brooklyn campus including a new 18,000 square foot building with a rooftop athletic field, a new residential tower comprising of 34 stories with 476 residential units, and a new parking garage to replace the current outdated structure.
The practice of placemaking began with the company's acquisition of the Starrett-Lehigh building in West Chelsea, which, up until the development of Hudson Yards, saw little in terms of retail and conveniences the average New Yorker expects. Taking on this challenge, RXR turned Starrett-Lehigh into the destination location, renovating the building operating systems and developing robust tenant programming; speaker series, food and beverage tastings, sample sales, salon popups are just a few examples of how RXR turned an office building into a community-centric campus. Additionally, the asset's ground floor is currently undergoing over 40,000 square feet of renovations to create a dynamic retail hub that will not only serve the building's tenants, but the overall West Chelsea community.
RXR is hoping The Hall will build off Starrett-Lehigh's success and become a new destination location in Brooklyn. This ten-building complex covering an entire city block in the emerging Navy Yards submarket is poised to be the next destination location for creatives and collaborators. RXR has the unique opportunity to build this asset's campus community from the start of leasing.
Dave Gise, Executive Director of The Hall, is no stranger to creating these workplace communities. Before joining RXR, Gise helped found the New York City affiliate of the Centre for Social Innovation, a coworking space, community, and launchpad for companies who are changing the world through civic engagement. Gise shared his excitement for the project: "The Hall's urban campus layout, thoughtfully curated retail mix, robust events calendar, targeted local partnerships and socially responsible focus will reinforce a culture which fosters community, collaboration, creativity, innovation and opportunities to make a difference."
When one thinks of the traditional thread of New York City, they think about the Garment District, home to the artists, photographers, studios, and entrepreneurs. The Hall's location in the Tech Triangle paired with its high ceilings, open window lines, exposed brick, and accessibility to DUMBO, Williamsburg, Clinton Hill and Fort Greene make it the new attractive home to this growing population of creators. Aiding this is RXR's commitment to satisfy the commercial demand for reasonably priced space for this demographic.
Joseph Cirone, Executive Director of Cushman and Wakefield, explained his interest in the project. "These buildings are something that everyone needs to see. The Hall represents the authenticity that companies come to expect in Brooklyn and is a special opportunity in that it can accommodate tenants of all shapes and sizes within a 10-building campus."
Cirone's enthusiasm continued, "Couple this with its close proximity to some of the most innovative companies, and premier academic institutions in New York City, and we feel we have a great recipe for creating a whole new hub of innovation in Brooklyn. The talent is here, the neighborhood is here and now, the campus is here."
Currently, tenant interest has been diverse, with requests for 6,500-170,000 RSF including coworking spaces, the arts, entertainment, product design, and test kitchens. One theme that has been consistent on tours is the shared commitment to community on this new campus, while also being authentic to the neighborhood.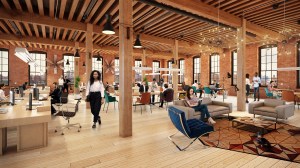 Within the 665,000+ square feet, The Hall will dedicate an ample amount of square footage for retail tenants. Alan Schmerzler, Vice Chairman of Retail Services at Cushman and Wakefield described The Hall's retail space as "suitable for any use—with high ceilings, a very urban feel and excellent connectivity to the project's extensive exterior spaces and to the neighborhood itself."
When it comes to suitable retail tenants, a thoughtful level of curation accompanies each tour request. "We want the retail tenancies here to not only be amenities to the office space portion of the project, but to be a draw for the entire neighborhood. To that end, we are in advanced discussions with a very unique food hall concept, other complimentary F&B tenants, fitness and wellness, day care, pet care and other retailers," Schmerzler continued.
Not far from The Hall is RXR Realty's traditional Class A commercial building, 470 Vanderbilt. The asset's efficient floorplates of up to 90,000 RSF, ceiling heights up to 14'9", expansive window lines providing abundant light and sweeping views, and its ability to create a "building-within-a-building atmosphere with separate lobbies and elevator banks for large tenants made 470 an attractive acquisition for RXR Realty in 2014.
A $74-million-dollar capital improvement program paired with the building's access to multiple subway lines including the C, D, Q, 2, 3, 4, B, M, N, and R line, bus lines B25, B26, B45, and B69, and Atlantic Terminal providing rail service to West Hempstead, Far Rockaway and Long Beach put the asset on every company's radar who requires modern office space and accommodates diverse employee commutes. The commercial appeal of the building will only increase with the competition of its neighbor, 475 Clermont.
475 Clermont is RXR Realty's first mixed-use development project in Brooklyn. Located at the intersection of Clermont, Vanderbilt, and Fulton, 475 will bring 363 multifamily rental units to Fort Greene and Clinton Hill. The amenities for residents will rival luxury buildings in Manhattan featuring in-unit washer/dryers, 24-hour concierge with live-in resident manager, bicycle storage, resident storage, children's playroom, business center with Wi-Fi, landscaped courtyard, on-site pet spa, furnished roof terrace with an outdoor movie screen, grilling stations, and fireplace and 135 below-grade parking. Leasing will commence early 2019.
The retail opportunity at 475 Clermont places RXR in a position of true opportunity. Over 33,000 RSF of ground floor retail, featuring 16' ceiling heights, is being thoughtfully curated to not only amenitize the building, but also service the neighborhood. 475 Clermont's adjacent location to 470 Vanderbilt allows RXR to create a commercial and residential hub where the mantra of Live, Work, Play can be fully executed.
While committed to Brooklyn, RXR also sees the value of placemaking in Queens, as evident in 470's sister property, the Standard Motor Products Building, also known as SMP, in central Long Island City. SMP displays many of the features that explain the growing appeal of LIC to millennials and companies—loft like spaces, great ceiling heights, breathtaking views of the skyline and multiple subway lines which provide quick access to Manhattan. The asset also features a complete 43,000 square foot rooftop farm run by Brooklyn Grange.
Ben Flanner, President and Director of Agriculture at Brooklyn Grange, explained the extent of the construction in 2010, "It was the first of its kind—the largest soil-based farm in the world at the time, and the SMP building was a great location for the farm.  The view was stunning, the subway was close, and the neighborhood had a gritty industrial feel which added to the adventure in finding the vegetables and greenery on the roof."
As LIC evolved, so did Brooklyn Grange and its interaction with the community. Flanner elaborated on this shared growth, "We've hosted a weekly farmers market since that first season; originally it was on Wednesdays and catered to our neighbors in the building, but a few years ago we realized that we had reached a critical mass of residential neighbors in the surrounding area, so we shifted our focus to Saturdays, when local families can come up for a visit."
"The farm has hosted tens of thousands of visitors from around the world through the years, and it has been an amazing privilege and journey to grow hundreds of thousands of pounds of healthy vegetables for our community in such a unique environment, and on top of this historic building," concluded Flanner.
While Brooklyn Grange is popular touring destination, the commercial office space is also coveted by companies looking to take advantage of the building and neighborhood. Brett Bedevian of WeWork Space Services has seen his client, Empower, expand twice within three years in SMP. "The building was highly accommodating to our tenant, allowing for shorter term deals in their smaller, easy-to-combine suites," Bedevian explained. Office availabilities in the building include 25,000 RSF on the ground floor, 7,000 RSF on the fifth floor, and a prebuilt collection ranging from 1,000 – 4,000 RSF.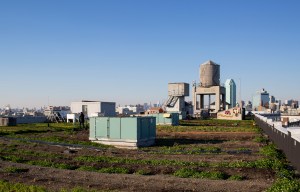 RXR pursued desirable projects in Queens beyond traditional office space including major infrastructure projects. Additionally, RXR recently purchased three development sites in Maspeth, Queens. Seth Pinsky explained the acquisition, "For many years, we were told that New York was a post-industrial city in which most industrially-zoned land could be repurposed for so-called higher and better uses. However, for our city to function efficiently and cost-effectively, we still need to procure and distribute goods in and from locations that are proximate to where they are ultimately going to be consumed. This is doubly true in a world in which fast turn-around, online retail is quickly expanding. For this reason, we are excited about the opportunity presented by our 56-19 Grand Avenue in Maspeth, where we are working with our partner, LBA Realty, to turn a remnant of New York's 20th Century industrial past into an exemplar of New York's 21st Century industrial future."
 When large developers enter untapped markets, a common fear is that gentrification will transform the neighborhood. Where RXR excels is finding the balance between progress and authenticity. The company takes pride in recognizing the wider interest in the dynamics of New York that are beyond the main-and-main in Manhattan and respects its responsibility as a place-maker.
470 Vanderbilt
,
475 Clermont
,
Alan Schmerzler
,
Ben Flanner
,
Brett Bedevian
,
Brooklyn Grange
,
Cushman & Wakefield
,
Dave Gise
,
Joseph Cirone
,
New york city
,
Queens
,
RXR Realty
,
Seth Pinsky
,
Sponsored
,
sponsored-link
,
Standard Motor Products Building
,
Starrett-Lehigh
,
The Hall
,
West Chelsea
,
WeWork Space Services