G'Day, USA! Aussie Brands Make Big Retail Waves in America
---
---
Down Under is heading upward, as Australian brands have been steadily making headway in the New World. Since 2015, a variety of offerings, from coffee to clothing, have opened up shop in U.S. cities like New York and Los Angeles, and the trend shows no signs of slowing down.
Aussie brands increasingly running out of space to expand in their home country are coming to America. Attracted to the sheer population size and depressed retail market, they'd like to make a mark in the U.S., similar to those of brands from Asia and Europe.
"For many, opening an American physical retail space is still considered a benchmark for success and recognition," said retail pro Caleb Petersen, a vice president at RKF, who brokered deals for Australian tea-chain T2's. New York City itself remains a "unique market for testing new concepts" with a diverse audience of millions of residents and tourists.
Petersen noted some Australian brands have met consumer hopes for something unexpected and exciting.
"Australian fashion brands hit the perfect mark of art, fashion, culture and individuality that resonates with the consumer through their exotic expression and design," Petersen said.
Two of the Aussie brands he specified are women's outfitter Scanlan Theodore, which opened its first U.S. stores in Manhattan last year, as well as Bluestone Lane Café, which has five coffee shops in New York City listed on its website.
Sarah Blank, the co-CEO of Scanlan Theodore Americas, said that her company opened its first physical location outside of Australia because the company sensed a "gap in the market…[for] high-quality…stylish, good-value women's wear… [We] were capitalizing on the opportunity in the market… We have also noticed a high demand for professional women wanting beautiful, chic, powerful workwear."
Scanlan Theodore has been successful in Australia for 30 years, with 19 self-contained locations and several more in-store boutiques. The company opened a Soho location at 117 Prince Street last year and a boutique in the Flatiron District at 7 East 19th Street this March. "We always planned to have more than one store but the success of our first store impacted how quickly we opened…[the second] store in Flatiron," Blank said.
She expects the push from Australian retailers into the U.S. market to continue. "[Coffee], wine, clothing, architecture….. It seems the U.S. consumer is responding to what Australia has to offer."
In June, Australian brand Gumption Coffee signed a 6,000-square-foot, 10-year lease in Industry City in Sunset Park, Brooklyn, as Commercial Observer reported at the time. It marks the Sydney-based coffee chain's first location abroad.
There are currently three Gumption cafés in Australia, and the brand's roastery has a cult following, winning the prestigious Sydney Morning Herald Good Food Guide's Coffee of the Year in 2014 for "utmost dedication to the bean." While its aesthetic remains the same, the company intends to expand its offerings beyond coffee, Gumption CEO Clare Lim said, adding that she is excited to "explore the foodie side of [Gumption]."
As for the future, Lim said, "[We'd] love to expand, but we'll wait to see… We aim to serve the best coffee to New Yorkers. We're challenged that way and we're excited that way."
Industry City makes for a good location for Gumption, the development's leasing director, Kathe Chase, noted. She said the sprawling campus provides a "diverse food hub" with thousands visiting daily, making the ideal place for the "edgy…industrial chic" aesthetic of Gumption.
Chase added that she sees the trend of international businesses acquiring interest in America as being primarily focused on "food from different ethnicities and countries" that generates interest and excitement.
The success of Australian-founded café chain Bluestone Lane is evidence of this.
The chain has no brick-and-mortar locations in Australia itself, but the company's ethos is distinctly Australian. CEO and Aussie expat Nick Stone founded the brand because he was disheartened by what he called the "very transactional" American coffee culture. He decided to create an atmosphere closer to the one he had experienced in his hometown of Melbourne, wrote Bluestone Lane spokesman Andrew Stone in an email, one where the "baristas knew his name and order, and a coffee shop felt like a place he could really escape for a moment from his busy workday."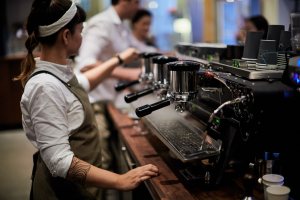 Its first location opened in 2013 at 805 Third Avenue in Midtown and the company has since grown to 30 outposts across America in New York, New Jersey, Philadelphia, Washington D.C. and Los Angeles. There are more than a dozen Bluestone Lanes in Manhattan and Brooklyn alone, according to its website.
Bluestone Lane has had success with its physical stores, Stone wrote, because "Bluestone Lane [focuses] on providing consistently premium coffee and fare along with an experience that focuses on a genuine human connection…We're effectively exporting the best of our Australian café culture to the U.S."
Enthusiasm for Bluestone Lane shows no sign of abating any time soon; billionaire Stephen Ross, the chairman of Related Companies, has invested, and the coffee company plans to expand to 100 locations within three years.
Bluestone's reasons for taking on the U.S. market were very similar to fellow Australian brand Ministry of Coffee's decision to open a location in the Westwood neighborhood of Los Angeles.
"There was not really anybody doing Australian coffee," said Gabe Kadosh, a vice president at Colliers International based in L.A., who brokered Ministry of Coffee's 1,600-square-foot location at 1010 Glendon Avenue and is working with the brand to open others. "It's an untapped market in the U.S."
Since Kadosh did his first deal with Ministry of Coffee he's had 10 referrals from Australian businesses looking to open spaces in L.A.—the most out of any market Colliers is in (between 69 countries) aside from New York—with many are drawn to the West Coast for a simple reason: weather.
"They thought it had similarities to the weather in Sydney," Kadosh said, adding that California's relative proximity to Australia helped edge it out over Manhattan. "They wanted to be in a place that people are out and about, where they're people walking around, where it's comfortable to sit outside."
Other brands that launched their U.S. presence in L.A. include clothing chain Cotton On, wedding dress designer Grace Loves Lace and jewelry shop Lovisa.
Jason Greenstone, a senior director at Cushman & Wakefield, sees some of the excitement for Australian brands as a cultural trend and a testament of the increasing power of social media marketing. Over the past few years, he said, he's seen a significant number of Australian brands establish themselves in America, first in wholesale and then with independent pop-ups. Scalan Theodore, for example, had a pop-up boutique in Soho in 2017 before opening its first location in 2018.
"With the evolution of online shopping [and] social media…driving traffic [and] the ability to attract consumers through other outlets," Greenstone said, Australian brands can appeal directly to American consumers. There has always been a "coolness associated with Australian brands," he said. "Australia is so far away but…[so] ahead" in trends, such as activewear and health consciousness.
On the other hand, he cautioned prospective international retailers looking to take the plunge in U.S. to beware the challenge that is geography. The sheer distance between America and Australia makes establishing a supply chain a major difficulty. "[Brands] that can expand" are the ones that "have found local partners" to help with everything from distributions to investments, he added.
While brands like UGG have been in the U.S. market since the 1990s, the trend has really started to pick up steam in the past two years, according to Greenstone.
Meanwhile, the depressed retail market may actually be beneficial to foreign brands eyeing the American market, said retail consultant Kate Newlin of Newlin Consulting. "The cost standard is reduced because the retail climate is challenged…it's so tempting," she said. Merchandise with a "different spin," Newlin added, could be an "adrenaline hit of success."
That international brands are starting off with their own stores is more recent; Newlin pointed out that most used to begin modestly "under auspices of a well-known American [company]" such as Bloomingdale's. But "the model is changing," she explained, with social media allowing brands to amass a loyal following and become recognizable enough to start out on their own.
Once other brands have fully saturated their own markets, New York City retains its allure despite a wobbly market. As Newlin concluded about the ambitions of overseas companies, "How can you expand? If you've got a good concept and vitality…you've got to give it a shot [in America]."
With additional reporting provided by Nicholas Rizzi.
805 Third Avenue
,
Bluestone Lane
,
Caleb Petersen
,
Colliers International
,
Convict
,
Food & Drink
,
Gabe Kadosh
,
Gumption Coffee
,
Industry City
,
Jason Greenstone
,
Kathe Chase
,
Nick Stone
,
Related Companies
,
RKF
,
Sarah Blank
,
Scanlan Theodore
,
Stephen Ross
,
T2