Euro Retailers Sense Opportunity Here While US Brands Look to Old World for Salvation
---
---
Last week, while JLL retail pro Michael Hirschfeld was in London for business, he learned of three U.K. retailers collapsing.
Those were the U.K. arm of Toys "R" Us, which went into insolvency administration, Maplin Electronics, which failed to find a buyer to get it out of administration, and dining chain Prezzo, which is being restructured. In addition, the 600-fleet London fashion chain New Look is looking to make deals with landlords to close underperforming stores and reduce rents.
The news sounds eerily similar to headlines in the U.S. as bankruptcies, e-commerce and the popularity of discount department and specialty stores have impacted the retail business on both sides of the pond.
"I think the retail challenges are universal," said Hirschfeld, a vice chairman of national retail tenant services at JLL who spends 80 percent of his time bringing retailers from Europe to the U.S. and vice versa.
This comes, however, with a big caveat.
It is often said that what happens in the U.S. market will then follow in Continental Europe and Great Britain. But JLL warned in a retail report comparing the U.S. and Europe at the end of 2017, "we shouldn't assume markets automatically mirror each other."
In Europe, and the U.K. in particular, retailers braced themselves for the change in shopping patterns due to e-commerce faster and earlier than did their U.S. counterparts, according to the JLL report.
And beyond the internet, there are clear differences between the two markets.
One of the big ones is the sheer amount of retail space available in the U.S., in large part due to an excessive number of shopping centers. In the U.S., there is 13,713 square feet of leasable shopping center space per 1,000 people, JLL determined at the end of last year. In the U.K., by contrast, there is 3,175 square feet per 1,000 people, and in Europe as a whole, there is 2,335 square feet.
And the European retailers smell the opportunity—many view the U.S. as if "it's on sale," Hirschfeld said. "You're seeing rent levels that you could achieve in the financial crisis. It's a very opportune time. The demand is super strong."
Hirschfeld brokered deals to bring British clothing company Superdry to various cities in the U.S. and is working on a deal for British toy store Hamleys to come to New York City. Accessories brand Furla, which comes from Milan and already has a store in Manhattan, is expanding with a new lease in Aventura Mall in Miami, Fla. (one of the top malls in the country), and one in the Forum Shops at Caesars in Las Vegas (another top U.S. mall) with likely another three or four more in major markets, he said of his client.
Susan Kurland, an executive vice president and a co-head of global retail services at Savills Studley, said that the difference between retail in Europe and the U.S. is the vacancies.
"The difference is their spaces are filled," Kurland said. "You walk down our Madison Avenue, and almost every store on Madison Avenue is available."
She is working with a high-end Chinese-owned Milan-based company, which is looking to enter the U.S.
"[The owner] feels the only places to expand are China and the U.S. as those are the two most important markets," the broker said. "They're in…the exclusive places in China. They're on the important street in Milan. He feels that the U.S. is really important for his expansion."
While there will be more store closures in Europe, JLL determined that the continent is "unlikely to experience the sheer volume of closures currently being forecast in the U.S."
Another distinction between the U.S. and Europe is that most of Europe employs a high-street model rather than a shopping-center model. Furthermore, in shopping centers, the U.S. has relied on department store anchors (which have been one of the worst victims of e-commerce and commoditization), JLL noted. In Europe, on the other hand, shopping mall owners have been quick to switch gears with their anchor tenants, often turning to food-and-beverage concepts, and they are more diverse in their offerings.
Yet another important difference between European and U.S. leases is the rent structure. In the U.S., when a tenant signs a lease it knows what the rent is for the entire term. In the U.K., for example, you may sign a 10-year deal, but every couple of years you go through a fair-market rent review process, Hirschfeld said, so you don't know your rent.
But one thing both places have in common is that consumers have so many options for how they want to shop.
"We're seeing across the board a fragmentation of distribution," said Betsy McCullar of Hilltop Alliance, who develops and executes marketing and strategy solutions for brands and businesses. "Western Europe is even more fragmented than the United States because, for example, the U.K. and Germany—and France, to some extent—have a big mature structure of department stores. But Italy and Spain are still dominated by one-off specialty stores."
Among the European brands that are on the fast track in the U.S. are fast-fashion brands Swedish Hennes & Mauritz (H&M), Zara from Spain and the U.K.-based Reiss Ltd., The Wall Street Journal reported in May 2017. Amsterdam-based Scotch & Soda is also popping up in the U.S. with 28 free-standing retail stores, with a store at Woodbury Common Premium Outlets in Central Valley, N.Y. opening on March 30. European discounters like German grocer Aldi, German competitor Lidl and Irish clothing company Primark are on a tear in the U.S., Bloomberg Gadfly pointed out last October. International cosmetics companies like Rituals from Amsterdam are taking New York City by storm. Plus there are food chains like Wagamama, an Asian food concept that actually hails from London, that has set up shop in New York City and Boston.
When entering the U.S., European retailers focus on major cities for entrée.
Since they're used to high streets at home, European retailers want to rent on a U.S. high street. And they generally enter by way of one of the gateway markets of New York City, Miami, Los Angeles, San Francisco, Chicago and Las Vegas, Hirschfeld said. They often choose a U.S. location that is most similar to where they hail from, Hirschfeld said.
"Brands usually like to do either the East Coast or the West Coast initially, and I believe that most start on the East Coast first," said Robin Abrams, a vice chairman of retail at Eastern Consolidated, with New York City being a priority due to its tourist population, ease of navigation, walkability and great public transportation. For U.K. retailers, New York is logical, Abrams said, "because it is more similar" than other places in the U.S.
Interestingly, CBRE's most recent annual global retail report highlighted Philadelphia as a target city for international retailers in 2016. That year, Italian furniture company Natuzzi Italia and Superdry set up shop in Philadelphia, the fifth-largest city in the U.S. The market was appealing, the report said, because of its increased millennial population, income growth, new multihousing developments, burgeoning food and retail scene and reputation as a tourist destination.
But there's no refuting that New York City often is the beau ideal market for European retailers looking to expand abroad.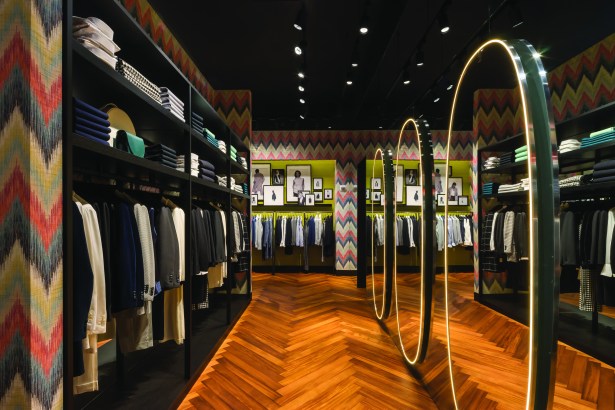 "Retailers looking for a first or second opportunity look at New York," said Mark Kostic, a vice president of retail leasing in the U.S. at Brookfield Property Partners. "Everyone's next step is a global flagship in New York."
Kostic worked on the deal to bring European suitmaker Suitsupply to Brookfield Place. The brand has fared well since the men's store opened about a year ago, and the women's store Suitstudio opened this past November, he said.
Jason Pruger, an executive managing director at Newark Knight Frank, said he will be helping Black Sheep Coffee expand from London into the U.S. come springtime. He anticipates that Black Sheep will enter the country by way of New York City.
"We are looking to expand in the U.S. because we have be inundated with customer requests, particularly in the last few months—mostly Americans living in the U.K. or who came across Black Sheep while visiting the U.K.," said Gabriel Shohet, one of the co-founders of Black Sheep Coffee. "New York City has many Black Sheep fans but is one of four U.S. cities [including Chicago, Washington, D.C.. and Atlanta] we have shortlisted as a potential starting base for a U.S. market entry."
Faith Hope Consolo, the chairman of Douglas Elliman's retail leasing, marketing and sales division, said that New York City is "the shopping capital of the world, and the No. 1 leisure activity in this country is shopping. Yes, New York City is the center of the world. Companies are willing to risk everything to make it here. Just like the song goes, 'If you can make it here, you can make it anywhere.' "
Going the other way, U.S. retailers often start in London for their European expansion, where English is the native language. Indeed, companies from the U.S. marked the majority of new international retail entrants to London in 2016, according to CBRE's global retail report. (Hirschfeld called London "probably the retail capital of the Europe in many ways.")
But London is desirable for just about any retailer looking to make an entrance on a global stage. "Overseas brands continue to see London as the pathway to greater expansion" in Europe, the Middle East and Africa, or EMEA, the CBRE report said. London was the second most-targeted market globally for international retailers entering new markets in 2016 (behind Hong Kong) and 10 markets in EMEA made the list of 19 global cities with the greatest international retailer presence. And this was the year of the Brexit vote for the U.K. to leave the European Union, so presumably the vote did not rock anybody's faith in London retail.
At the end of last year, New York-based high-end fitness brand Equinox opened its first standalone E by Equinox location—an even higher-end Equinox—in central London. "Opening our first standalone E by Equinox in one of the most esteemed neighborhoods in London was only fitting," Gentry Long, the managing director of U.K. operations for Equinox, said in a press release in December 2017. "We're thrilled to introduce an elevated take on the private members' establishment with fitness at its core."
Some in-demand cities for U.S. retailers going abroad are Germany's Munich, Berlin, Hamburg and Frankfort for fashion brands and food and beverage brands, Hirschfeld said. And there's Paris, France and Milan, Italy. He has not seen a lot of demand for a Spain brick-and-mortar location.
In the last coupe of years, Hirschfeld's team has brought Detroit-founded Shinola watch, bicycle and leather company to London. And his team brought Seattle-based outerwear company Filson to London.
"What you must look at when you're looking throughout Europe, or Asia or South America is products that are transferrable to other markets," Virginia Pittarelli, a principal of Crown Retail Services whose clients have included Sephora and Godiva, told Commercial Observer late last year."That's really the key."
Aldi
,
Aventura Mall
,
Betsy McCullar
,
Black Sheep Coffee
,
Brookfield Property Partners
,
Crown Retail Services
,
Douglas Elliman
,
E by Equinox
,
Eastern Consolidated
,
Faith Hope Consolo
,
Filson
,
Forum Shops at Caesars
,
Furla
,
Gabriel Shohet
,
Hamley's
,
Hennes & Mauritz
,
Hilltop Alliance
,
Jason Pruger
,
JLL
,
Lidl
,
Maplin Electronics
,
Mark Kostic
,
Michael Hirschfeld
,
Natuzzi Italia
,
Newark Knight Frank
,
Prezzo
,
Primark
,
Reiss Ltd.
,
Rituals
,
Robin Abrams
,
Savills Studley
,
Scotch & Soda
,
Shinola
,
Suitstudio
,
Suitsupply
,
Superdry
,
Susan Kurland
,
Toys R Us
,
Virginia Pittarelli
,
Wagamama
,
Woodbury Common Premium Outlets
,
Zara
,
CBRE