Flight Plan: Making Queens' Airports First-Class or, at Least, First-World Hubs
---
---
Given that tourism accounts for over $43 billion in spending every year and supports almost 400,000 local jobs, according to New York City's visitors bureau, it might be perfectly reasonable to call the 10 square miles in Queens that make up LaGuardia Airport and John F. Kennedy International Airport some of the Big Apple's most productive real estate.
As any frequent traveler knows, however, all is not well in the skies over New York City. A report earlier this year from Global Gateway Alliance, an organization that studies air travel in the Big Apple, found that on-time performance worsened at all three of the major airports in or near the city last year. Queues at Transportation Security Administration (TSA) checkpoints are longer than ever nationwide. And passenger terminals at LaGuardia, in particular, have been the butt of travelers' jokes since 2014, when Joe Biden, at the time the vice president, compared the facilities to those from a "third-world country."
But though nothing happens fast in the capital-intensive and safety-conscious world of commercial aviation, the pair of airports that serve as Queens' gateways to New York City may have finally reached an inflection point.
LaGuardia, the compact domestic hive that juts into Flushing Bay along Queens' northern boundary, is getting a new 1.3-million-square-foot central terminal, the product of a $4 billion construction effort scheduled to wrap up in 2021 and the first stage of a top-to-bottom rebuild of the airport's passenger facilities. Despite initial disruptions to car traffic when the project began, work has proceeded with almost miraculously little fuss as the company responsible for the project's Terminal B, LaGuardia Gateway Partners, proceeds, in effect, to build one facility on top of another.
Meanwhile, terminal operators at JFK, 10 miles southeast, are ramping up for an expansion of the hub's terminal facilities expected to cost about $10 billion. (The Port Authority of New York & New Jersey, which runs both airports, has committed to chipping in $1 billion to the JFK project, with the rest coming from private stakeholders.) As plans for the expansion take shape at JFK, which extends into Rockaway Bay south of Queens' far-flung Howard Beach and South Ozone Park, operators at the airport's six working terminals are vying for the opportunity to win the most space and airline traffic, amplifying an already starkly ruthless market for commercial flying in New York City.
Making the best of it
The competition is fierce because airlines at LaGuardia and JFK are limited not just by terminal space but also by Federal Aviation Administration decree. LaGuardia and JFK are two of only three airfields in the country subject to "slot controls" from the Federal Aviation Administration, which require air carriers to vie for scarce takeoff and landing opportunities. (The third is Ronald Reagan Washington National Airport, in Arlington, Va.) At JFK, the congestion stems from immense demand on the part of airlines to fly into New York City's marquis international airport. At LaGuardia, the airport's pair of short intersecting runways is a primary culprit for limited capacity.
At either airport, new runways would be the only long-term solution to increase capacity significantly, according to the latest study by the Regional Plan Association, a think-tank that produces generational transportation schemes. But land constraints at both facilities make new landing strips a pipe dream, at least in the middle term.
In response to questions about the agency's priorities for improving service at the airports, a Port Authority spokeswoman said that it was working with "intense focus" to transform them for the 21st century.
In the meantime, terminal operators and airlines are scrambling to give passengers the best experience possible at the two airports given that delays are often inevitable.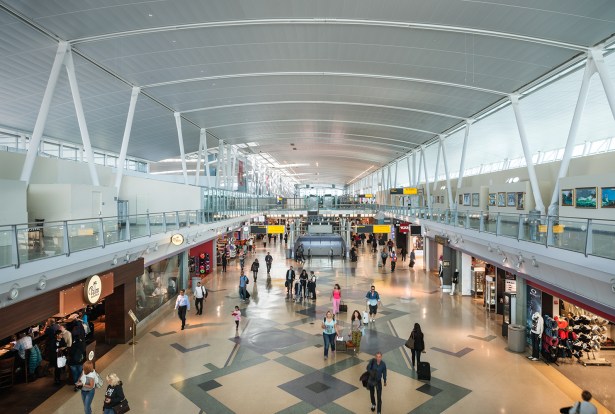 JFK's Terminal 4, home to Delta Air Lines as well as dozens of international carriers, represents a model unique among the JFK's passenger facilities because it's the only terminal at the airport that's operated by a private company independent from the airlines. As a result, the operating company, JFKIAT—a joint partnership led by the company that runs Amsterdam Airport Schiphol—is incentivized to woo airline customers with excellent service and low prices. Since the company gained control of the terminal from the Port Authority in 2001, its revenue has come from the airlines it serves, which pay JFKIAT a per-passenger fee, and from retail leases. (Roel Huinink, a Dutchman who became JFKIAT's CEO at the beginning of August, declined in an interview to specify how much it charges airlines and retail tenants.)
On a tour of Terminal 4 last week, Robert Pyrka, JFKIAT's director of airline and capacity planning, pointed out the ways the 2-million-square-foot terminal, which opened in 2001, is designed to run as efficiently as possible. Some measures are common-sense solutions: Airline logos that adorn check-in counters can easily be switched in and out, allowing carriers to quickly swap counters throughout the day depending on when their flights are scheduled to depart. Elsewhere, the terminal has enlisted technology to speed up traditional choke points, like the 66 kiosks that automate the passport control process for travelers arriving from abroad.
Indeed, whether or not passengers are aware of the technology, the technology is aware of the passengers. Sensors track their movements from the curbside entrance all the way through the queues for security screening, generating data that JFKIAT is eager to share with the TSA—the agency of the U.S. Department of Homeland Security that has authority over the security of travelers in the U.S.—and the airlines that use the terminal's gates, Pyrka said. Eventually, the company hopes to make the data publicly available so passengers can tell how early they should arrive.
Still, an intricate balancing act is in evidence everywhere in the facility: Solving one problem often creates another, according to Pyrka. Most of the terminal's 36 gates are capable of hosting the biggest passenger aircraft, Boeing 747s and Airbus A380s, but to accommodate them, jet bridges had to be widely spaced: The A380's wingspan is more than 250 feet. As a result, the terminal's longest concourse is more than half a mile from end to end—a seemingly endless walk to catch a flight, although moving walkways speed up the trip.
On the other hand, all that space gives JFKIAT enormous flexibility when it comes to shuffling jumbo jets. T4 also controls 10 nearby remote airliner parking spots, known as hard stands, where passengers can board or disembark on staircases and then ride busses to the terminal. As a result, Pyrka said, arriving airliners rarely have to idle on taxiways while they wait for an open gate—a contrast with other JFK facilities that are more constrained. The extra room helps the terminal keep flights moving on time. Walking past a giant South African Airways A340, just pushing back from its gate, Pyrka noted with satisfaction that the flight was leaving five minutes early for its 15-hour trip to Johannesburg.
An aerial puzzle
The challenges of easing congestion don't end when airplanes leave the ground, however.
Consider the three-dimensional jigsaw puzzle that the FAA must solve to get domestic airline traffic safely to the ground at LaGuardia, JFK and Newark Liberty International Airport in Newark, N.J.—each among the country's busiest. Flights arriving to Newark often fly along a northeast-southwest route that presents an obstacle to flights arriving to LaGuardia from points west of New York City.
As a result, even flights arriving to LaGuardia from northern cities like Chicago or Cleveland must often fly out of their way to approach New York City from the south, overflying Staten Island and Bay Ridge, Brooklyn, before proceeding north toward the airport over the Hudson River or over Williamsburg, Brooklyn, depending on which runways are in use. That northbound LaGuardia traffic typically passes over New York at about 3,000 to 5,000 feet—which in turn blocks domestic airliners bound east to JFK from descending to the airport directly.
That means that those domestic arrivals to JFK have to take the most circuitous route of all. In one typical pattern, flights from places like the Midwest, Texas and California fly over Manhattan and LaGuardia airport at over 10,000 feet, before descending in a languid spiral that takes them well southeast of JFK before eventually aligning them with the airport's southeast-facing runways.
Things get more complicated yet when you account for the additional traffic bound for the region's smaller airports, which nonetheless handle a tremendous amount of corporate and general aviation traffic. Teterboro Airport, about 12 miles north of Newark in New Jersey and the same distance northwest of LaGuardia, is an especially pesky presence because an average of almost 500 small planes take off and land there every day and must be kept clear of the city's airline traffic. Better integrating smaller area airports is a goal for the FAA, a spokesman for the agency said, describing how the agency recently designated a new arrival procedure to LaGuardia's southeast-facing runway that dodges the paths Teterboro traffic takes.
The new approach's "flight path avoids the airspace near or above Teterboro Airport, enabling the airports to continue to operate safely and efficiently during poor weather conditions," the spokesman said.
Further behind-the-scenes work is underway at the crucial but unassuming facility on Long Island, in Ronkonkoma, N.Y., where FAA radar controllers give radio commands to planes arriving, leaving and overflying the region. Airplanes that are taking off and landing get clearances from controllers in each airport's tower, but as soon as they're above 1,500 feet or so, they're transferred to the controllers in the Ronkonkoma radar room.
There, the FAA has rolled out a new automation tool, called time-based flow management, that monitors how many flights are en route to each local airport and determines whether volumes are so high that controllers will have to delay planes in the air or on the ground at their origin. The FAA has also increased the number of controllers at the Ronkonkoma facility "to better monitor system operations so developing situations that might impede flight operations can be resolved quickly," the FAA spokesman said, although he did not provide detailed information about how many controllers worked there.
Lamenting short runways
No matter how gracefully flights are controlled in the air, the severest constraint at LaGuardia remains the fact that all flights in and out need a turn on the airport's stingy pair of intersecting runways.
Though expansion would be ideal, geography has conspired to make that a difficult proposition. To the south, east and west, the airport is bounded by heavily developed residential areas of College Point, Flushing, East Elmhurst and Jackson Heights. Rikers Island and the Bronx would seem to cut off any chance of growing the airport to the north.
The airport's cozy confines can make operations difficult because takeoffs and landings on shorter runways can offer a small margin of error, especially when the weather doesn't cooperate. Those two factors combined to cause a high-profile accident in 2016, for instance, when a chartered Eastern Airlines Boeing 737 carrying Mike Pence—at the time, the governor of Indiana—ran off the end of one of LaGuardia's runways. On a night when reduced visibility obscured the pilots' view of the runway during the approach and when rain coated its asphalt, the Eastern Airlines crew didn't touch down until it had already overflown more than 4,200 feet of pavement, leaving just 2,800 feet to stop the jet, according to the National Transportation Safety Board. The NTSB's investigation concluded that the flight crew should have landed sooner or aborted the approach. But other airports would have left the pilots with more room to correct their mistake. If the pilots had erred in the same way while landing on JFK's longest runway, they still would have had 7,000 feet to bring the plane to a stop—more than enough room. (No one was hurt in the incident.)
Of course, the number of runway-related problems at LaGuardia is vanishingly small compared with the total number of takeoffs and landings there each year: none occurred in 2017 with over 369,000 arrivals and departures, according to data collected by Baruch College. But operating at the airport still presents quotidian challenges. Airplanes need more space to take off when they're near their maximum weight, as well on hot days, because they don't perform as well when the air is less dense. That means that during the summer, airlines sometimes have to leave passengers behind at LaGuardia in order to operate safely.
"Weight restrictions occasionally occur, but are more frequent during the hot summer months on regional aircraft particularly operating from LGA due to short runways," a spokesman for American Airlines said in an email.
What's more, LaGuardia can only play a limited role in airlines' route network in New York City because in 1984, trying to ease congestion, the Port Authority banned flights to and from airports more than 1,500 miles away. (Denver was grandfathered in and remains the only exception.)
Still, for the 15 airlines that fly in and out, serving LaGuardia remains a crucial node in their networks, given that its terminals are closer than any others to Manhattan. As such, they're determined to maintain a robust schedule there despite the constraints.
"Being that LaGuardia is a slot-controlled airport, our network planning teams are tasked with finding the routes that our customers prefer," a Southwest Airlines spokesman said in an email. "This includes offering service to and from some of our busiest cities throughout our network while also working through the various regulations that surround LGA operations including a perimeter rule which prevents flights to and from cities outside 1,500 miles."
For American, congestion at the airports prevents the airline from developing as large a presence as it would like—a recognition that the market remains too thick with competition to allow any single airline to dominate.
"We don't have the ability to make New York City a conventional hub," the company's spokesman wrote. "Doing so would require another 200 to 300 daily departures. And we have neither the slots, the gates nor the airspace to make that practical."
Baruch College
,
Federal Aviation Administration
,
JFKIAT
,
John F. Kennedy International Airport
,
LaGuardia Airport
,
LaGuardia Gateway Partners
,
Newark Liberty International Airport
,
Port Authority of New York & New Jersey
,
Robert Pyrka
,
Roel Huinink
,
Terminal 4