Developments on the Far West Side Are Creating a New Retail Corridor
---
---
Just how bad was the retail scene along 11th Avenue north of Hell's Kitchen a few years ago?
Well, if you were on a zero-carb diet, you'd starve.
"Before you had a Pick A Bagel and Subway," said Brad Schwarz, an executive managing director and a principal of Lee & Associates NYC who lives in the neighborhood. (Yes, there was also Urbani Truffles at 10 West End Avenue, but not even the most decadent can live on truffles alone.)
This for a neighborhood that in 2013 had 10,691 residents, according to the United States Census Bureau. Today that neighborhood is growing as a slew of new residential skyscrapers will add roughly 4,500 condominium and rental units within the next few years.
But if you were going to build a neighborhood from scratch and didn't know what retail components were needed, you only need to follow the playbook of what's happening on the Far West Side.
For one thing you need restaurants and grocery stores.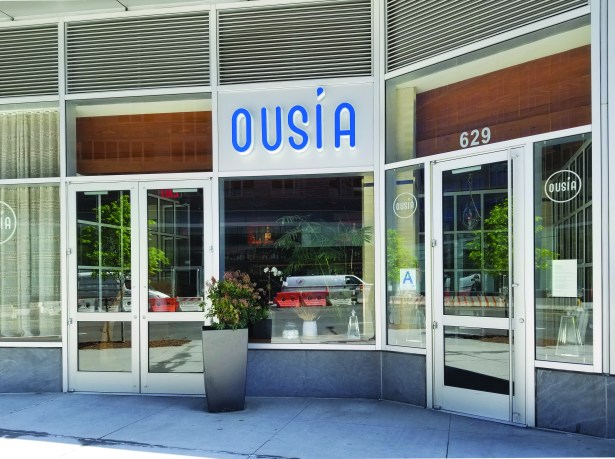 So Durst Organization brought the Greek eatery Ousia to the base of its 709-unit pyramid-like apartment building VIA 57 West at 625 West 57th Street. Schwarz handled the deal for Durst, which completed the Bjarke Ingels-designed structure in 2016.
"We put a lot of thought into the retail on this entire block," said David Neil, a principal of Durst. "Our opinion is that retail really matters. Retail helps to define a neighborhood. It helps to add value to an asset."
Ousia's owners, the Livanos Restaurant Group, have decades of experience in Midtown with establishments like Oceana at 1221 Avenue of the Americas, Molyvos at 871 Seventh Avenue and Oceana Poke at 1700 Broadway.
But Livanos thought it was a good business opportunity to be on the barren 11th Avenue-Far West Side corridor ahead of the coming wave of residents and other retailers.
"For us it was exciting to be pioneers in a new location," said Nick Livanos, a partner in Livanos. "The rest of Manhattan is so saturated with restaurants that being in a new neighborhood was appealing, especially in an iconic building like VIA [57 West]."
The restaurateur said traffic is still slow at the beginning of the week but picks up from Thursday through Sunday—and he acknowledged that they are still early to the party and have a long-term view of the area. Appropriately, Ousia has signed a 20-year lease with Durst and has a five-year option to renew.
"It's such a nice clientele," Livanos said. "Midtown [customers] might be more demanding and tense as they have to get back to work, but everyone [here] is so relaxed compared."
Durst was also the first to bring a supermarket to the area. The firm constructed Helena 57 West—a roughly 600-unit, 38-story tower at 601 West 57th Street—in 2005 and leased the retail space on the ground floor to HSBC. After the lease expired a decade later and the bank vacated, the landlord decided to replace it with high-end grocer Hudson Market, which signed a 15-year, 9,889-square-foot deal in September 2016. The asking rent was $100 per square foot.
"Adding the grocery store with Hudson Market was incredibly important to the neighborhood," Neil said. "There was not a good option [for groceries]."  
Another supermarket is coming soon. Silverstein Properties and partner Elad Group, which recently completed the 43-story, 365-unit (249 condos and 116 rentals) building at One West End Avenue between West 59th and West 60th Streets, signed a deal with family-owned chain Morton Williams for 21,400 square feet of retail space on the ground floor and 8,000 square feet for storage in the basement in December 2017.
Schwarz handled the 25-year deal for the supermarket chain, and the asking rent was $85 a square foot, as CO previously reported. The grocer is expected to open this summer. (Silverstein did not return requests seeking comment via spokespersons.)
For those in need of a place to schmooze, The Dermot Company, which constructed the 43-story, 616-unit rental at 21 West End Avenue in 2016, has that covered. In that building the developer created Café 21, an organic, locally sourced eatery, run by Dermot's own executive chef, Cathrine Tysland-Breskin. The café seats 35 people and can service catered lunches for large events.
Dermot then signed a nearly 2,000-square-foot lease with Starbucks at the property near the corner of West 61st Street. The coffee spot opened roughly a year ago. The landlord also recently leased 1,338 square feet to a yet-to-be named pizza restaurant.
What about a food hall, you asked? Just to the west of Silverstein and Elad's project, GID Development is constructing its three-building Waterline Square condo and rental towers near West 60th Street, where it signed Cipriani for a 28,000-square-foot restaurant, bar, market and food hall concept.
The towers will collectively have 1,132 residential units, 263 of which are condos, and will surround a 2.6-acre public park when completed in 2019. The Cipriani location will lead right out onto the green space with outdoor seating. Cipriani plans to open its concept in early 2019.
"We thought that the neighborhood needed some additional food and beverage options," said James Linsley, the president of GID. "And we wanted to bring in the scale and quality level that previously did not exist in the neighborhood."
Linsley said there are four retail spaces left at the development, totaling about 10,000 square feet. GID is focusing its marketing effort on more food and beverage and also health and wellness tenants.
Which brings us to the next necessity for a neighborhood: fitness spaces.
Dermot landed SoulCycle (which Schwarz represented) as its first retail tenant in 2016 after the trendy fitness concept signed a 10-year, 3,800-square foot-lease for part of the ground floor of 21 West End Avenue, and the landlord signed a 10,748-square-foot deal with Central Rock Gym (a climbing gym) in an adjacent space.
Schwarz said he convinced SoulCycle to lease the space by showing the tenant how many new residential units were coming to the area and that it wasn't close to the company's other locations.
He added, "SoulCycle is a phenomenal brand, and I felt that the existing and future residents would embrace the concept."
Every neighborhood has gotta have pet services, right?
That's why Durst inked a 4,000-square-foot deal with the American Kennel Club at VIA 57 West for a doggy daycare called Canine Retreat in 2016. It's the first such location for the more than 130-year-old organization that provides day care, training, grooming and walking services as well.
And the thousands of new residents have to be entertained. In 2016, Durst inked a deal with billionaires Mark Cuban and Todd Wagner's Landmark Theatres to anchor the retail portion of VIA 57 West. The eight-screen, 30,000-square-foot cinema has a full bar and opened last year. The company signed a 20-year lease, and the asking rent was $95 per square foot, as CO previously reported.
"We saw the area transitioning from primarily car lots to an area where families would be moving and wanted to be there," Ted Mundorff, the CEO of Landmark Theatres, said in a prepared statement to CO.
He added, "Our primary guest is from the immediate area, but a film like RBG attracted folks (most lawyers) from around the city."
Despite new restaurants, supermarkets, fitness concepts and a movie theater, the neighborhood is still wanting for a little something.
"Basic services still seem to be needed in the area—anything from dry cleaners to a nail salon," Livanos said.
Durst still has about 7,000 square feet of retail at VIA 57 West and 2,500 square feet of retail at Helena 57 West. And at Frank 57 West—a 65-unit apartment building at 600 West 58th Street which Durst built in 2017—there is about 10,000 square feet of available retail space on the ground floor.
There are three separate deals out for the space at Frank 57 West for what Durst's spokesman called "opportunity retail." Neil and the spokesman declined to elaborate to CO but implied that the deals will be for neighborhood services.  
"We will continue to be selective of who we work with to ensure that the retail enhances the neighborhood and enhances the experience for the residents of the block," Neil said.
And TF Cornerstone has recently completed its 44-story, 1,028-unit rental at 606 West 57th Street, which has 26,253 square feet of retail space available. The developer has also recognized the need to bring in retailers that would cater to the neighborhood, like a pharmacy.
"We've already seen new retailers opening restaurants, shops and other amenities to serve the new residential population here, creating a dynamic streetscape and 24/7 community," Steve Gonzalez, the head of retail leasing at TF Cornerstone, said in prepared remarks. "We are looking for a diverse selection of retail tenants…that will add to the convenience of the West Side and elevate the lives of our residents and the surrounding community."
Thanks to all the transformation in the last two years, there's a thought that now that there is a real retail market in the area, owners of older properties will look for better tenants.  
"As the successes of the retailers are apparent, I think other buildings in the area will start to shift their restaurants and retail palettes" GID's Linsley said. "That will go hand in hand with the neighborhood becoming an exciting destination. It's just getting started."
10 West End Avenue
,
1221 Avenue of the Americas
,
1700 Broadway
,
21 West End Avenue
,
600 West 58th Street
,
606 West 57th Street
,
625 West 57th Street
,
871 Seventh Avenue
,
Bjarke Ingels
,
Brad Schwarz
,
Café 21
,
Canine Retreat
,
Cathrine Tysland-Breskin
,
Central Rock Gym
,
Cipriani
,
David Neil
,
Durst Organization
,
Elad Group
,
Frank 57 West
,
GID Development
,
Helena 57 West
,
HSBC
,
James Linsley
,
Landmark Theatres
,
Lee & Associates NYC
,
Livanos Restaurant Group
,
Mark Cuban
,
Molyvos
,
Morton Williams
,
Nick Livanos
,
Oceana
,
Oceana Poke
,
One West End Avenue
,
Ousia
,
Pick A Bagel
,
Silverstein Properties
,
SoulCycle
,
Starbucks
,
Steven Gonzalez
,
subway
,
Ted Mundorff
,
TF Cornerstone
,
The Dermot Company
,
United States Census Bureau
,
Urbani Truffles
,
VIA 57 West