The Force Is Strong With This One: MAD Architects' Ma Yansong Talks Future Cities
The award-winning architect behind the Lucas Museum of Narrative Art discusses urban density and the importance of nature in his designs
---
---
For Ma Yansong, the celebrated Beijing-based, Yale University-educated architect and founder of MAD Architects, the cities of the future are not the cold, nature-devoid machine-like worlds imagined in dystopia films like Blade Runner. Rather, for Yansong, 43, the future of architecture incorporates humanity and nature into even the densest cities and environments. He is a big believer in incorporating nature in all his projects while also having them blend in with their landscape.
Many of Yansong's designs follow his conception of the "Shanshui City," which is his vision of creating balance among society, the city and the environment through new forms of architecture. Since designing the "Floating Island" in 2002, Ma has been exploring this idea through work that followed.
"My architecture is inspired by traditional culture in the East, but I'm totally against just repeating the old. I think of avant-garde thinking and trying different things," Yansong told Commercial Observer.
At MAD, Yansong has created a series of imaginative works, including Absolute Towers, Hutong Bubble 32, China Wood Sculpture Museum, Fake Hills and Ordos Museum, which caught George Lucas' eye and gave him the opportunity to compete for the chance to design a museum to house the filmmaker's personal art collection. In 2014, Yansong was selected to design the much-anticipated $1.5 billion Lucas Museum of Narrative Art, which broke ground in Exposition Park in Los Angeles on March 14 and is expected to open in the latter part of 2021.
In addition to his main residence in Beijing, where he lives with his wife, a professor at Peking University HSBC Business School, and two sons, he has a second residence in the Pacific Palisades on the west side of Los Angeles.
Yansong spoke to CO about how he came to work on the secretive George Lucas project, what he loves about Los Angeles and why he selected it for his first U.S. office and development, an 18-unit, mixed-use project called Gardenhouse at 8600 Wilshire Boulevard in Beverly Hills, which will be completed later this year.
Commercial Observer: You were born and raised in Beijing, and I understand you originally wanted to go to film school.
Ma Yansong: Yeah. I liked drawing. I was trying to apply to the film academy in Beijing, and then when I applied, they recommended me to architecture school. I didn't really know what architecture was about.
So, when you were growing up, architecture never crossed your mind until your exams?
No. I didn't really care what profession. In my mind, college was to have fun. You're free, you can enjoy.
What were your parents' backgrounds?
They're both engineers. My father was an electrical engineer, and my mother was an environmental engineer. My mother visited some villages [around Beijing]. They recycle water, they take care of the pollution. Sometimes I would visit them with her. That experience influenced me a little bit.
Once you started, was it an automatic love?
In middle school, I would just draw whatever you asked on my own…My continued interest in architecture started when I was reading one book about 100 architects and their stories. They were all coming from different countries, different cultures. I remember thinking, That is very fun. It's different. There's no right or wrong, it's more like an art.
Richard Meier was in that book. I saw people like Frank Gehry, and he was doing crazy stuff. They did this show at MOMA in 1998 and they called it deconstructive and for young students, it was really cutting-edge. This was new, and that really impressed me image-wise. In China at that moment, it was very simple—all the schools taught the same thing. This book opened a different world to me.
Who are some of your favorite architects?
Now? I like Frank Gehry as a person. I like many of them. Zaha Hadid, as a person; she was my mentor. I like her early, early works. But architecture-wise I like Louis Kahn. His famous piece was the Salk Institute [for Biological Science] in San Diego.
For your designs, for all their futuristic aspects, you feel strongly about bringing in nature.
I think the future is about how you feel about your surroundings. And nature is a part of it—it's the most important part of it. I don't think the future is about technology. I think if I was to shoot a movie about the future, you wouldn't see robots or a machine-like city.
For me, the future is about nature and human relationships with nature. Having enough green or nature around us isn't enough. By designing our environment so we can put our spirit into the environment around us is important. That is the design future.
The new solution to this problem of course will come with a new visual, a new vision. We haven't seen the solution before so the presentation will be something new. In my understanding, I think the real future isn't about appearance: It's about the new relationship between humans and nature.
When you talk about a problem to solve, what are you thinking about?
There is a conflict between density [and] nature. After working we all want to go to the park and relax, and on holiday or vacation you want to go to the beach or the mountains and have your holiday, so why are we living in the city?
There is something wrong with the built environment when we have to consider the function, the density, the traffic and environment and we sacrifice other things.
We build an urban city like a box because it's cheaper, it's more efficient. From the commercial point of view, it's making more sense, [but] it's not sustainable. Now many people think all the cities look the same. They're not human. They're big machines. We don't like this.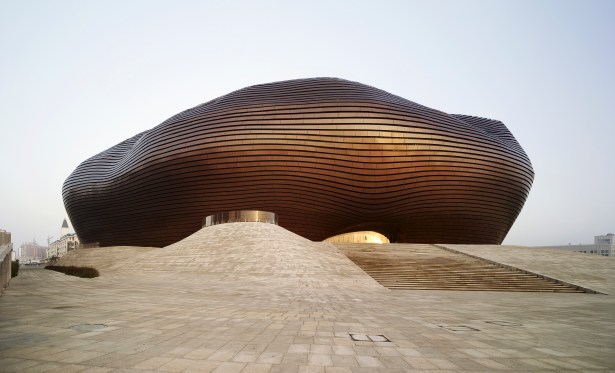 You mentioned science fiction movies, robots and all: What do you think about Star Wars and George Lucas and his vision of the future?
He created Star Wars a long time ago, and that's when people in the modern time think about the future and outer space. But, he's really about humanity, about humans and the spirit—it's not about the robots. It's not about machines. There's a difference.
Architecture is a stage for our lives, and then in life you have an atmosphere, you have a comedy, you have different lives. But, we are creating a stage for all these things to happen. We're not creating a stage to show the muscle or the technology behind the stage. Life is more important than that. I think his movie was showing much more than the technology.
What's funny, I designed a building in China in a museum in the [Gobi Desert]. See that building on the wall? The Ordos. When I visited this desert site, I was thinking about one movie scene, a shiny spaceship landing on the desert, but I didn't remember visually where that was from.
Then I did that building, and then later on, I discovered it was from Star Wars: Episode II. Visually, it's a machine, but it doesn't show many details. Normally, the machine tries to show off what is happening, but it doesn't. That spaceship was super-reflective, and it almost disappeared into the environment, so it has an interesting relationship with its environment.
Isn't that what made George Lucas approach you to design Lucas Museum?
He picked some buildings, recent museum buildings built around the world, and then he picked several architects, and then we did a competition. When I first met him, I showed him my previous work, and he liked that building. I didn't tell him that it was inspired by a scene in Star Wars.
You had to design models for the Lucas Museum for Chicago, one in L.A. and San Francisco. Can you tell us a little bit about how that worked? Was Chicago the first choice for George Lucas?
He originally proposed San Francisco a long time ago, and then they rejected it. And then Mellody, his wife, was from Chicago, so they introduced the museum to Chicago. The mayor liked the idea, and they picked the site for the museum. Then there was the Friends of the Parks, a local organization—they were against the idea. They were against the city giving this public land to the private sector, but this was the ideal for the public. And then they sued the city, and the courts accepted it. That would mean a delayed schedule. At the same time the two cities in California were very welcoming, and each one had proposals giving land for the museum.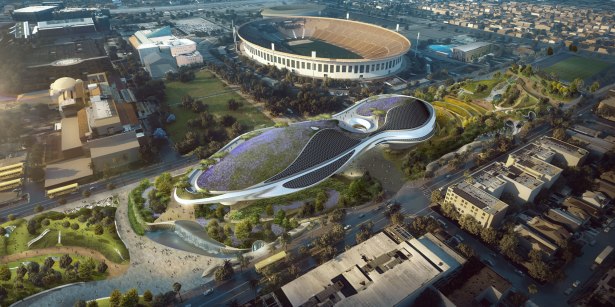 In Chicago people were critical of the design, right?
There are always critics if you want to make something new. I know more people supported it. Every architect that I met with, they said this is incredible, it's a new architectural addition to the city. Everyone knows if you look at modern architecture history, Chicago was the place you had to study.
I think the museum would have been a way to continue the architectural tradition of the city. It's very new and different, but, at the same time, the site is different. It's a waterfront park so our building blurred the boundary between landscape, nature and building. The building was like melting into the landscape.
You do a lot of work in China. What is the process like? Is it harder here, easier here?
I think it's harder here. There are councils, many people you need to talk to. Whereas in China, it's a public project, it's more centralized. It's a different system. In China, things go fast, and then things go wrong because the decision-maker isn't so experienced. But here, the process is more democratic, but I think ideally democracy can make things better.
Even being in Chicago and Los Angeles is very different. I think in Los Angeles the culture is more diverse and more open at least at this stage. I think that L.A. is a very dynamic place.
Chicago was one day making modern architecture. That became an international style, and that style became global later. Now, I think they are more conservative.
Is China more daring than here?
It is.
But what about the recent ban on so-called bizarre architecture in China. Wasn't that just passed by the government?
Yes, but they are still building things. I think it is all depending on how you define weird architecture. They said, "No weird architecture," but what is weird?
I agree a lot of buildings are in very bad taste. You see some towers that look like a wine bottle. Some buildings looked like table tennis. And a lot of government buildings, even local government buildings, look like the White House. I call that weird.
In general, global architects play it more safe than before. In this climate, the commercial stress is so strong. So, architects, if they are looking for success, they have to collaborate more with the commercial. Architects need to be braver. This is happening in many places in Europe, in America. I really think this is a very rare opportunity to build this museum [Lucas Museum of Narrative Art] in Los Angeles. If you work with most developers around the world now, they're not so open to the new.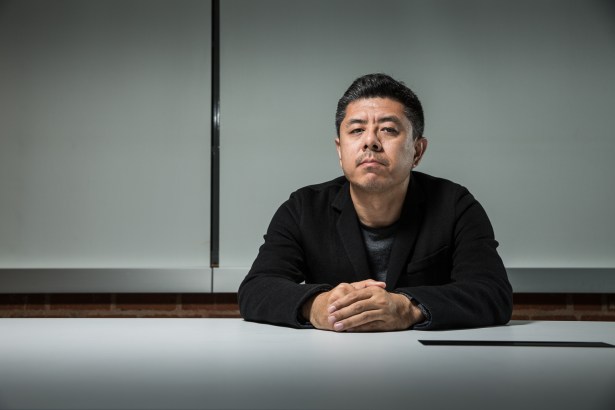 Why did you open your first U.S. office in L.A.?
I like the weather, I like the nature, the mountains and ocean, but I don't like the traffic.
Downtown needs more work. Downtown hasn't changed in a long time, and now there is new construction. I think those buildings are old fashioned. You're not getting a new skyline or topography to the city. [But] when I look at the Disney Concert Hall, some of the cultural projects, I think the city is really open to everything. It's so diverse and there are lots of world-class architects working here.
You mentioned the Disney Concert Hall as one of your favorites. What are some others you like?
The Schindler House. There are many famous houses in L.A., and they make you feel like anything can happen here. They are different styles and they are all good pieces, exactly like the first book I read [about] 100 architects.
Your first U.S. project is also in Los Angeles. Talk about the Gardenhouse.
It's not a typical Beverly Hills environment. It's a wide boulevard, a five-floor building next to the street with some other towers not far from it. I wanted to bring the village feeling to this place. I wanted to break down this five-floor building. I wanted to build a hill at the base and a small house on top to mimic the hills. So, the first three floors are built as a hill, and then I made a courtyard for the middle and small villas on the roof. This scale can easily merge into the single-family homes to the south so there's a transition in terms of scale.
Inside, the courtyard is a very spiritual experience. We have waterfalls in there. When you enter, the water reflects the sky, so for me it's a shared social space, but it's also very spiritual. The ideal house for me—I come from a city, so I don't like the big box—what's beautiful is smaller scale and then integrating nature throughout it. That's an ideal home to live.
What would you say is your biggest accomplishment of all your projects?
I built so much when I was young, but I didn't notice that you need to be mature to build. I think the instinct, the spirit or the emotion [is] the key. I still think some of my school work projects have huge potential. They are so brave. When people asked me [back then], How can you build it? I didn't know. You can see the imagination in those works. I still try to make new things every time.