Move Over, Plaza District: Meatpacking Is the City's New Office Jewel
With average asking rents now eclipsing $100 per square foot, the Meatpacking District—yes, that Meatpacking District—is Manhattan's hottest office market
---
---
The names TenJune and Lotus have long since disappeared from the Meatpacking District.
Behold the new names to keep in mind when talking about the area: Google (GOOGL), Live Nation, Alibaba among others.
As companies focus on how to attract and retain employees, they are looking for cool and trendy areas in which to move, and the Meatpacking District has emerged as a top choice, brokers and developers told Commercial Observer.
"You are going to start hearing '21st century Plaza District,' " said William Silverman, a managing director and group head of investment sales at brokerage Hodges Ward Elliott.
Silverman is co-listing the converted eight-story office building at 430 West 15th Street with Cushman & Wakefield (CWK). He sees the influx of big, established companies in Meatpacking as the reason for why it will emerge as the next inevitable high-end office area.
"Fifty years ago your tycoon wore a suit and tie everyday and sent his kids to the Upper East Side [private schools], and they walked to their offices from a classic six on Park Avenue," Silverman said. "Today, your business tycoon is more likely somebody who lives in the West Village or Chelsea, sends their kids to Avenues and wants to walk to their modern office in Meatpacking."
And it's really not that crazy to compare the Meatpacking to the Plaza District in terms of price. The average asking rent for office space in the Meatpacking District was $100.16 per square in the fourth quarter of 2017, up from $77.77 per square foot in the fourth quarter of 2016, according to a C&W report. The Plaza District's average asking rent was $95.26 per square foot in the last quarter of 2017 and $95.99 in the same period in 2016, as per the report.
The price surge in Meatpacking is attributed to the influx of new developments that command much higher prices and to Meatpacking's small office stock, which has roughly 5.8 million square feet of space. (By contrast, the Plaza District has about 87 million square feet of office space.) Moreover, Meatpacking only had a 2 percent vacancy rate in the fourth quarter of 2017, according to the C&W report.
Times have changed. Over the past decade, asking rents in the neighborhood mostly were in the $60s and $70s per square foot and even reached the $80s, according to C&W.
"In Meatpacking the decision makers want to be there and their employees do too," Silverman said. "Meatpacking is a place where you start to see real estate being used as a recruiting tool."
Meatpacking is bounded by West 17th Street to the north, Horatio Street to the south, Eighth Avenue to the east and the Westside Highway to the west, according to the Meatpacking Business Improvement District, a not-for-profit organization that advocates for the businesses in the area. And while the New York City Landmarks Preservation Commission designated the area a historic district in 2003—making it challenging to redevelop existing properties—developers are still building new projects to meet demand.
Perhaps the most notable of the developments is Rockpoint Group and Highgate Holdings' renovation and expansion of 413 West 14th Street between Ninth and 10th Avenues. They are revitalizing the 109,515-square-foot property and joining it with the new 144,268-square-foot 412 West 15th Street to create one 255,000-square-foot 18-story office building.
The CetraRuddy-designed tower will be the tallest in the neighborhood at 270 feet and asking rents in the building range from $125 to $200 per square foot. So far six leases have been signed, totaling about 65 percent of the building, according to CBRE (CBRE)'s Paul Amrich, who is leasing the building with colleague Neil King.
In one of those deals, Paris-based asset management company Tikehau Capital signed a 10,000-square-foot lease for the top two floors of the building at $195 per square foot, according to The Real Deal.
"We started to see this area truly appeal to office tenants in general maybe eight years ago. What's been really interesting is the change of industry type and maturity of tenants," Amrich said. "In the past it was fashion firms and [startup] tech companies. Now, it's insurance and financing companies."
Aurora Capital Associates, which owns numerous buildings in Meatpacking, and Vornado Realty Trust (VNO) recently completed a 165,000-square-foot building at 61 Ninth Avenue between West 15th and West 16th Streets. The property features 145,000 square feet of new office space with 12-foot ceiling heights and 20,000 square feet for retail. It also has private terraces on each floor as well as a rooftop green space.
And Aurora Capital and William Gottlieb Real Estate are finishing construction of a new 139,000-square-foot office and retail building at 40 10th Avenue between West 13th and West 14th Streets. The Studio Gang Architects-designed building, which is called the "Solar Carve Tower," has office asking rents ranging from $135 to $200 per square foot.  
"It has unparalleled views of the Hudson River, the High Line, 15-foot floor-to-floor ceiling heights, uninterrupted views and an incredible roof deck," said Jared Epstein, a vice president and principal at Aurora Capital. "It connects Meatpacking with the [Hudson] River and the High Line."
In 2016, Romanoff Equities, the family development firm of C&W Vice Chairman Stuart Romanoff, and Property Group Partners completed the 114,000-square-foot glassy 860 Washington Street, just off the High Line. The office property has attracted Chinese e-commerce giant Alibaba, developer Delos Living and online lender SoFi as tenants.
"We produced on spec the project understanding that there was such demand by tenants who felt they needed an alternative to Midtown product, because the need to be in Midtown has changed," Romanoff said. "Tenants want to be in more creative areas."
And older properties are fetching top rents in Meatpacking as well.
"Even corporate tenants want cool space," said Leslie Himmel, a partner in Himmel + Meringoff, who has looked at buying buildings in the area. "They want exposed brick, open floor plans, wood, where they can see the bones of the building."
William Kaufman Organization completed a repositioning of its 1912 property at 2 Gansevoort Street in 2015 with the addition of a new artwork-focused lobby, replacement of all of the windows and construction of an outdoor roof deck on the ninth floor (the top floor). At the time the asking rents in the Class A property were in the $100 to $115 per square foot range.   
The roughly 200,000-square-foot building, which William Kaufman Organization has owned since 1948, is fully leased save for the seventh floor and achieved rents in the high $80s per square foot and more than $100 per square foot for the top floors, according to Jonathan Iger, the CEO of William Kaufman Organization and the chairman of the Meatpacking BID.
On the seventh floor, William Kaufman Organization created a shared office floor called Swivel. Amenities for Swivel tenants include a pantry, a lounge, meeting rooms and conference rooms in a core area of the floor. In addition to the shared space, there are five prebuilt office suites that range in size—between 3,604 square feet and 5,677 square feet—with asking rents of $110 per square foot, Iger said.  
Since marketing for the Swivel office suites commenced in February, the landlord has already signed a lease and is in talks with three more tenants, Iger said. (Iger declined to name the tenant it has already placed in Swivel because of a contract agreement.)
As a testament to the area, Iger also noted that when Coronado Biosciences, a Massachusetts-based biopharmaceutical company, leased the ninth floor after the renovation of the property, the tenant informed him it looked at only two other properties in the city before choosing 2 Gansevoort Street: the GM Building and the Seagrams Building in the Plaza District.  
A big part of choosing 2 Gansevoort Street was the allure of the Meatpacking District and appealing to millennial employees, Iger said.
"I don't think within a six-block radius [in the city] there is a better offering of food, culture and fashion that you can find with an office environment," Iger said. "You see Google gobbling up as much space as they can. I think that we are just so centralized for everything that a young millennial employee wants."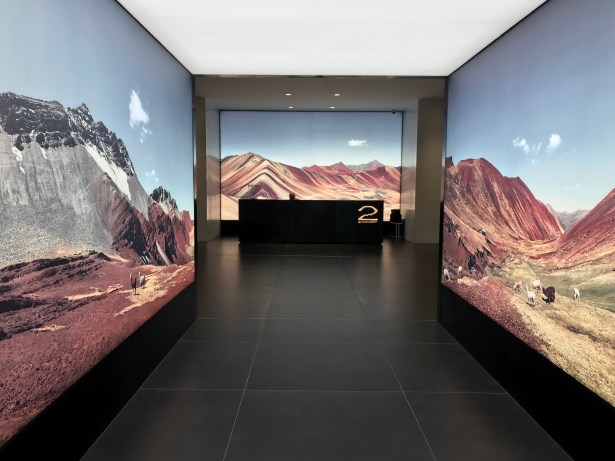 The Meatpacking District may have gotten its name from the 250 slaughterhouses that filled the area in 1900, but today it's all about Google. (There are still a few meatpacking businesses left there.)
The tech giant purchased the 3-million-square-foot building at 111 Eighth Avenue between West 15th and West 16th Streets for $1.9 billion in 2010 and essentially has put its stamp on the area as it expanded numerous times since.
Most recently, in 2017 the company grew by 60,000 square-feet to 240,000 square feet at 85 10th Avenue between West 15th and West 16th Streets, as CO previously reported. And at Pier 57, Google plans to tack on 70,000 square feet for offices and 50,000 square feet for public engagement space to the 250,000 square feet it has already leased.
And instead of increasing its 400,000-square-foot offices at Chelsea Market, the tech giant has purchased the entire 1.2-million-square-foot building from Jamestown for $2.4 billion, as CO reported yesterday. (Google did not return a request for comment on its Meatpacking takeover plans, and a spokeswoman for Jamestown declined to comment about the sale.)
Google's hardly the only household name to plant—or to soon plant—its flag in Meatpacking: Concert promoter Live Nation took an 100,000-square-foot sublease for the entire eight-story building at 430 West 15th Street between Ninth and 10th Avenues last year. And insurance company Argo sealed a deal for 48,000 square feet at 413 West 14th Street, as CO reported in March 2017. (Just a block outside of Meatpacking, coworking giant WeWork (WE) recently signed a lease for 122,000 square feet at 154 West 14th Street.)
Also, Insurance giant Aetna inked a 145,000-square-foot deal at Vornado and Aurora Capital's 61 Ninth Avenue to relocate its headquarters from Hartford, Conn., as CO reported last June. It had plans to take all of the office space at the 165,000-square-foot Rafael Viñoly-designed building, which has a retail base.
A spokesman for Aetna declined to talk about the lease in depth but said that "CVS Health [which announced plans to acquire Aetna in December of 2017 for $69 billion] has no plans to relocate Aetna's operations from Hartford after the transaction closes."
With a signed lease, though, Aetna is on the hook and will have to find subtenants.
"We've been told that they might make a profit," Epstein said. "In any other neighborhood that lease would be a big obligation."
In keeping with the trend going on citywide, and even nationwide, Meatpacking retail tenants are trying to make their spaces more experiential.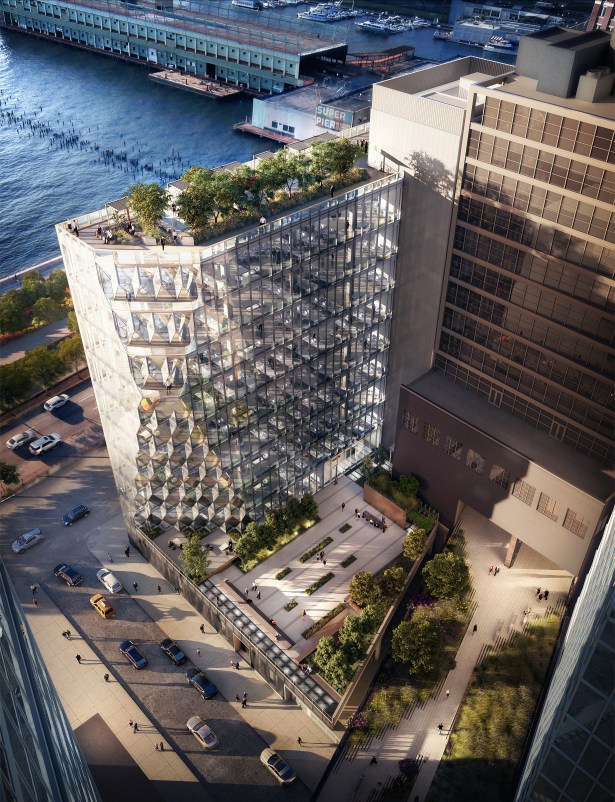 A case in point, Starbucks plans to open a 20,000-square-foot store for a café and roastery on the ground floor of 61 Ninth Avenue, the second in the country (a third was recently announced for Chicago). Restoration Hardware took a lease for the entire 70,000-square-foot building at 9-19 Ninth Avenue between Little West 12th and West 13th Streets so it could build a gallery with a rooftop restaurant. It also plans to open a boutique hotel at 55 Gansevoort Street between Washington Street and Ninth Avenue.
Tesla Motors recently opened a 7,800-square-foot showroom at 860 Washington Street between West 13th and West 14th Streets and Genesis Motors (the luxury brand of South Korean car maker Hyundai Motor Company) will open a 40,000-square-foot location at 40 10th Avenue between West 13th and West 14th Streets.
Intersect by Lexus, a lounge, gallery and event space by the automaker, is at 412 West 14th Street. And Samsung is leasing the entire Morris Adjmi-designed 837 Washington Street, a 55,000-square-foot building between Little West 12th and West 13th Streets, where it doesn't actually sell anything. Customers can test devices, experience virtual reality, see art installations, watch videos on a three-story screen and attend events.
"These are all best-in-class companies and they are all choosing that's where they want to do their experiential concepts in New York City," Hodges Ward Elliott's Silverman said. "Meatpacking is emerging as where all the best companies in the world are doing business."
With additional reporting provided by Max Gross.
154 West 14th Street
,
2 Gansevoort Street
,
412 West 15th Street
,
413 West 14th Street
,
430 West 15th Street
,
61 Ninth Avenue
,
837 Washington Street
,
85 10th Avenue
,
860 Washington Street
,
Aetna
,
Alibaba
,
Aurora Capital Associates
,
Coronado Biosciences
,
Delos Living
,
Genesis Motors
,
Highgate Holdings
,
Hodges Ward Elliott
,
jared epstein
,
Jonathan Iger
,
Leslie Himmel
,
Live Nation
,
Lotus
,
Morris Adjmi
,
Neil King
,
New York City Landmarks Preservation Commission
,
Paul Amrich
,
Pier 57
,
Property Group Partners
,
Rockpoint Group
,
Samsung
,
Seagrams Building
,
SoFi
,
Stuart Romanoff
,
Studio Gang Architects
,
TenJune
,
Tikehau Capital
,
William Gottlieb Real Estate
,
William Silverman
,
CBRE
,
Cushman & Wakefield
,
Google
,
Himmel + Meringoff Properties
,
Kaufman Organization
,
Vornado Realty Trust
,
WeWork