It's MIPIM Time: Why You Should Be Excited for the Cannes Conference
---
---
Once again, it's that time of the year for real estate professionals across the globe to head to Cannes, France.
Just two months ahead of the invitation-only Cannes Film Festival, where movie stars will take to the sandy city on the French Riviera and no doubt trade Harvey Weinstein horror stories, tens of thousands of men and women in business suits carrying briefcases and card holders will storm the streets of Cannes hunting deals during the annual MIPIM (or Marché International des Professionnels d'Immobilier) conference on March 13 through March 16.
The bulk of the events, which is organized by Reed Exhibitions subsidiary Reed MIDEM, will be held at the Palais des Festivals et des Congrès, a massive conference center on the Cannes waterfront.
MIPIM's theme for the 29th annual conference is "Mapping World Urbanity," and the event's programming will try to address issues like, How will we live in cities in 2030 and 2050? And, what are the best strategies for building future cities in a globalized world?
There are plenty of reasons to be excited for MIPIM, but to approach a conference as big as this (with more than 24,000 people), a roadmap might prove useful. We talked with a few MIPIM-goers from the U.S. to get an idea of what the sophisticated attendant should look out for this year.
Networking (duh)
With approximately 24,200 expected participants from over 100 countries, it's more than possible to find the right person to talk to at MIPIM, whatever your needs may be.
Of the attendees, there will be 5,000 investors and financial institutions, 4,500 developers, and 3,800 CEOs and chairpeople scrambling around the waterfront and in the Palais des Festivals. And there will be more than 3,100 exhibiting companies.  
And in case the conference center isn't your scene to swap business cards, networking parties will take over the swanky hotels, luxury yachts and the beach.
"The most important thing for me is the networking," said Susan Greenfield of Brown Harris Stevens, who has been to the event for 28 consecutive years and has already booked her flight for No. 29. "I go every year because it's the one place in the entire year where I see almost everyone I know from around the global at the same time."
She added, "The thing that is so important about this event is you get so many decision-makers. One day I was walking down the street [in Cannes] and who could be facing me walking the other direction? Harry Macklowe. I said, 'What are you doing here?' He said, 'I'm here to look for money, what are you doing here?' "
City and country exhibitions
If you're thinking global and want to know what investment opportunities there are in cities abroad, this is the event for you.
The European cities put on a show at MIPIM, bringing large-scale panoramas of entire cities and models of megaprojects to dedicated pavilions. Last year, London and Istanbul had massive jaw-dropping displays.
"Some of the models and booths are off the charts," said Jay Olshonsky, the president of NAI Global, who has gone to MIPIM for seven consecutive years and is returning this year. "Some people told me some of the models there are million-dollar [displays]. I always leave two or three hours for myself to walk around because you always see something you've never seen before."  
"Le Grand Paris," the name for the pavilion dedicated to the City of Lights, will feature 19 exhibitions and events each day. Belgium's pavilion will feature experts and models of Flanders, Brussels and Wallonia, while Holland's space will be dedicated to Amsterdam, Rotterdam, Utrecht and The Hague.
On top of these, there will be booths dedicated to countries from Asia, Africa and North America. Not that the models and displays of cities are there just to be pretty or promote specific projects and the companies that are developing them; more than 370 political leaders and 500 representatives from cities will be in attendance to talk about development in their cities, attract developers and get investments in their locales. (We've already heard from the Moscow delegation!)
"If you go to ICSC in Vegas, which is by far a bigger show [with 37,000 attendees], it's more about the displays about the companies [not cities]," Olshonsky said. "New York City doesn't come and display at ICSC like Paris does in MIPIM."
Panel events and keynote speeches
It's not all deal-making and networking—MIPIM is also a place to learn about development trends across the globe. The event will feature more than 360 keynote speeches and well over 120 panels, sessions, workshops and networking socials covering a wide variety of topics—from Asia and Europe to sustainability and logistics.
And those events will also serve to gather experts across the globe and offer opportunities to get someone's ear.
"[After networking,] the second thing that I find very valuable is attending these program and panels because I learn so much," Greenfield said. "You never stop learning and real estate is always changing. If you don't stay ahead, if you don't stay involved, if you don't stay knowledgeable, then you are going to miss out."
Some panels to look out for include "Self-Driving Cars: Bringing a New Face to our Cities," "Smart Housing: What Millennials Expect," "Belt and Road Initiative: Capturing Opportunities Through Hong Kong" and "Urban Logistics: the Next Challenge for Cities."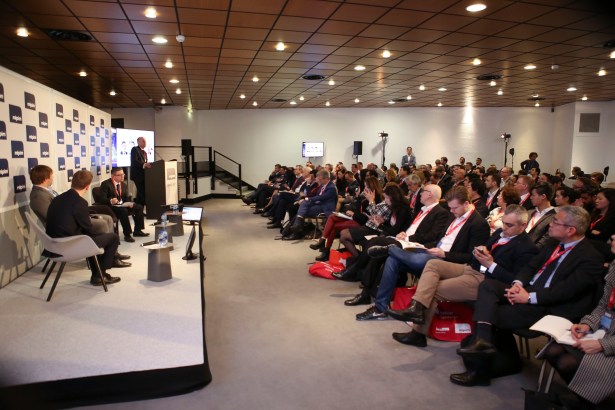 And even Commercial Observer is getting in on the action, co-organizing the U.S.-focused two-panel event entitled "Developing and Investing in the United States: Where, What & How?" on the morning of March 14 at The Ruby Room in Palais des Festivals.
Ric Clark, Brookfield (BN) Property Group's senior managing director and chairman, will deliver the keynote address and Jonathan Mechanic, the chairman of Fried Frank Harris Shriver & Jacobson's real estate department, will moderate the panels. Cushman & Wakefield (CWK)'s Bruce Mosler, SL Green (SLG) Realty Corp.'s Isaac Zion, Hines' Christopher Hughes, Hap Investments' Eran Polack and Allianz' Christoph Donner are just some of the panelists. (You can find us there!)
Tech
Come for the drinks and deals, but stay for the tech!
For the past couple of years, the presence of property technology companies has grown at MIPIM. As the sector is becoming a force in the industry—making more investors curious about what's next to come—MIPIM has stepped up to provide some answers.
There will be a PropTech Lab event at MIPIM for the first time on March 15, where  invite-only real estate executives and tech leaders will meet and talk about the increased impact of technology on real estate.  
"MIPIM events and conferences will be great opportunities for members of the REBNYTech team to meet with industry leaders of tomorrow," Ryan Baxter, a Real Estate Board of New York vice president for management services and government affairs, who is heading to MIPIM this year again and is a member of the advisory board of MIPIM PropTech, said in a statement. "We're looking forward to learning more about smart cities and human-centric innovation efforts from around the world."  
MIPIM also serves as the final leg of the third-annual MIPIM Startup Competition, an international tech competition in partnership with MetaProp NYC, a real estate tech accelerator. Nine finalists at the nexus of tech and real estate were selected from three previous events, MIPIM U.K., MIPIM Asia and MIPIM PropTech (in Manhattan), and those companies will face off in Cannes to determine the best of the lot on March 14.
The competitors from New York City's MIPIM PropTech that are heading to Cannes are Real Atom, the first online marketplace for commercial real estate debt financing; PlanRadar, a digital software that facilitates project management for construction companies; and Acasa, an app that helps individuals manage household bills.
The winner will receive three passes to both MIPIM U.K. and MIPIM Asia 2018, four passes to MIPIM 2019 (again in Cannes), an automatic selection as a finalist for MetaProp NYC's 2018 accelerator program as well as brand exposure and coaching at this year's MIPIM.
And take in Cannes, for goodness sake!
"If you think about it, if you have got to go somewhere 6,000 miles away—for you and I, it's not too shabby to go to the south of France," Olshonsky said.  
Cannes is packed with bars, restaurants, hotels and historic buildings all within walking distance of the beach. For those looking to notch Michelin stars on their belts, there are plenty of options. La Palme d'Or, Villa Archange, Paloma and L'Oasis all hold multiple stars.
There are luxury hotels all around the beach area of Cannes. Some leading contenders are Hotel Barrière Le Majestic Cannes, InterContinental Carlton Cannes Hotel and Grand Hyatt Cannes Hôtel Martinez thanks to their astounding architecture and rich history.
And speaking of history, while you're in town for a real estate expo, why not do a little sightseeing? Cannes is home to Eglise Notre Dame d'Espérance, a 17th century gothic church set atop a hill that overlooks the port area and it provides some amazing views. And there is also the Musée de la Castre, a museum that is set in a castle built by 11th-century monks.
Also just like the Hollywood Walk of Fame, Cannes is known for Allée des Étoiles du Cinéma, where stars leave their handprints. Finally, don't forget to talk a stroll along the Promenade de la Croisette if you didn't already do so on your way to and from the convention center.
Brown Harris Stevens
,
Bruce Mosler
,
Christopher Hughes
,
Eran Polack
,
HAP Investments
,
Harry Macklowe
,
Jay Olshonsky
,
Jonathan Mechanic
,
MIPIM
,
MIPIM Proptech
,
MIPIM2018
,
nai global
,
Palais des Festivals et des Congrès
,
PlanRadar
,
Real Atom
,
Reed MIDEM
,
Ric Clark
,
Ryan Baxter
,
Susan Greenfield
,
Brookfield
,
Cushman & Wakefield
,
Fried Frank
,
Hines
,
MetaProp
,
Real Estate Board of New York
,
SL Green