Waiting on the Levy: Spencer Levy Is the Go-to Broker for the Fancy Restaurateurs
---
---
It's hard not to feel warm and fuzzy when you're in a beautiful setting, eating delicious fare designed with architectural precision and having your every whim tended to.
Such was the case for this reporter while having a three-hour lunch with restaurant broker Spencer Levy of RKF last week at the Michelin-starred Gabriel Kreuther in Midtown. That just made the interview with Levy, who had a particularly sumptuous career path leading up to his position at RKF in January 2004, all the more enjoyable.
The restaurant was a logical place to meet as Levy found chef Gabriel Kreuther the space for his eponymous restaurant, which opened at 41 West 42nd Street in the Grace Building in June 2015. Kreuther said he appreciates Levy's inside knowledge of the restaurant business, as Levy was a chef and restaurant owner himself (not to mention a graduate of the Culinary Institute of America).
When contemplating the 13,000-square-foot space (with separate kitchens on the ground floor and lower level) in Brookfield (BN) Property Partners and Swig Equities' Grace Building, Levy was able to lay out the pros and cons for Kreuther. The pro: Kreuther would be working with a blank canvas on the first floor as the space had been vacant for years. The con: There were no restaurant kitchen exhaust systems, and they would need one for each kitchen.
"I think he's very attached to the deals he does," said Kreuther, who came tableside and selected the menu items for Levy and this reporter. "He wants them to work out. I think he has a lot of integrity at that level."
Not a lot of brokers specialize in restaurants.
"A lot of people say they're good at it, but not a lot of people know the nuances," said Brookfield's Michael Goldban, a senior vice president of retail leasing. "There's a lot of capital that goes into it, infrastructure, technical things you have to solve. You need to know how the restaurant business works. He's one of the few in the industry that gets it. His background is as a chef. That's great insight to have for the real-world problems they have."
Goldban and Brookfield's Mark Kostic worked with Levy when the latter brought upscale Italian restaurant Sant Ambroeus and Momofuku chef and restaurateur David Chang's fast-casual fried chicken chain Fuku to Brookfield Place at 230 Vesey Street. Sant Ambroeus (still under construction) took 7,000 square feet last October and Fuku (now open) took 672 square feet last July.
Gherardo Guarducci, the co-owner of the Sant Ambroeus chain (and which is part of the SA Hospitality Group), said Levy is one of the top two restaurant brokers in New York City (the other being Steven Kamali, the CEO of Hospitality House). Other people echoed that sentiment.
"[Levy] speaks the language of the restaurant business as well as a restaurant owner," Guarducci said. "So he's able to speak very fluently on both sides of the equation—real estate and restaurant."
Indeed, Guarducci said, "Levy understands how taxing it is to build a restaurant in New York City in terms of financial and human resources and how taxing it is to operate one in terms of financial and human resources. And he understands the restaurant consumer."
Levy, a 52-year-old married Williamsburg, Brooklyn, resident with a 6-year-old, has had disparate gigs from working at his parent's foam manufacturing plant while bartending on weekends at Dangerfield's comedy club (Andrew Dice Clay was his favorite comedian back then) to working as a media buyer, as an advertising sales representative, as a promoter of a snow ski brand at the end of ski races (while working nights as a bartender) and as a marketer at the firm of Faith Popcorn, a futurist. He came up with an idea for Pepsi: a drink combining orange juice and Pepsi with double the caffeine (think Jolt Cola) for "the ultimate breakfast," Levy said. Popcorn liked it, but Pepsi did not.
Levy's road to culinary expert could harken back to his childhood.
As an adolescent, his parents housed around 150 foreign exchange students for various lengths of time at their Long Island, N.Y., home. When a boy from Sri Lanka, for example, stayed with the family, Levy recalls coming home to biryani on the dinner table rather than meat and potatoes.
"I was eating kind of cool food growing up," Levy said. "It opened me up to new flavors."
But Levy said that wasn't what actually led him to a profession in the food business—his frustration with restaurant service was.
Levy was a manager at Mo's Caribbean (now closed) on the Upper East Side, and he was "really annoyed with the kitchen for how long it took to get the food out." But since he was just the manager, he didn't feel he had the right to tell the cooks how to better do their job.
Armed with a bachelor's degree in business and psychology from SUNY Oneonta, and years of working as a bartender and waiter (his first job was bussing tables at age 14), Levy decided to go to culinary school so he could understand the restaurant business. There he realized that "food is an art." When Levy stepped into the kitchen, everything clicked.
Levy had a series of chef jobs at places including The Cub Room (now shuttered), Monkey Bar and Mad. 61 in Barneys New York (now called Fred's).
Robert Stehling met Levy when they were cooking together at Mad. 61.
As a chef, Stehling said, Levy was a lot of fun to work with. While he "got along well with people [and] had a good attitude, he was serious about what he was doing. He is definitely kind of a fine line between perfectionistic and picky. He wants everything to be right. He works to get it there."
The duo became roommates in 1996 at a place near Wall Street for a few months when Stehling needed a place before moving to South Carolina. The chefs worked the same hours and had the Financial District virtually to themselves. They'd rollerblade and bicycle around the city and, of course, cook a lot.
"We would see things on the Food Network, and then we'd want to recreate it in the kitchen," Stehling said. "We had bikes we rode around Downtown on."
A running joke is from the Mad. 61 days when Levy had to roast carrots on a sheet pan filled with olive oil. The pan tilted a bit and oil spilled, "and the whole thing blew up. The [executive] chef started yelling, 'salt, salt,' [as] it smothers the fire," Stehling said.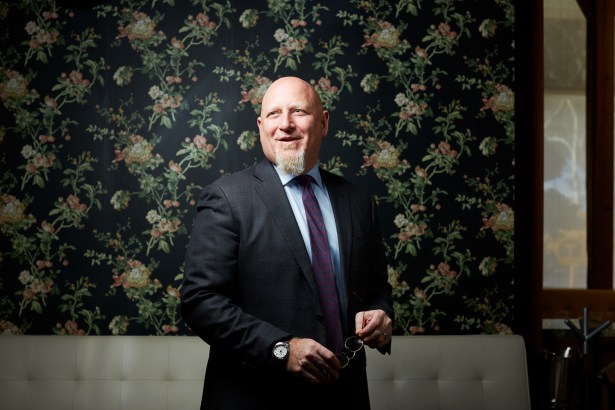 Their days were consumed with making what Stehling called a "crazy chicken salad" that was on the lunch menu daily. (They made 87 of them on any given day.)
Once Stehling moved to South Carolina, Levy flew there to help get Stehling's restaurant Hominy Grill in Charleston set up. That included collecting all of Stehling's handwritten recipes and compiling them in a standardized cookbook.
"He advised me on another space that we owned and had a restaurant in and decided to close the restaurant, and he shepherded me through that process, connected me with local people with national reach to handle that," Stehling said. That eatery was Chick's Fry House. It closed in early 2016, and Stehling subleased it out.
Peter Glazier—the founder of the Glazier Group, an owner and operator of New York City iconic restaurants including Monkey Bar (later sold) and the original Strip House (also later sold)—remembers Levy working for him as a chef at Monkey Bar.
"He could cook Americana really well," Glazier said. "I like him as a person, which is a big deal for me."
Levy decided to open his own eatery, Spencer, in 1999 at 119 East 18th Street. He did a modern twist on the classic American cuisine but felt that his commitment to farm-to-table was before its time and people weren't ready to pay extra for it. It survived for 18 months.
However, he is grateful for that time. He learned everything there is to know about opening and running a restaurant. He even built the restaurant from scratch himself—"There wasn't one aspect of opening a restaurant I didn't touch," he said.
Eric Bregman, the owner of 119 East 18th Street (now home to Javelina), said of Levy: "He's a delight. He's confident, straight-forward, honest—all the things you want in a tenant or a broker for that matter." Levy remained friends with Bregman and even found him the tenant before Javelina, Tommy Lasagna.
Bregman's son Ethan owns a Williamsburg property at 105 Metropolitan Avenue and looked to Levy for a restaurant tenant. The broker tried but ended up signing Triumph Motorcycles, a dealership, to the space. That 3,740-square-foot deal closed last year.
When it comes to brokerage, Levy has only worked for retail broker Robert Futterman, the founder, chairman and CEO of RKF. They met randomly at the friends and family preview of a restaurant in Greenwich, Conn. Levy took Futterman's business card, and when a friend was looking for space, Levy knew who to call. Levy said that the RKF head couldn't believe he was helping his friend for free and yelled to someone to bring in a contract. That was the start of Levy's career in real estate.
Today, about two-thirds of Levy's work is on restaurant deals, and he divides evenly between landlord and tenant work. Meanwhile, his most notable recent deal, he said, was for luxury luggage and handbag retailer Vera Bradley's new flagship store at 411 West Broadway in Soho, which opened in late August 2016. His deals are "almost always" in New York City, but last year he had a consulting gig for a W Hotel in Philadelphia. He ran the negotiations for a management team for the 78,000-square-foot food and beverage component.
Looking ahead, Levy is confident about the food industry.
He said that fast-casual restaurants will continue to "ride the train for a while, [as] they fill a need."
"They're the highest and best use" besides fast-food joints, the broker said. That's why upscale restaurant chefs are opening fast-casual eateries like Del Posto chef Mark Ladner with Pasta Flyer. "They all want a piece of this fast-casual business," Levy said. "The percentages of profit are greater."
The food-hall trend is here to stay, but "the cream will rise to the top," he said.
"It's pretty simple," Levy continued. "You have to care. You have to be hands on. You have to be on top of your business. You have to run a business like a business, and you'll be successful if you're in the right location, and you're putting out good product." This applies to food halls or any restaurant really, he said. "That's how you're successful," he added.
Brooklyn, he said, "is the epicenter of the New York City culinary world right now" with places like Lilia as well as Delaware and Hudson (the latter for which he found space at 135 North 5th Street). That's due, he said, to more palatable rents, the availability of space and the fact that "creativity wants to be near each other."
Meanwhile, he said, fine dining "is in a resurgence. I think people want to be treated the way we're being treated at lunch today [at Gabriel Kreuther] and they're willing to pay for it." (It costs as much as $285 a person for the "full-kitchen experience" at Gabriel Kreuther, but a more modest two-course lunch runs for $68.)
If Levy's other clients offer the same level of treatment, New York's culinary scene could be in for happy days.
119 East 18th Street
,
230 Vesey Street
,
41 West 42nd Street
,
411 West Broadway
,
Andrew Dice Clay
,
Barney's New York
,
Brookfield Place
,
Chick's Fry House
,
David Chang
,
Del Posto
,
Delaware and Hudson
,
Eric Bregman
,
Faith Popcorn
,
Food & Drink
,
Fred's
,
Fuku
,
Gabriel Kreuther
,
Gherardo Guarducci
,
Glazier Group
,
Grace Building
,
Hominy Grill
,
Hospitality House
,
Jolt Cola
,
Lilia
,
Mad. 61
,
Mark Kostic
,
Mark Ladner
,
Michael Goldban
,
Monkey Bar
,
Mo's Caribbean
,
Pasta Flyer
,
Pepsi
,
Peter Glazier
,
RKF
,
Robert Futterman
,
Robert Stehling
,
SA Hospitality Group
,
Sant Ambroeus
,
Spencer
,
Spencer H. Levy
,
Steven Kamali
,
Strip House
,
Swig Equities
,
The Cub Room
,
Vera Bradley
,
Brookfield