David Chang Opening a Fuku in Brookfield Place After Tapping New Chef for Brand
---
---
Momofuku chef and restaurateur David Chang is bringing his fast-casual fried chicken chain Fuku to Brookfield Place, Commercial Observer has learned. The opening comes a month after the appointment of Stephanie Abrams, most recently a co-executive chef at Rotisserie Georgette in Manhattan, as the new chef for the Fuku brand.
In early December, Fuku will open in the food hall Hudson Eats, taking space formerly occupied by Little Muenster, according to a spokesman for the property's landlord, Brookfield Property Partners.
Chang signed a seven-year deal for 672 square feet in the food hall at 200 Vesey Street between West Street and North End Avenue. Brookfield declined to provide the asking rent. This is Fuku's fourth storefront in the city.
"We first opened Fuku as a fried chicken sandwich shop in the East Village in a space that has served as Momofuku's unofficial incubator," Chang said in prepared remarks. "It housed the original [Momofuku] Noodle Bar and [Momofuku] Ko before Fuku. At the time of opening, I don't think we knew that Fuku would be a concept we would grow beyond that first storefront. Since then, we've opened a few more locations, including at major sports arenas. When the opportunity to join Hudson Eats at Brookfield Place, we knew that we wanted to be a part of the collection."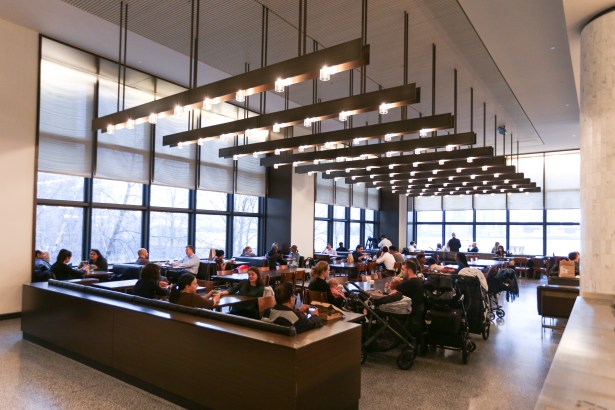 RKF's Spencer Levy represented Chang in the deal and Michael Goldban and Mark Kostic worked on behalf of Brookfield in-house.
"Hudson Eats continues to evolve and keep things fresh and interesting for the community," Kostic said in a statement. "We are excited to welcome David Chang to the property and have every confidence that our visitors will be as impressed as we are with his offerings."
Little Muenster opened in Hudson Eats in June 2014, and closed this summer after Brookfield let the company out of its lease, the Brookfield spokesman said. A representative for Little Muenster didn't immediately respond to a request for comment.
This summer, the third—and largest—Fuku opened at 110 Wall Street, serving a wider menu with salad and bowls.
The two Downtown Fuku's won't cannibalize each other, the brand's broker said.
"It really just made sense," Levy said in a statement. "Augmenting the already successful food hall at Brookfield Place with a brand equally as popular as Fuku is a win-win for everyone. In terms of locations, every Fuku has a unique twist and 110 Wall Street and Brookfield are really in two distinctly different markets with a different customer base. Hey, now Fuku has views of both rivers!"
The menu at Hudson Eats Fuku will be similar to the one on Wall Street, changing with the seasons, a spokeswoman for Chang said.
"Fuku was started with a menu of only three food menu items, but we've learned that our guests want options for every day of the week—not just spicy fried chicken sandwiches," Chang stated. "As the concept continues to expand, I'm excited to have [Abrams] on board to lead the culinary team and bring new ideas and flavors to Fuku."
Chang's brands are proliferating the city. Last month, he signed a lease for a 4,000-square-foot Momofuku Noodle Bar on the third floor of the Time Warner Center.
110 Wall Street
,
200 Vesey Street
,
Brookfield Place
,
David Chang
,
Food & Drink
,
Fuku
,
Hudson Eats
,
Little Muenster
,
Mark Kostic
,
Michael Goldban
,
Momofuku
,
Momofuku Ko
,
Momofuku Noodle Bar
,
RKF
,
Rotisserie Georgette
,
Spencer H. Levy
,
Stephanie Abrams
,
Time Warner Center
,
Brookfield