How Kenneth Colao Rebuilt a Thriving Construction Business After Nearly Losing it All
---
---
If there were background music to the life of CNY Group's Kenneth Colao, he might be wise to choose Chumbawamba.
The man gets knocked down—and he certainly gets up again.
Colao's construction management firm is either in its second or third iteration, depending on how you count the two firms he previously owned with similar names. But in 2003, after watching York Hunter crumble (it officially closed in 2009), having painful conversations with employees to say he couldn't meet payroll, losing the hearing in his left ear due to stress and eventually his marriage in the process, he lost little time dusting himself off and starting CNY with a team of just 16 people.
Today, CNY's burgundy logos can be seen shining on construction sites around the Big Apple, as it is working on about $1 billion in construction projects comprising more than 2 million square feet in New York City.
CNY topped out the 22-story 21 East 12th Street (also known as 110 University Place) this September for William Macklowe Company and Goldman Sachs. The building will feature 52 luxury apartments and 19,487 square feet of retail space. Nearby, CNY is redeveloping the 73,322-square-foot Tammany Hall at 44 Union Square East for developer Liberty Theaters LLC.
And earlier this year CNY completed the construction of Durst Organization's Frank 57 West at 600 West 58th Street, a 10-story mixed-use building with 65 residential units and 70,000 square feet of community facility space, mostly occupied by the Hospital for Special Surgery.
"Ken impressed us with CNY's attention to detail and emphasis on site safety," Alexander Durst, a principal and the chief development officer of Durst, said in a prepared statement. "They communicated well with us throughout the project and delivered an excellent building."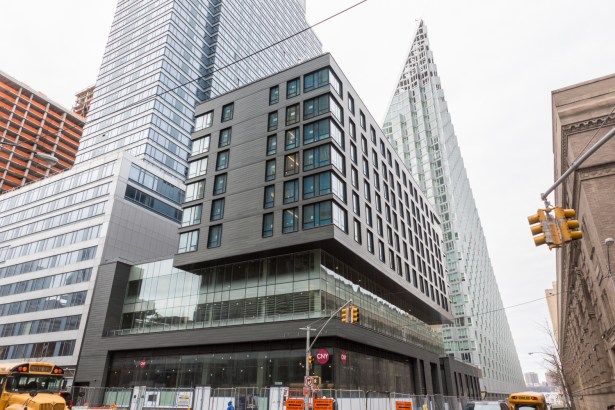 CNY's employee count has ballooned to 139, working out of the eighth floor of 214 West 39th Street. But Colao's first act is worth looking back on.
Colao, now 62, started construction company York Hunter in Westchester in 1984 at 28 years of age with two partners, both whom he eventually bought out. Over 16 years, he grew York Hunter to 320 people in 11 offices across 14 states. At its peak in 2000, the company was constructing projects worth $400 million and had more than 60 projects in the works.
Colao was preparing to expand the firm even further and attract bigger investors. He was already using leverage and sought even more money from his bank, Atlantic Bank of New York (now a subsidiary of New York Community Bank). Then the roof caved in.
First, York Hunter's bread and butter of schools and boutique hotels dried up. The following year, the 9/11 terrorist attacks occurred, and traffic was not permitted in Lower Manhattan below 14th Street for about a month, which was where York Hunter had four of its large projects. (Equipment was left at the sites for weeks.)
Two of its private projects were valued at a combined $75 million and the others were public projects for the city valued at $50 million, Colao said. The government was using funds to clean up the damage from the attack, which delayed his invoices for months.
"We didn't know if we could send those people back," Colao said. "So what do you do? You can't lay off the people…The impact on the business was we went into a liquidity crisis."
Bills started piling up as York Hunter struggled to pay workers and subcontractors. Atlantic Bank of New York demanded to be repaid as loans went from 30 to 120 days delinquent.   
When it reached over 150 days, the bank froze all of the company's funds and sent letters to clients saying to pay the bank, not York Hunter.
Colao gathered his workers and shared the news that he couldn't pay them.
"I told them I didn't know what was I was going to do, but I wasn't going to give up, and we were going to continue," Colao said. "The bank was trying to force us into liquidation or bankruptcy. Two weeks later, not one person left."
Colao started his comeback by creating a new (and similarly named) company, York Hunter Management, and setting up an account with a professional employment organization called Sterling Business Solutions. Sterling would advance York Hunter money for its payroll, and the construction firm would pay Sterling quarterly with interest.
"It was brutal on a personal side and a business side," said Dennis Prude, who was the former executive vice president of operations for York Hunter during that time. "The executives were getting paid once a month. And if you are a person that gets paid twice a month, going to once a month is tough. But we volunteered to get payments once a month to keep York Hunter going."
But when "once a month" became "zero a month" in 2002, Prude departed.
"[Colao] couldn't make payroll any more, and I have children, and I had a mortgage to pay," he said.
York Hunter still had 56 clients and projects around the country, so Colao asked developers for help. On some projects he asked for advanced or weekly payments instead of monthly so they could have more cash faster. On other projects, he asked clients to take some York Hunter employees as consultants. Slowly, York Hunter began to complete projects, and as it did, it closed offices and laid off staff.
To rebuild and get new projects, Colao got permission from the bank in 2003 to start another firm CNY. He brought on board his brother, Steve Colao, and a client "anonymously" gave him $1.5 million to get CNY off the ground. Other York Hunter clients were sympathetic and friends gave him money on which to live.
"The silver lining to the first part of the story is that clients came forth and loaned us startup capital [and gave us work] so CNY was able to hit the ground running," Colao said.  
Since York Hunter was functioning on cash, when there was none, a project would stall, and subcontractors would sue.
All told, York Hunter was hit with about 200 lawsuits, he said, and Colao was in court two to three times a week. He had four sets of attorneys and spent more than $10.5 million in legal fees. The company was facing a deficit of $83 million after accounting for all assets—including personal ones.
Colao put in roughly $8 million of personal money into saving his business over the years. He sold his penthouse condominium units at 222 Riverside Drive for $2.4 million, paid off the mortgage and used the balance to pay off debt. And he borrowed money from friends. With no income and taking on all of the suits, he became depressed. It all weighed on his 13-year marriage, and in 2005 his wife filed for divorce. (He has twin daughters from that marriage, who are 20 years old, and has not remarried.)
The stresses of the construction business also took a physical toll on Colao in the form of deafness in one ear.
One evening in the summer of 2003 at about 10:30 p.m., as he was lifting weights in a gym, he realized he couldn't hear his headphones from the left side. And when he stood up, he felt dizzy.
The next day doctors told him he had inflamed nerve endings and gave him steroids to help restore them. At first, the experts thought the issue could be a tumor or a viral infection, but when tests came back negative, he was diagnosed with "sudden sensorineural hearing loss."
"I lost my hearing through stress," Colao said. "Those tiny nerve endings, through stress, they became enflamed."
York Hunter completed its remaining projects and closed shop in 2009. At the same time, Colao focused full-time on CNY Group, which was already starting to grow. Prude, who kept in touch with Colao, even came back to him by joining CNY that year.  
"I got excited about what they were trying to accomplish and came back to the family," said Prude, currently CNY's executive vice president of field operations. "Not many people can stand up to what he stood up to. He didn't go bankrupt—he paid off his debts. You know what stress can do to a person, but he didn't crumble. He fought the good fight and rebounded."
Still, one must wonder why he resisted bankruptcy so vigorously.
"People thought I was crazy," Colao said. "I didn't believe in it. I didn't think it was the right thing to do. I think too often it's used as an escape—to escape responsibility. When you walk away from that, somebody else is paying for it. And maybe it's a small vendor who is owed money, and now he is not going to get that. I didn't cause it, but I was responsible."
Much of Colao's outlook, like his business acumen and real estate knowledge, comes from his upbringing.
He was born in in West New York, N.J., a descendant of Italian immigrants. His grandfather was a stonemason, who built stone railroad arches in France and Italy and arrived in New York in the early 1900s.
Although his grandfather never learned to read or write English, he started a general contracting business in Bergen County, N.J.
"If [my grandfather] didn't feel that somebody could be trusted with a handshake, you don't do business with them," Colao said.
Colao's father, a bricklayer by trade, joined the business without going to college.
"I learned to walk on a construction site," Colao said.
At 10 years old he asked his father for a job, and he presented his son with a rubber bucket and a hammer. The elder Colao led him to a pile of wood and told him to pull the nails from the wood and put them in the bucket. For every bucket he could fill with nails, he would get $5.
"It took me a long time to fill a bucket," Colao said. (He only filled two over the entire summer.)
In grade school, Colao cut lawns and shoveled snow for extra cash and operated a variety of newspaper courier routes and employed neighborhood children to deliver the newspapers. At nights he would collect those old newspapers and fill up his garage as well as neighbors' garages. He would sell them for $45 per ton to a recycling company, as well as glass bottles he gathered from neighbors.
"A lot of those things a lot of kids do, but I took it to another level," said Colao, who secured a laborer union card at 18.
Colao attended Newark College of Engineering (now New Jersey Institute of Technology) and earned a bachelor's degree in civil engineering in 1977. He arranged his schedule so he could work two days a week as a laborer on construction sites—and more hours during the summer—so he was able to pay off three years of tuition himself.  
Following graduation, Colao worked as an assistant resident engineer for a small engineering company called Alfred Crew in Ridgewood, N.J.
After a year, he was introduced to Eugene McGovern, a vice president at construction company Morse-Diesel who hired Colao, and in 1979 when Peter Lehrer and McGovern founded Lehrer McGovern in Midtown, Colao was its first employee.
At Lehrer McGovern (later acquired by Lendlease), Colao oversaw the conversion of the 1-million-square-foot Biltmore Hotel at 335 Madison Avenue into an office building—he was just 26 years old. In 1982, he opened a London office for the company to offer U.K. developers consulting services on American construction techniques. He also helped oversee a bridge project in London that was valued at 750 million pounds (roughly $989.6 million).
Around that time, Colao began an interior construction group for Lehrer McGovern, which he said generated a lot of work in the first year. However, he had a disagreement over the amount of money he should have been paid for finding that work. Instead of suing the bosses, he resigned and used the cash he was given to start York Hunter.
Money doesn't appear to be an issue today.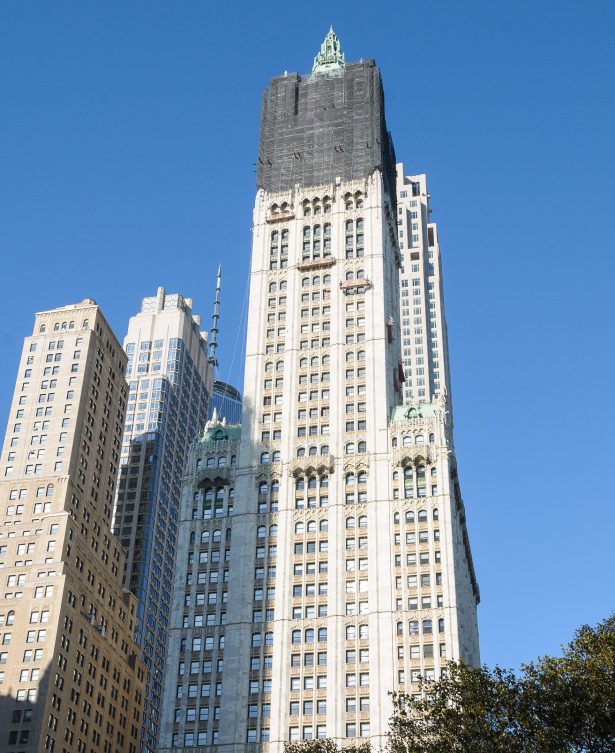 Among developments started within the year, CNY is converting the 29th through 58th floors of the 58-story Woolworth Building into 33 residential condominiums for Alchemy Properties and BlackRock.
And CNY is finishing up work on the 39-story Marriott Edition hotel at 20 Times Square for Witkoff Group. The 452-room hotel will measure 378,000 square feet and include a 70,000-square-foot retail component, which the National Football League and Cirque du Soleil will occupy.
Colao believes CNY's rapid growth is partly because his company was an early adopter in 2008 of open shop (i.e., having union and nonunion workers bid on projects).
"We feel that that helps us deliver a quality service to our clients," Colao said. "It was sort of born out of our approach to be innovative."
Colao boasted that CNY can typically save a developer up to 20 percent of job costs and maintain tighter schedules using a combination of nonunion and union contractors. Since both types of subcontractors are bidding aggressively on the project, it lowers costs, and there are less union regulations that need to be followed since it is not completely union.
As a case in point, the 114,000-square-foot office building at 860 Washington Street, which CNY completed last year, was built using a mix of both union and nonunion contractors. CNY saved 12 percent of the budget and shaved three months off the schedule, according to information provided by the company.
"Those [union] work rules and practices on the one hand could provide certain efficiencies because jurisdictions are clearly defined and understood, but on the other hand, it could restrict innovation," Colao said. "There needs to be flexibility to quickly solve a problem."
In Jamaica, Queens, CNY is building a 730,000-square-foot mixed-use building for BRP Companies. The Crossing at Jamaica Station, as the project is known, will feature 669 rental apartments, 35,000 square feet of retail and 187 above-grade parking spots.
Initially, the parking spots were slated for underground. But during the preconstruction phase, CNY recommended moving the parking above ground as the site is sandwiched between Metropolitan Transportation Authority and Long Island Rail Road lines, making digging underground very costly.
The move is estimated to save $25 million and three months of work, according to Colao. The project is expected to be completed in 2019.
"They came up with different suggestions with the goal of reducing the cost of the product without impacting the quality, and that process turned out to be successful and significantly reduced the overall cost to the project," said Geoff Flournoy, a co-founder and managing partner of BRP Companies. "That was key."