CO's 'Women in Construction & Design' Event Celebrates Breaking the Glass Ceiling
---
---
Some of the most accomplished women working in the fields of construction, architecture and development gathered at Commercial Observer's "Breaking the Glass Ceiling: Leading Women in Construction & Design" event on Tuesday, where the conversation revolved around both the challenges facing, and the opportunities available to, women in a traditionally male-dominated field.
The morning was anchored by CO's presentation of its 2017 Women in Construction Awards to six individuals who have made a mark upon their respective industries over the course of their careers.
The "Barrier-Breaker Award," honoring women who have set a precedent in their fields, were presented to Aine Brazil, vice chairman at engineering firm Thornton Tomasetti; Jan Hilgeman, vice president of construction at Hines; and Carol Patterson, a senior partner at law firm Zetlin & De Chiara.
The "Woman on the Rise Award," celebrating some of the most promising individuals working in the industry today, were given to Pascale Sablan, a senior associate at S9 Architecture, and Margaret Wrzos, an assistant project manager at AECOM Tishman.
And the "Innovative Designer/Engineer Award" was presented to Marianne Kwok, a senior designer at Kohn Pedersen Fox.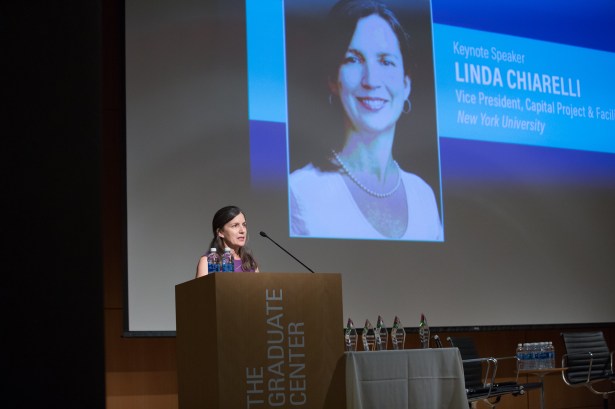 But the day also featured three broad-ranging panel discussions and a keynote address from Linda Chiarelli, vice president for capital projects and facilities at New York University. Chiarelli, who served as deputy director of construction for Forest City Ratner Companies before joining NYU, noted that women make up only 9 percent of the construction industry's workforce—with many of those jobs in administrative and non-construction-related roles.
But she also cited progress from the days when job interviewers would ask "if I planned to have kids," and urged attendees to be aware of the city's new law prohibiting employers from inquiring about job applicants' previous salaries—a regulation designed to lessen the pay gap faced by women and people of color. "You should all be aware [of the law]," Chiarelli said.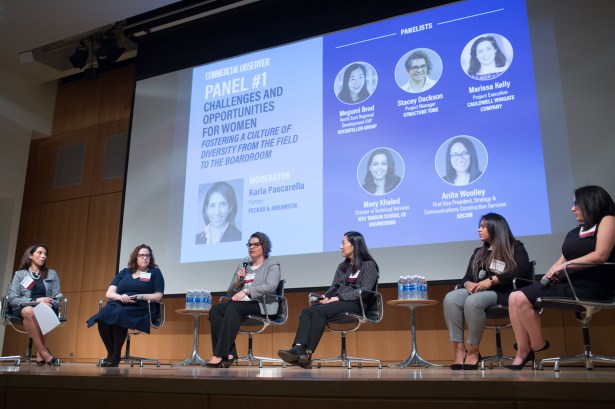 She was followed by the morning's first panel, "Challenges and Opportunities for Women—Fostering a Culture of Diversity from the Field to the Boardroom." Anita Woolley, first vice president of strategy and communications for AECOM's construction services group, noted the benefits of "having people of different backgrounds" on staff, citing studies indicating that "diverse teams are more successful."
Maey Khaled, director of technical services at NYU's Tandon School of Engineering, recalled engineering courses where she'd frequently "be the only woman in the class" and stressed the need to foster industry participation from women at an earlier age group. Stacey Dackson, a project manager at Structure Tone, echoed that sentiment and the need to educate young women about the career opportunities available in the construction industry, citing the field's "tremendous economic viability."
Marissa Kelly, a project executive at Cauldwell Wingate Company, said that there is still the flawed perception that "women are too emotional to be in leadership positions" at a corporate level—a notion that "holds women back" in the industry, she said—while Megumi Brod, senior vice president and Northeast regional development officer for Rockefeller Group, urged attendees to both "be a mentor" to other women in their fields and also "make a mentor" who can help guide them through their career paths.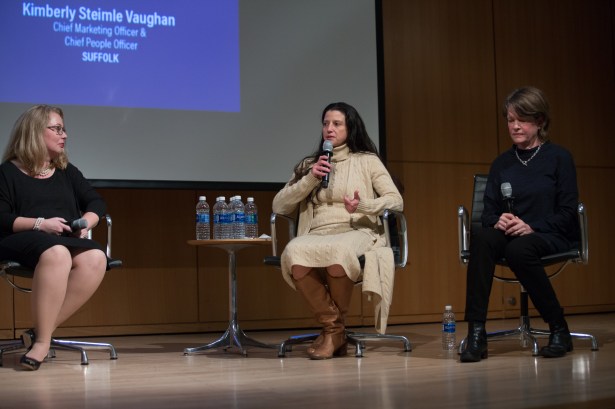 The second panel of the day, "Women Leaders in Construction & Design—How They Paved the Way," included the likes of Kimberly Steimle Vaughan, chief marketing officer and chief people officer at construction firm Suffolk, who cited her company's efforts to "create a culture of inclusion" and "infuse people in the organization from different backgrounds." Vaughan said that roughly a third of the firm's workforce is comprised of women and that she had been to job sites where there were more women at work than men, adding that diversity has become a key tenant of Suffolk's corporate philosophy.
Melissa Grzymala, an executive project manager at Faithful+Gould, recalled a high school guidance counselor's incredulity at her career goal of becoming an engineer, while Elisabeth Malsch, a principal at Thornton Tomasetti, noted the importance of hiring women given how they occupy a roughly equal share of the graduating classes at most higher education institutions. "If you're not hiring women, you're not hiring the top of the class," Malsch said.
Jane Smith, a partner at architecture and interior design firm Spacesmith, said that "obviously things have changed [in the industry]" since she first started, and urged the conversation away from the obstacles facing women. "The women in this room shouldn't need to worry about whether they're women or men," Smith said. "Let's talk about how we can succeed."
Helena Durst, a principal at the Durst Organization, agreed with Smith's argument, noting that the principles being discussed on the panel "are not male or female values; they're hirable values…. We shouldn't be talking about maternity or paternity leave; we should be talking about child care."
But Durst also acknowledged that her own company "has a lot to learn" and is "far from perfect" as far as gender equity in the workforce, adding that the effort to improve "starts with awareness" and "talking about biases," as well as "looking at policies that are [both] written and unwritten."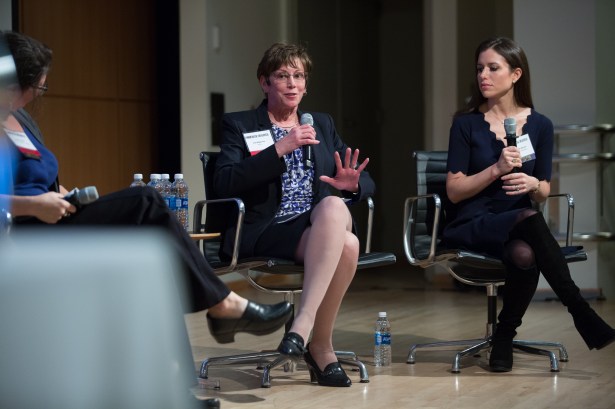 The morning's third and final panel, "Creating the Next Generation of Women in Construction & Design," featured Gilbane Building Company's Brennan Gilbane Koch noting how the four previous generations of Gilbanes who helmed the family-led construction firm were virtually all men—a state of affairs that has changed, given her current role as Gilbane's business development manager. Anne Fletcher, a principal at architecture giant HOK, said that when she started in the industry she found herself not only doing "everything my male colleagues did," but also "arrang[ing] shipping" and "answer[ing] the phone because I had the best phone voice."
While Fletcher was recently named the new managing principal of HOK's Los Angeles office, she also noted that she's one of only six women on HOK's 34-member board of directors—indicating the progress that remains to be seen in the industry.
Jennifer Bernell, executive vice president of development for Kushner Companies, discussed the challenges of balancing her role at Kushner with her responsibilities as the mother of four young boys—adding that she has been "fortunate" to have the support of her company, as far as maintaining a flexible schedule allowing her to meet the demands of being both an executive and a parent.
Susan Radin, a senior project manager at Turner Construction Company, cited progress as far as work-life balance expectations that are no longer exclusively faced by women—noting that in previous years, she "never heard from male colleagues that they had to [leave work early to] take care of their kids."
Hines' Hilgeman, who in addition to receiving the "Barrier-Breaker Award" also spoke on the panel, added that in her own career, she has stories about workplace harassment "not unlike what's [been] in the news today."
"We all have those stories, and we're going to have them no matter what industry we're in," she said. "I think it's a much broader, underlying cultural issue."
AECOM
,
AECOM Tishman
,
Aine Brazil
,
Anita Woolley
,
Anne Fletcher
,
Brennan Gilbane Koch
,
Carol Patterson
,
Cauldwell Wingate
,
Durst Organization
,
Elisabeth Malsch
,
Faithful & Gould
,
Forest City Ratner Companies
,
Gilbane Building Company
,
Helena Durst
,
Hines
,
HOK
,
Jan Hilgeman
,
Jane Smith
,
Jennifer Bernell
,
Kimberly Steimle Vaughan
,
Kohn Pedersen Fox
,
Kushner Companies
,
Linda Chiarelli
,
Maey Khaled
,
Margaret Wrzos
,
Marianne Kwok
,
Marissa Kelly
,
Megumi Brod
,
Melissa Grzymala
,
New York University
,
New York University Tandon School of Engineering
,
Pascale Sablan
,
Rockefeller Group
,
S9 Architecture
,
Spacesmith
,
Stacey Dackson
,
Structure Tone
,
Suffolk Construction
,
Susan Radin
,
Thornton Tomasetti
,
Turner Construction
,
Turner Construction Company
,
Zetlin & De Chiara