Javits Center and Moynihan Train Hall Push Up Construction Starts in August
---
---
Construction has ramped up in New York City—boosted by the start of massive institutional projects such as the Jacob K. Javits Convention Center expansion and the Moynihan Train Hall conversion.
The dollar amount for construction starts in New York City for nonresidential buildings spiked for the month of August, as $3.66 billion worth of projects commenced, notching a 203 percent jump from the same period last year when it was $1.21 billion, according to information Dodge Data & Analytics provided to Commercial Observer.
Dodge defines the category of institutional projects as education centers, health care facilities, transportation terminals, amusement venues and churches.
The results differ from the more investor-focused nonresidential commercial buildings, such as offices, retail, warehouses and garage spaces, which have been in a slump. As CO previously reported, for the first half of the 2017, construction starts for commercial buildings not including institutional developments fell 35 percent year-over-year to $3.72 billion from $8.14 billion in 2016.
However, when including institutional developments, the city has seen $12.36 billion worth of nonresidential building construction year to date through August, a 54 percent increase from the first eight months of 2016 when it was $8.02 billion.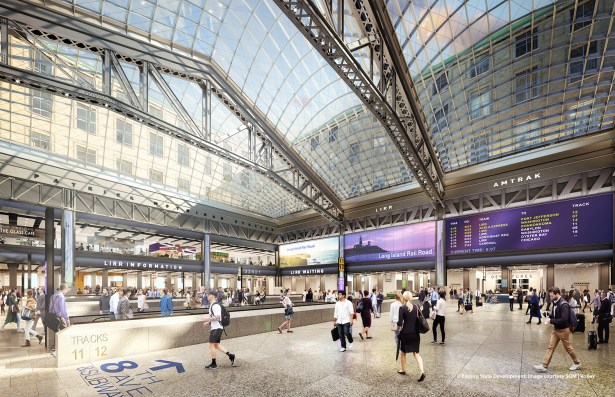 "What this means is that as we approach the peak of a nonresidential building cycle, institutional building makes a larger contribution towards keeping the expansion going," said Robert Murray, Dodge's chief economist. "This is the typical progression of a nonresidential building cycle, because it generally takes longer to get the financing arranged for institutional building projects."
The Javits Center project and the Moynihan Train Hall are both in Manhattan, so that borough led the way with $3.06 billion in the month.
Brooklyn landed in second place with a 117 percent increase to $402 million in construction starts in August, up from $185.6 million in August last year. In Kings County, like Manhattan, institutional projects played a big role in the amount of development that launched in August. Two of the largest projects that began that month were the new $92.7 million elementary school P.S. 746 at 244-254 58th Street in Sunset Park, and the $74.4 million renovation and expansion of P.S. 32 at 317 Hoyt Street in Gowanus.  
For the first eight months of the year, Queens saw the largest percentage jump in construction starts for nonresidential buildings. The borough witnessed a 256 percent gain to $4.2 billion year as of the end August from $1.18 billion during the same time frame last year. This enormous jump is also due to one institutional project: the redevelopment of the Central Terminal B building at LaGuardia Airport, which Dodge said accounted for $3.4 billion.
On the horizon, Murray expects more institutional projects to begin soon, such as redevelopment work at John F. Kennedy International Airport and other projects at LaGuardia.
He also said at least one massive commercial office building that is not an institutional project started last month—50 Hudson Yards—and it will show up in Dodge's next construction starts report later this month. Related Companies, Oxford Properties Group and Mitsui Fudosan America closed on nearly $4 billion in financing for 50 Hudson Yards last month, as CO reported at the time.
"[The construction market] is not heading for a collapse anytime soon," Murray said.