Dollar Volume Falls 63 Percent for NYC Construction Starts Since 2015
Construction costs are in large part to blame for the slowdown, experts say
---
---
It's been well noted that construction in New York City has been hot over the last couple of years. Now it seems like it's overheating.
Developers are putting the brakes on initiating more projects, according to data provided to Commercial Observer by Dodge Data & Analytics.  
The dollar volume of commercial and multifamily building construction starts for the first half of the year fell 27 percent to $7.2 billion from $10 billion over the same period last year. That's also a staggering 63 percent fall from the first six months of 2015 when it was $19.3 billion, the data indicates.
It's not just dollar volume, but the scope of construction that has slowed down as well. From January through June 2017, 18 million square feet of projects began construction, compared with 22 million over the same time in 2016 and a whopping 48 million for those six months in 2015, according to Dodge.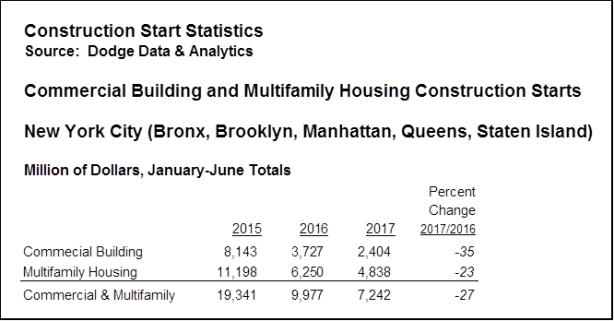 Despite the drop off, some experts aren't ready to say the industry is in trouble.
"I think it would be an overstatement to say this market is in a recession," said Robert Murray, Dodge's chief economist. "I think it is settling back from an exceptional pace [in 2015] to what would be considered a healthy one."
Indeed 2015 was an amazing year for construction in New York City. For that entire year there were 76 million square feet of projects started in the commercial and multifamily sectors, which was the highest level in at least half a century. The runner up was 2006, when the city saw 56 million square feet of projects begun. (Dodge's database goes back to 1967.)
A myriad of large commercial projects, such as Related Companies and Oxford Property Group's Hudson Yards and Brookfield Property Partners' Manhattan West, were large contributors to the spike in construction starts in 2015, Murray said. He added that the 421a tax abatement was expiring that summer, so many multifamily developers rushed to file permits and start working on projects. (The 421a program has since been revamped in April 2017 as Affordable New York, as CO previously reported.)
All of these projects that began work a few years ago are far along in construction now a sign the industry is thriving, New York Building Congress (NYBC) President and Chief Executive Officer Carlo Scissura said.
Although NYBC is still counting last year's tally, it forecasted in its latest report (in October 2016) that there was $43.1 billion spent on construction in 2016—a 26 percent jump from $34.1 billion in 2015—which was the first time the city ever crossed the $40 billion threshold. NYBC also estimates that there will be $42.1 billion spent on construction activity in 2017 and then $42.3 billion in 2018.
Employment numbers in the industry have also been at all time highs of late, according to NYBC data. The Big Apple will likely surpass 147,100 jobs in construction last year, up from 138,200 in 2015, NYBC anticipates. It will be the greatest number of jobs that NYBC's survey has recorded in more than two decades. The organization expects that number to fall to 142,600 jobs in 2017.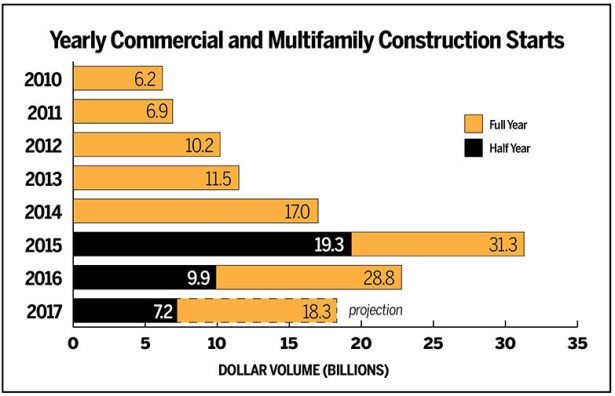 "I look out the window and I see a lot of cranes—that's a good thing," Scissura, whose office is on the 12th floor of 44 West 28th Street, told CO. "There is so much going on that I am not sure that people need to rush to get more permits. We shouldn't be panicked over [slowing construction starts]."
But some experts CO talked with had a different perspective. Richard Lambeck, the chair of the construction management program at New York University's School of Professional Studies Schack Institute of Real Estate, believes that developers are taking a step back because they are unsure about the absorption of projects commenced two year ago. Also, he said, rising construction costs are making it harder to make projects pencil out.
Construction costs in New York City hit $354 per square foot, the highest in the world above San Francisco ($330 a foot), according to the 2017 International Construction Market Survey.
Lambeck predicted that there could be some stalled sites in coming years. Thanks to rising construction prices, some developers are charging more to buy or rent units. But many developers aren't willing to take that risk at the moment, especially when it comes to luxury condominiums, he said.
"Several years ago, when we had the recession, we had almost 900 sites that were vacant—either the developer had stopped construction or they had the land and they couldn't get the financing [to begin]," Lambeck said. "I think  this may come again, but not of the same magnitude."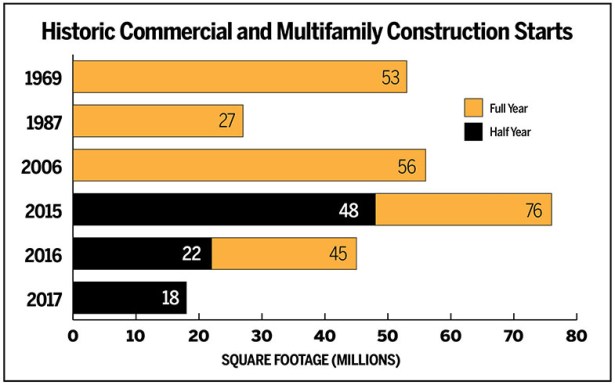 Francis Greenburger, the founder of development firm Time Equities, agrees that the slowdown could be attributed to construction costs, but added that high land prices are also to blame. He expects a correction in both as development peters out.
The price per buildable square foot in Manhattan rose for five consecutive years to $681 per square foot in 2016, compared with $355 in 2012, according to Cushman & Wakefield's mid-year real estate outlook. For the first half of 2017, the number dropped nearly 19 percent to $552 per square foot.
Time Equities is currently completing its 65-story condominium at 50 West Street, where sales began two years ago. To date it has sold about 130 of its 186 units. Greenburger said that sales have slowed compared with when he started selling the apartments, but he isn't worried as Time Equities has already paid off the $290 million debt on the property through previous sales. But the same cannot be said for those starting projects today, he said.
"I can tell you that I'm glad that I'm not opening [a sales office] on a new project today, because velocity is low," Greenburger said. "Pricing isn't way down, but the number of units trading is down, which certainly make us say, well it's time to make sure that any new projects that one might undertake are timed in a way that this market, which clearly has slowed dramatically, will be coming back."
50 West Street
,
Brookfield Property Partners
,
Carlo Scissura
,
Cushman & Wakefield
,
Dodge Data & Analytics
,
Francis Greenburger
,
New York Building Congress
,
New York University
,
Oxford Property Group
,
Related Companies
,
Richard Lambeck
,
Robert Murray
,
Time Equities