South Korean Cinema Chain Bringing 4D Multiplex to Flushing's Tangram
---
---
CJ CGV, a South Korean cinema chain, will open a seven-auditorium 4D-movie multiplex in the 1.2-million-square-foot Tangram, a mixed-use development under construction in Flushing, Queens.
The company signed a lease at Tangram, at 133-15 39th Avenue between College Boulevard and Prince Street (the retail portion is at 37-09 College Point Boulevard), a spokeswoman for the project told Commercial Observer. The asking rent was $65 per square foot, Geoff Bailey of SCG Retail, who represented both sides in the deal, told CO. Regarding the length of the lease, signed last week, Bailey would only say it was "long term," but a source said it is 20 years with options.
Last November, CO was the first to report that developers F&T Group and SCG America's project would be home to a 34,000-square-foot movie theater, the first one in the neighborhood in 30 years.
CGV Tangram Flushing will include the first 4DX location—which includes motion vibration and environmental effects such as wind and rain—in Queens, and the first ScreenX auditorium—described as providing a "270-degree panoramic theater experience, extending the screen visuals to the left and right" in the city. The Flushing theater will be the third CGV Cinemas (the name used in the U.S.) location in the country, and the first in New York City when it opens in late 2018.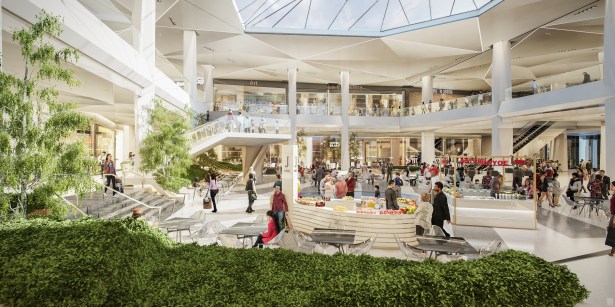 "Movie theater is a very complicated use because it's a big-box," said Bailey, the exclusive agent for Tangram's 275,000-square-foot retail component. "They need high ceilings [some as high as 40 feet]. They have all sorts of egress issues. There are FAR [floor area ratio] issues that we needed to overcome."
"When we discovered the opportunity to be an integral part of Tangram, we knew being in this economically vibrant and evolving neighborhood was where our first East Coast movie theater had to be," Paul Richardson, the chief operating officer of CJ CGV, said in a prepared statement.
SCG America Executive Vice President Thunder Zhou noted: "CJ CGV has over 1,000 movie screens in Korea alone, and now they're a part of Tangram." (CJ CGV operated 3,120 screens at 412 locations in seven countries.)
The Wall Street Journal identified CJ CGV as the movie theater tenant in a story this week about the project, which will be home to two condominium buildings (with 317 residences) and a 85,000-square-foot office condo (with 48 units). The 275,000-square-foot two-story retail podium—which includes a 24,000-square-foot predominantly Asia food hall—is slated to be delivered first, in third-quarter 2018, the developers said.