Telemedicine Will Do to Urgent Care What Amazon Did to Bookstores: CO Conference
---
---
Hospital campuses aren't immune to the technology revolution that is driving industries (and construction) across the globe.
As telemedicine, or virtualized care—where patients talk to doctors and experts via telephone or computer, without actually leaving their couch—increases, there will almost certainly be a great impact on bricks-and-mortar, according to Dr. Steven J. Corwin, the president and chief executive officer of NewYork-Presbyterian.
"If I had to put an industry comparison, it would be retail. As retail got disrupted by Amazon, I believe telemedicine will disrupt healthcare," Corwin said during his keynote address at Commercial Observer's event yesterday entitled, "The Cure: The 2017 Healthcare Construction Report." "And the need for bricks and mortar will go down in health care—on the primary-care side and on the urgent-care side."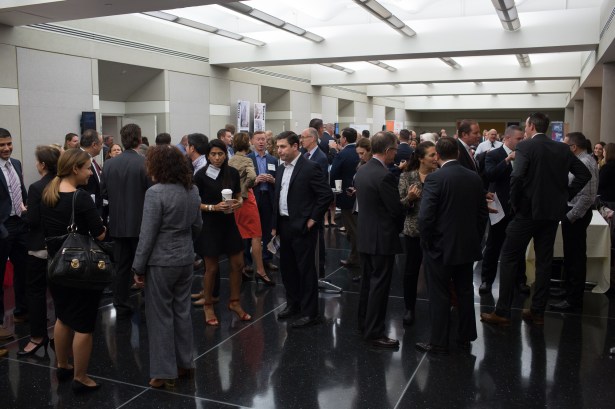 In that vein, Corwin added that NewYork-Presbyterian has not invested in urgent-care facilities, but it offers services like urgent care on-demand at emergency facilities and having medicine available in kiosks at Walgreens. (Surgery facilities and intensive care units will still be necessary.)
"We have a suite of on-demand services and I think this growth is going to be explosive," Corwin said.
NewYork-Presbyterian has some 12 million square feet of real estate in the state, much of which are in dated buildings in Manhattan. While there are plans to build new structures, a lot of its buildings need repair and the hospital plans to spend $6 billion or $7 billion on infrastructure over the next decade. 
"The reality of [our] 1932 campuses is that they are pretty to look at but those buildings are reaching the end of their useful lifespan," Corwin said. "The cost of land is exuberantly high—it's not like I can pick up and move [our facilities in Manhattan]. We have to repair in place, we have to renovate in place and then we have to have a strategy for building new and we are in the process of doing that throughout our campus."
On the inpatient side there will be more of a turn to single-bedrooms due to concerns about infection control, according to Corwin. In NewYork-Presbyterian's $1.1 billion David H. Koch Center at 1283 York Avenue between East 68th and East 69th Streets, which will open next year, the hospital will feature a maternity ward at the top with single bedrooms. Mechanicals on the eighth and ninth floors of the 17-story building protect the property against future mega-storms.
Construction and engineering experts joined healthcare executives to further explain technology, real estate development and best practices for the industry during CO's event, which was held at the City University of New York Graduate Center at 365 Fifth Avenue between East 34th and East 35th Streets.
Building new and even renovating are becoming too expensive for hospitals (and every kind of asset) in New York City, so speakers from the first panel entitled "master planning and health care development," urged developers and construction folks to work with hospital executives to find solutions.
"I think we have to try to get creative and that might mean we are buying equipment directly—buying the sheetmetal directly and not through a mechanical contractor," said Steve Jureller, the president and CEO of Cauldwell Wingate Company. "And you have to know the trades. We have to have good, healthy competition with subcontractors who are capable of doing that kind of work."
The panel was moderated by Patrick Greene of Peckar & Abramson, and in addition to Jureller featured speakers Joseph Ienuso of NewYork-Presbyterian and Christopher Prochner of engineering firm JB&B.
During the second panel, "Construction Approaches and Best Practices for Healthcare Projects," panelists praised the use of "design build," which allows projects to be completed faster and more collaboratively as the owner selects one entity to craft and construct the project, over the traditional design process, which includes bidding various parts of the project and then building it.  
They also talked about the good and the bad of modular construction, or prefabricating parts of buildings off-site and assembling them on site later. Panelist Roslyn Weinstein, a vice president at NYC Health + Hospitals, recalled a modularly built clinic in Coney Island called Ida G. Israel Community Health Center, which was constructed six months ahead of schedule.
"One of the hardest things actually is when you do a modular building as you all know there are no changes after the design," Weinstein said. "And the next big problem [with the Coney Island clinic] was getting it over the Verrazano Bridge. It was too wide."
The panel—moderated by Michael Zetlin of law firm Zetlin & De Chiara—included Joseph Chin of LF Driscoll Healthcare, Kevin Mannle of NuHealth, Peter Mulcahey of Gilbane Building Company and John Pierce of The Rockefeller Group.
The final panel, "Technology and Innovation in Health Care Construction," addressed virtual design and construction, or using 3D models (called building information modeling—a.k.a. BIM—by the industry) to build and architects using tablets on construction sites.
Suzen Heeley of Memorial Sloan Kettering Cancer Center explained the hospital's use of a device called Real Time Location System (RTLS) at the Josie Robertson Surgery Center at 1133 York Avenue between East 61 and East 62nd Streets. Instead of having a large "foreboding" reception desk, the hospital has smaller "beehive" check-in points where patients are given the RTLS device to wear on their clothing. Then the patient can sit in a comfortable waiting area, and a staff member will come to them for check-in.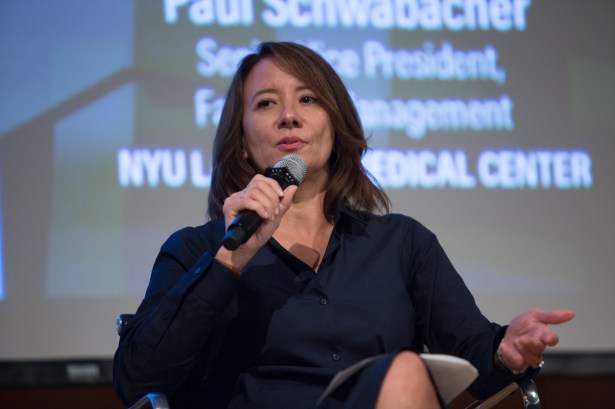 "It becomes less transactional over a big desk and it becomes more personal…So that check-in process can happen in a more casual and relaxed way and that helps to reduce stress for patients," Heeley said.
Grassi & Co.'s Carl Oliveri moderated the final panel, which in addition to Heeley included Jeffrey Brand of Perkins Eastman, Paul Schwabacher of NYU Langone Health and Shawn Seaman of Suffolk Construction.