What Does Chick-fil-A Have Cooking for Its 12K-SF, Five-Story FiDi Eatery?
---
---
Next year, Chick-fil-A will be opening its third restaurant in Manhattan—the company's largest-ever and the first one outside of Midtown. The lease was signed in 2016, but the company has announced details about the new digs this week.
The 15-foot wide fried chicken chain's restaurant will span the entire 12,000-square-foot building at 144 Fulton Street between Broadway and Nassau Street. Three of the floors are for dining, seating 140 people, and two are for food preparation, according to a press release. The first through fourth floors will be connected by a staircase.
Some of the eatery's features include a rooftop terrace, the second-ever at a Chick-fil-A, natural light via skylight and floor-to-ceiling windows on each level. (Only three of the company's 2,100-plus U.S. restaurants boast skylights.)
"There were a couple things benefiting us—first, there's an open courtyard behind the building, and second, we have no tenants upstairs," Nathaniel Cates, the design manager for restaurant development at Chick-fil-A, said in prepared remarks. "We took advantage of the courtyard by adding a large window in the back of the restaurant, and since Chick-fil-A has the whole building, we brought in natural light through a skylight."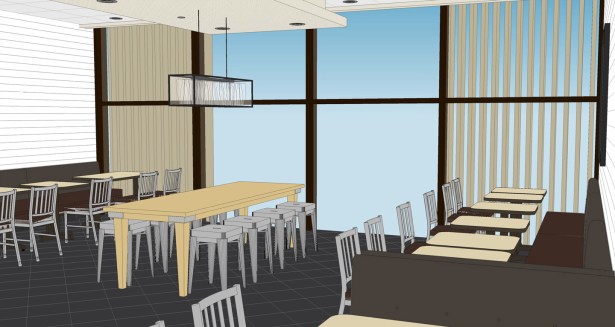 There will be a semi-private section for group trainings and meetings. And because of its close proximity to the World Trade Center site, the designers "drew designs for the front of the building to be stacked fully with glass windows, with elements built into the façade that give a subtle impression of the Twin Towers—one on each side of the restaurant," the company said in the release.
Crown Acquisitions acquired the retail building at 144 Fulton Street, which sits next door to the Fulton Center, for $25 million in late July 2015, as Commercial Observer previously reported. At the time, it housed a souvenir store.
Chick-fil-A is a relative newcomer to New York City. Last April, Chick-fil-A opened its second standalone and franchisee-run eatery at 1180 Avenue of the Americas at West 46th Street, just nine blocks north of its first one in the city. That one opened in October 2015 at 1000 Avenue of the Americas at West 36th Street. The company has plans to have around 20 locations in New York City, as CO has reported.