Presented By: Ten-X Commercial
Sun, Surf, Stores – Why the Southeast is Booming for Retail, And Why It's Not Alone
---
---
There's no denying it – the retail sector is amid a revolution. Deal volume in Q4 2016 saw a 22.4% decrease over the same period in 2015, according to Ten-X Commercial's Spring 2017 Retail Market Outlook. Although the retail sector's current malaise shows few signs of abating, there are bright spots in certain geographical regions that show all is not lost for retail.
The Northeast and Midwest continue to be imperiled by the worst of it, but in a stark regional contrast the Southeast and West show potential for increased profitability.
"The U.S. retail recovery has been lackluster overall thanks in part to the rising prominence of e-retail. There are key regional differences,
however," said the Ten-X research team. "Markets in the West and Southeast have fared better than those in the Northeast and Midwest thanks to stronger economic, demographic and housing market growth."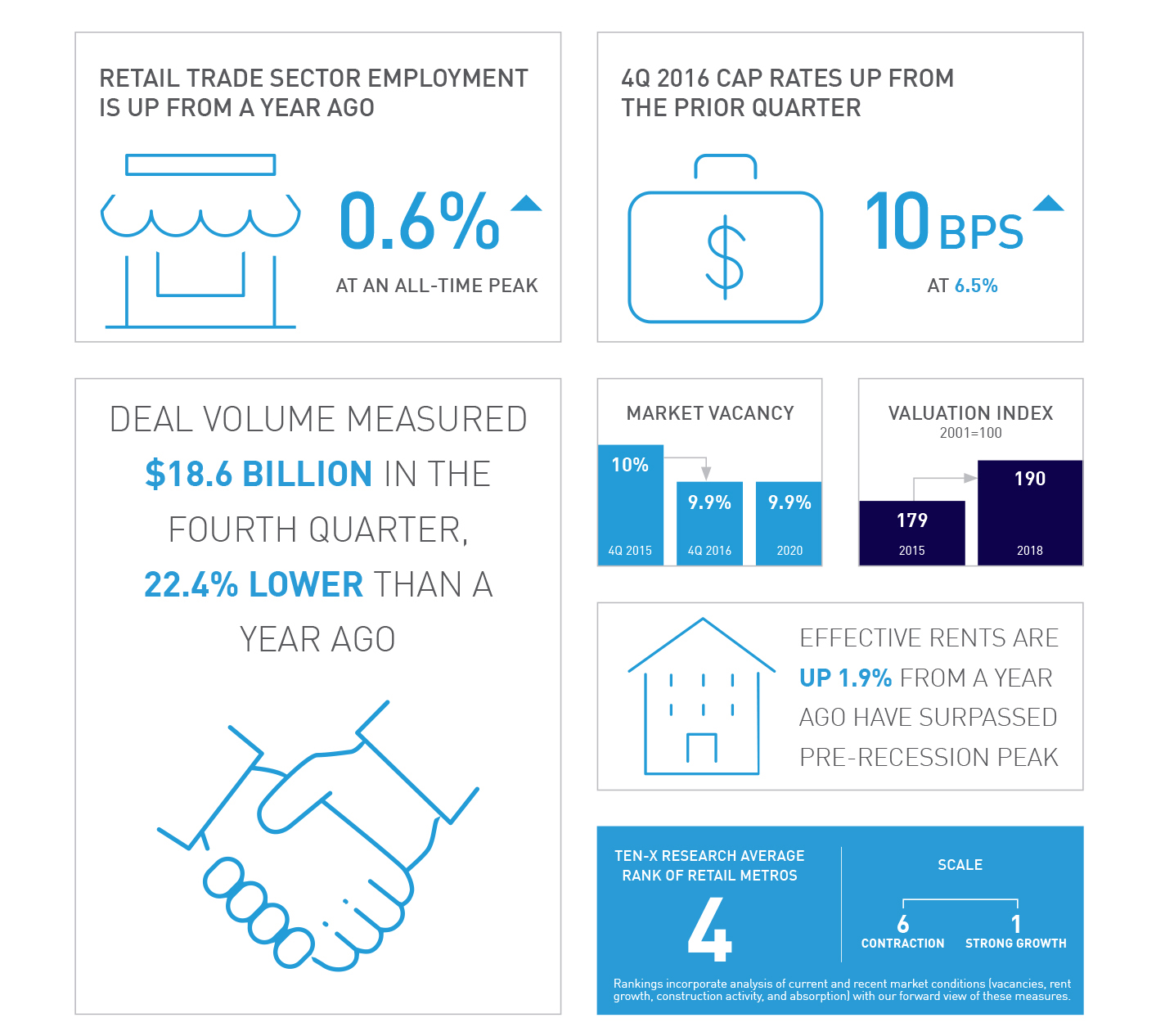 Ten-X has strong Buy recommendations for Miami and Fort Lauderdale, with both enjoying robust economic gains and employment rates at a historic peak. Miami, in particular, has seen unemployment fall significantly, reaching 5.5 percent at the end of 2016. Also strong: Houston, which has enjoyed significant employment gains as the city topped three million jobs for the first time; Austin, which is seeing high employment and a population rising at three times the national rate; and Tampa, where job growth hit a healthy 2.3 percent in 2016.
The Southeast has seen these advances as a result of strong consumer spending, while tech booms in Seattle and the Bay Area have buoyed the West.
Ten-X also identified several Top Sell Markets, where the news is less optimistic. Baltimore is the unfortunate number one, as the area has been hampered by weak population growth, and saw jobs decline in four of the five months prior to the issuance of the report. Retail jobs, in particular, have nearly flat lined in the city, exhibiting only 0.9 percent growth from 2015 to 2016.
Other Top Sell Markets include Milwaukee, which is experiencing its weakest population growth in a decade; Oakland, which is seeing a decline in retail jobs; Memphis, which has seen employment growth drag; and Cleveland, where employment is down seven percent from its turn of the century peak.
Overall, reports show agonizingly slow growth for American retail, as the sector remains besieged by secular trends. The growth of e-commerce, in particular, continues to progress at a steady pace, now comprising more than 13 percent of total retail sales. This is expected to continue along a similar path in the coming years, as absorption will be constrained, inhibiting gains in occupancies and rents. Many big box retailers have responded to the shift in consumer behavior by downsizing store footprints and store counts, and hedge funds have taken to shorting REIT's and bonds tied to malls in response.
With retail at a crossroads and evolving before the eyes of the industry, there continues to be industry-wide apprehension and speculation.  Investors looking to buy, or owners considering selling their retail properties, must carefully analyze the markets on both a regional and market level.
___________________________________________________________________________________________
Ten-X Commercial is the nation's leading online real estate marketplace, having sold more than $48B in real estate assets. Ten-X Commercial empowers brokers, buyers and sellers to transact commercial real estate online, blending data-driven tech with industry expertise.
Austin
,
Baltimore
,
Cleveland
,
Fort Lauderdale
,
Houston
,
Memphis
,
Miami
,
Milwaukee
,
Oakland
,
Retail Market
,
Sponsored
,
sponsored-link
,
Tampa
,
Ten-X