The Plan: Park Tower Group Adding a Luxury Gym in Lower-Level Space at 535 Madison Avenue
---
---
Once upon a time, lower-level space at the 37-story, 480,000-square-foot office tower, 535 Madison Avenue, was used for the filing and storage of documents.
"It was in a more paper-based world," said Alfred Bradshaw, an executive vice president at Park Tower Group, which owns the building.
Since then—as mysterious terms like "computer hard drives" and "the cloud" have been popularized—the landlord decided to turn the space into something a little more functional and relevant to the 2017 office user: a gym.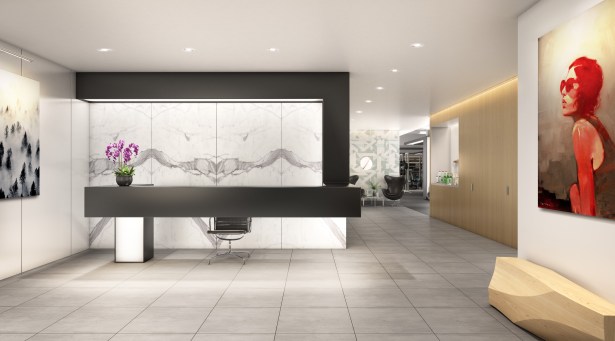 And not just any gym. The 7,000-square-foot lower level is being turned into a luxe, Equinox-like fitness center with concierge service.
"We think that these type of amenities really provide long-term value," Bradshaw said. "If you can create an amenity in the building that really underscores the quality of the experience that you are providing for your tenants, then we view that as a positive investment."
Bradshaw said the company expects construction on the project to begin later this month and to be completed in the fall. (He declined to disclose the price of the project, but said the gym is intended to be a free amenity for tenants at the building, where asking rents range around $110 per square foot to $130 per square foot.)
Park Tower Group hired Ted Moudis Associates, known for its work on interior office space, to do the job. As the gym is below grade, the architect didn't want it to look dreary, and the firm brightened it up with a variety of LED lights, even some pointing at the ceiling. The reception area features a marble-like porcelain that will reflect the light and further brightens the space.
Porcelain was chosen instead of marble because the real stuff tends to be porous and is less resistant to stains, and it would have been more troublesome to maintain compared to the imitation, according to Avery Miyasato, a design director at Ted Moudis.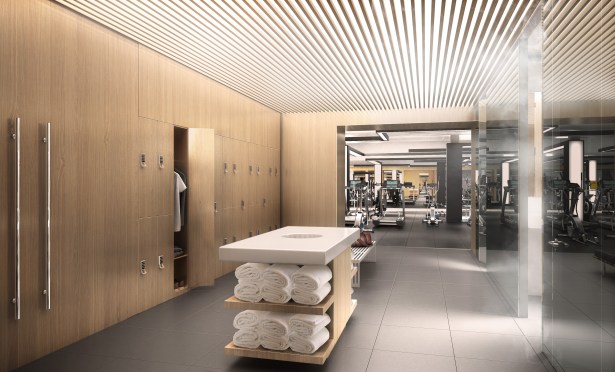 Then there are the lights. "It's kinda like Tron," Miyasato said. "We have these four [structural] columns that are dividing up the space. So we said, let's use the columns and make these dynamic lights."
Of course, every gym needs a locker room; the unisex changing area has wooden, digital lockers across from full-wall mirrors. And hidden behind the mirrors are four private, gender-neutral bathrooms.
Miyasato said they chose to do private bathrooms instead of communal ones not only because they are gender-neutral, but also the architects felt it would help gym-goers avoid awkward bathroom moments.
"We wanted to make sure these people are comfortable, especially since people will be working out with their co-workers," Miyasato said—so everybody could live happily ever after.