Christopher DeCrosta Sees Apple, Tesla and J. Crew as Just the Beginning for Brooklyn
---
---
"It's hard to imagine a day when every brand isn't in Brooklyn. It's crazy to think that a city as big as Brooklyn doesn't already have all of the big brands."
So said Crown Retail Services broker Christopher DeCrosta.
The broker is a firm believer in the church of Brooklyn and has long been a high priest in the effort. He (alongside colleague Hank O'Donnell) helped J. Crew find its first Brooklyn location at 234-236 Wythe Avenue in Williamsburg in 2014. When Elon Musk's Tesla needed a showroom, it was DeCosta who inked the deal for a space in Red Hook. And one shouldn't forget Apple—DeCrosta had a hand in getting the tech giant its Williamsburg locale.
Brooklyn may have been a transient place even a decade ago, DeCrosta said.
"Brooklyn was always a means of servicing Manhattan," DeCrosta, 37, said. "If you lived in Brooklyn, you went to work in Manhattan and then you went back to Brooklyn. You shopped in Manhattan. If you made a little money, you left Brooklyn."
Not any more. Today, tenants want to be in Kings County, and DeCrosta's job is more about education—ideal neighborhoods and buildings—and less about convincing. 
Tesla is a good case in point. "They knew they needed a place to get cars serviced," DeCrosta said. "They needed a place to have a showroom. And they knew they wanted to be in an area that was convenient to Manhattan and that could also capture the Brooklyn market."
They just didn't know where in Brooklyn all these needs could be met. DeCrosta found the electric carmaker a 40,000-square-foot service and showroom at LIVWRK's 160 Van Brunt Street between Summit and Bowne Street in March of last year.
Then DeCrosta and O'Donnell worked with Johnny Siegel of Open Realty Advisors to represent Apple and find its first Brooklyn location at 247 Bedford Avenue in Williamsburg, a property owned by RedSky Capital. Lee & Associates NYC represented the landlord in the 20,000-square-foot transaction. The store opened in July last year, around the same time as the Williamsburg Whole Foods across the street at 238 Bedford Avenue.
"He was instrumental, truthfully," said Benjamin Bernstein, a principal and co-founder of developer RedSky Capital. "We had a unique asset on Bedford Avenue. We showed it to him and his team. He believed it was perfect for Apple. We had a great first meeting. He brought the national representatives. And they loved our real estate. We were lucky we had the same vision for our asset that they did."
DeCrosta has been on something of a Williamsburg kick lately—he and O'Donnell recently represented two companies in their entrée to the borough—British skin care brand Rituals Cosmetics at 117 North 6th Street and Flywheel, a growing fitness concept, at 173 North 3rd Street, both in July 2016.
"I think he developed relationships with specific tenants that really are on the cutting edge of cool," Bernstein said. "The brands he focuses on and chases, they are not just paying attention to Brooklyn. Their head of marketing [and] their head of design lives in Brooklyn. So he comes off as genuine. He lives in Carroll Gardens, [Brooklyn]."
It almost feels blasphemous that DeCrosta's operations at Crown Retail are run out of Manhattan offices, where he has been since 2012 and specializes in representing retailers. He runs a team of four brokers, including O'Donnell.
Working in an office on the 24th floor of the GM Building at 767 Fifth Avenue between East 58th and East 59th Streets, DeCrosta was the only employee that Commercial Observer spotted without a tie, without his shirt tucked in and without dress shoes (he was wearing burnt orange loafers).
A native of New Haven, Conn., DeCrosta went to Kenyon College, a liberal arts college of roughly 1,500 students, in the small town of Gambier, Ohio. He earned an English degree and took off for New York City after graduating in 2001.
"I fell in love with Brooklyn right after 9/11," DeCrosta said. "I had moved to Lower Manhattan-post 9/11, and because Lower Manhattan was in the process of being rebuilt and low on amenities, half of the time I went out, I would end up in Brooklyn. That was 2001 to 2002. It's when a lot of the restaurants started popping up [and] good bars. It's when the Brooklyn culture as we know it started."
He moved to Brooklyn in 2005. Today, he lives with his wife Luciana Francese, a director of leasing at Acadia Realty Trust who oversees transactions at City Point for the landlord. DeCrosta and Francese first met at the annual International Council of Shopping Centers event in Las Vegas in 2012 and have been married for more than two years. They have not done deals together—except if you count the couple's 1-year-old daughter.
DeCrosta and his wife are extremely enthusiastic cooks, and he is an avowed non-jock. (Asked if he runs or exercises, he dead-panned Kenny Powers: "I'm not trying to be the best at exercising.")
"Our idea of a good Saturday is going to local shops—like The Meat Hook in Williamsburg, go to our local produce guys and then we cook a big meal," DeCrosta said. "Traditional Italian stuff. And we try to incorporate new recipes." 
"He's really into food, and that's one of the things that we bonded over," said Cushman & Wakefield (CWK) Executive Managing Director Steven Soutendijk, a friend of nearly a decade. Soutendijk and DeCrosta have worked on opposite sides of deals in the past, such as one for cosmetics retailer L'Occitane on the Upper West Side.
DeCrosta's foray into real estate started shortly after graduating college and moving to New York City with just $700. He became a canvasser for Madison Retail Group, which was being run by industry veteran Virginia Pittarelli. He met Pittarelli, who is currently a principal at Crown Retail, through a mutual friend, and she hired him in June of that year.
Later in 2001, he took continuing education courses at New York University to earn his broker's license.
"I knew he had great potential," Pittarelli said. "He was a very bright young man. He had a wonderful work ethic. He wanted to learn and he wanted to succeed. And he did something that a lot for young people find challenging: he made it a point to learn and understand the business, because he wanted to provide the best advice to his clients. Not just for the retail estate perspective, but from a retail point of view."
DeCrosta's first deal came in the spring of 2002. He represented a store called Saigon East on 237 Mulberry Street in Nolita, which sold Vietnamese products, such as vases, plates, lamps and other household items.
"I've always been attracted to the emerging markets," DeCrosta said. "They always seem more interesting than the more established ones." (Back then, Nolita was nowhere close to as pricey and yuppified as it is now.)
Indeed, Brooklyn was hardly his first rodeo. The Financial District was first. He worked to bring Tiffany & Co. to FiDi in 2006, when the area was going through a transformation with new retail. The company signed a 7,700-square-foot lease at 37 Wall Street.
In January of that year, French leather goods dealer Hermès, signed a deal at 15 Broad Street.
Tiffany's representative, the late broker Ray Carew of GCD Consultants, was a mentor to DeCrosta. Carew mentioned to DeCrosta that Tiffany may be interested in Downtown as well, although it would be a "long shot."
At the time, DeCrosta was living Downtown and saw a vacated space near his apartment at 37 Wall Street. He showed the space to Carew, who told Tiffany and weeks later the deal was signed in June.
Tiffany was interested in having a store Downtown "post 9/11 to be part of that rebuilding there," DeCrosta said, and to tap into population of office workers and residents living there. Plus the rents were nothing like Fifth Avenue, where the jeweler with the iconic blue box has a flagship.
"You have to remember to the rents [Downtown] at that point were $100 a foot," DeCrosta said. "It was certainly a risk but less so than a $1,000-a-foot gamble."  
DeCrosta left Madison Retail Group in 2011 for a stint with Thor Equities but departed from that firm the following year for a bigger role at Crown Retail, where he has been since.
One recent notable transaction was last November, DeCrosta represented Apple in a deal for its second store in Brooklyn, a 12,000-square-foot space at Two Trees Management Company's 300 Ashland Place between Lafayette Avenue and Hanson Place in Fort Greene, as CO previously reported. (Due to nondisclosure agreements with Apple, DeCrosta could not even confirm the deal.)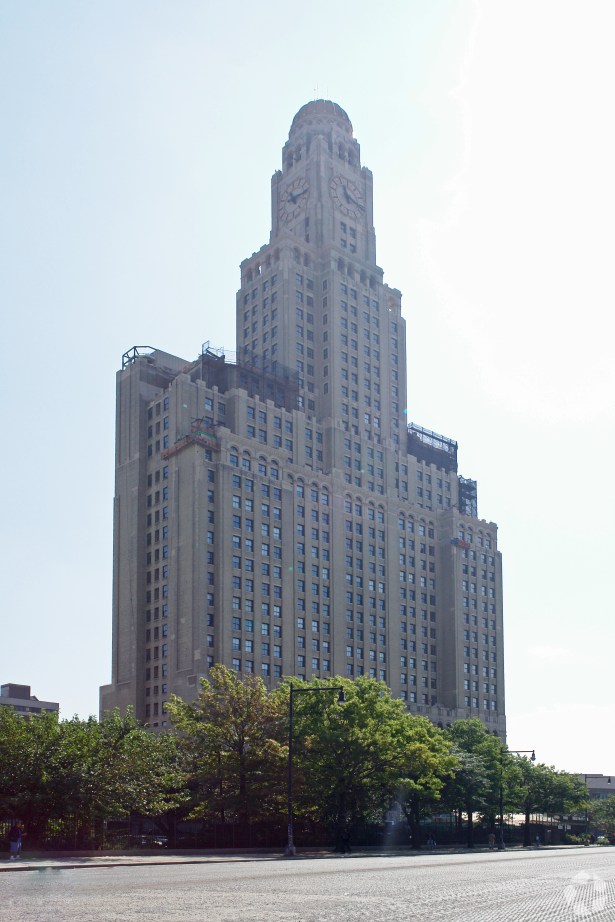 As Apple is expanding in the borough, DeCrosta believes there are "special" spaces  planned for development that will attract other bigger retailers and brands because of the size and high-foot traffic of the neighborhoods. He counts Kushner Companies' 85 Jay Street development site in DUMBO and RedSky Capital's full block assemblage at Fulton Street, Flatbush Avenue Extension and DeKalb Avenue in Downtown Brooklyn among those.
One such space already existing that he foresees drawing a big brand, he is currently marketing. It's the 40,000-square-foot retail portion of One Hanson Place, a converted residential condominium that is currently Brooklyn's tallest building.
The retail base has three levels—the lower level, ground floor and mezzanine space—and DeCrosta and O'Donnell are targeting one user.
DeCrosta is hoping for a Nike, Samsung or Google (GOOGL). (If Google or Samsung took the space, it would be the first Brooklyn location for either; it would be Nike's second.) It has 60-foot ceilings on the ground floor. And it has a vault on the lower level (the building was once the headquarters of the Williamsburgh Savings Bank.)
"When you walk into One Hanson Place," DeCrosta said. "It's an absolutely gorgeous landmarked interior. It's a glaring hole in the market for a brand."
117 North 6th Street
,
15 Broad Street
,
160 Van Brunt Street
,
173 North 3rd Street
,
234-236 Wythe Avenue
,
237 Mulberry Street
,
238 Bedford Avenue
,
247 Bedford Avenue
,
300 Ashland Place
,
37 Wall Street
,
767 Fifth Avenue
,
85 Jay Street
,
Acadia Realty Trust
,
Benjamin Bernstein
,
Christopher DeCrosta
,
City Point
,
Crown Retail Services
,
Elon Musk
,
flywheel
,
GM Building
,
Hank O'Donnell
,
ICSC 2017
,
International Council of Shopping Centers
,
J.Crew
,
Kenyon College
,
LICWRK
,
Luciana Frances
,
Madison Retail Group
,
New York University
,
Nike
,
One Hanson Place
,
Ray Carew
,
RedSky Capital
,
Rituals Cosmetics
,
Samsung
,
Steven Soutendijk
,
Tesla
,
Two Trees Management Company
,
Virginia Pittarelli
,
Apple
,
Cushman & Wakefield
,
Google
,
Kushner Companies
,
Thor Equities