CO Faced Jonathan Mechanic in a Friendly Game of Pool. He Kicked Our Ass.
---
---
When I found out from Jonathan Mechanic that his law firm Fried, Frank, Harris, Shriver & Jacobson was opening a billiards room, my first instinct was to challenge him.
I won't call myself a professional, but I've played pool for a number of years. And I'll admit that the allure of a win over Mechanic, the chair of the firm's real estate division who is regarded as one of the city's top attorneys, would be a story I could use with every real estate professional in the city. (And, hey, maybe future generations.)
I underestimated him.
In a one-game showdown (Super Bowl style) that lasted maybe 10 minutes I was left with four solid Fried Frank emblazoned balls undisturbed on the table, and all his stripes had found their way home to the pockets.
Perhaps—just perhaps—he had used the Jedi-like skills that catapulted him to the top of his field to throw me off my game. I scratched the ball three (maybe four) times and missed a big opportunity to sink three straight. Mechanic played smooth.
"I always figure myself as being understated," he said after the carnage. "Don't tell me, just show me."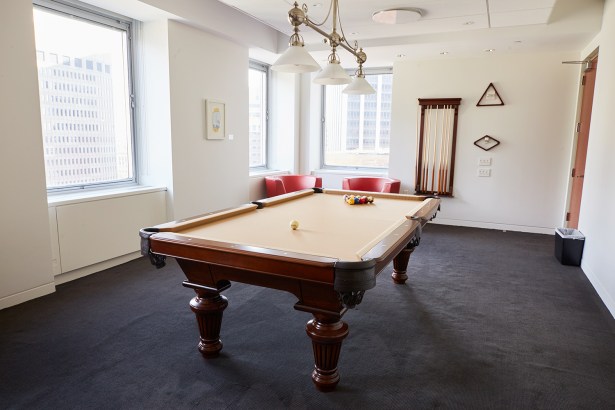 He aimed with precision. He thrust the cue like an expert. All the while, Mechanic's hearty personality was on full display. While circling the table he laughed good-naturedly at my mistakes and seemed to be genuinely having fun. (It wasn't trash talking, exactly; but he was definitely enjoying CO's missteps.)
As it turns out, Mechanic, 64, has been playing pool for about half a century (for amusement—or so he said). At age 13, he received a pool table as a bar mitzvah gift. That table was a 30-year-old antique at the time. He still has it at his home in the Hamptons.
Fried Frank's new billiards room replaced a conference room, and he and I were christening it before a company billiards event later that day, which would feature a pro player.
"People love it," he said after the event. "They love the Fried Frank [logos] on the balls and on the pockets. It's really a way to say that we work hard and we should take a break. And now I can practice my pool during the day."
Mechanic personally picked out the Fried Frank table from Blatt Billiards at 330 West 38th Street between Eighth and Ninth Avenues. "I wanted a table that had substance to it," he said of the classic design he chose.
And he selected the classic film The Hustler, where Paul Newman and Jackie Gleason star as pool sharks, to play in the room.
A gracious host, during a call days after the game, he offered a rematch. He was modest about his skills but warned against playing his son, Ross.  
"If you play him, keep your money in your pocket," Mechanic said. I declined that request but instead challenged the elder Mechanic to a future game of Ping-Pong at his office.