Could the Lever Snap on RFR's Crown Jewel?
---
---
When Aby Rosen and Michael Fuchs' RFR Realty acquired the ground lease to Lever House, the landmark modernist office tower at 390 Park Avenue, in late 1998, it was more than just a real estate transaction for the pair. Along with their subsequent $375 million acquisition of the iconic Seagram Building—just across the street, at 375 Park Avenue—the deal established RFR as a major player in New York City commercial real estate and helped build Rosen's mythology as a slickly coiffed, highly visible, aesthetically minded collector of art and architecture.
RFR's portfolio has swollen in the years since to comprise dozens of office, hotel, retail and residential properties globally, but the firm continues to cite the two Park Avenue trophy towers as its most cherished assets, as well as a testament to Rosen and Fuchs' strategy of acquiring esteemed properties in core markets and adding value through branding and repositioning.
"There's always a break point in everybody's career. My break point was when I bought Lever and then a year later I bought the Seagram Building," Rosen told Paper Magazine in June 2016. "When you have the ability to own two of those masterpieces—architecturally historic real estate—you know that you've made it somewhere, somehow."
And Rosen's company did make it on the scene nearly two decades ago—signing a 99-year ground lease with Omnispective Management at a reported $30 million for the building between East 53rd and East 54th Streets. They poured an additional $30 million-plus into capital improvements on the 1952 structure and jacked the asking rents to north of $160 per square foot in the process. But now RFR risks losing control of its 21-story, 262,000-square-foot tower that once revolutionized high-rise architecture in New York City with its glass curtain wall façade.
In March 2015, RFR went into maturity default on a $110 million securitized loan that the company had borrowed on its leasehold interest in Lever House in 2005. The loan had been placed on special servicer CWCapital Asset Management's watchlist several months beforehand amid downsizing by a major Lever House tenant, aluminum manufacturer Alcoa, and subsequently went to special servicing in January 2015, as Commercial Observer reported at the time.
This past November, with RFR having failed to refinance its remaining $88 million debt on the property, Wells Fargo—a trustee on the Credit Suisse First Boston-sponsored CSFB 2005-C2 conduit that the loan is securitized in—finally filed to foreclose on Lever House in Federal District Court in Manhattan, as CO first reported. Rosen and Fuchs, as well as fellow investor Harry Lis, filed to dismiss the foreclosure this Jan. 27. Failure to block the foreclosure or reach a deal with the servicer to retain interest in 390 Park Avenue could lead to the extraordinary eventuality of RFR losing control of Lever House.
"[The foreclosure filing] may be a tactic by the servicer to try to move negotiations along, bring the parties back together and give everybody a renewed sense of urgency as far as negotiating a settlement," said Edward Dittmer, the vice president of CMBS ratings and surveillance for Morningstar Credit Ratings.
Reaching such an agreement, however, appears complicated by two major factors, according to servicer and analyst commentary: the 176,000 square feet of space in the building due for vacancy by mid-2020 (including a period between October 2019 and June 2020, when leases for roughly half of the building's total space are set to expire); and more significantly, an escalation clause in RFR's leasehold that will reset the terms of its ground rent starting in 2023 and almost certainly raise the figure dramatically—to north of $20 million in rent annually, from just over $6 million currently.
The market value-based reset in ground rent "is not economically viable and has made a refinance of the loan improbable," according to servicer commentary, as Lever House's historic net operating income has consistently fallen in the $16 million to $18 million range. That has likely proven a red flag for lenders vetting the property for refinancing over the past two years, even with the Plaza District building continuing to command top-of-the-market rents for its prime floors.
"When you look at that increase in the ground lease payment, lenders are concerned the ground rent will be so high that when the loan matures, [RFR] won't be able to refinance," Dittmer said. "It's important for them to sort out how this ground lease is going to work. Thus far, it's been over a year now, and the borrower has not been able to find a lender willing to take this loan on."
The most likely course of action for RFR to retain control of Lever House would entail a renegotiation of the economic terms of the ground lease with Omnispective—the real estate investment firm, run by the Korein family, which owns the land at 390 Park Avenue, having acquired it from the Goelet family in the mid-1980s.
RFR and Omnispective are currently doing just that, according to sources with knowledge of the matter who confirmed the two sides are in discussions. Renegotiated terms addressing, and potentially reducing, the ground rent escalation would make the terms of RFR's tenancy at the property much more palatable to lenders as far as refinancing the firm's debt on the property.
Both RFR and Omnispective declined to comment for this article. Attorneys for RFR declined to comment, while those representing Omnispective did not return a request for comment. It is unclear what motivated RFR to agree to a ground lease with such potentially unfavorable terms. But in an interview with Surface Magazine late last year, Rosen—a notoriously swift operator in the market, whether it be art or real estate—recalled the prompt, almost-hurried nature of RFR's acquisition of Lever House.
"We owned a building right next door, 400 Park Avenue, and my office looked out to Lever House," he told the publication. "I always said to myself, 'My god, when will I ever be able to buy this building?' And one day in '98, I got a phone call saying, 'Aby, you can take over Lever House.' Within three days we signed it up and did it."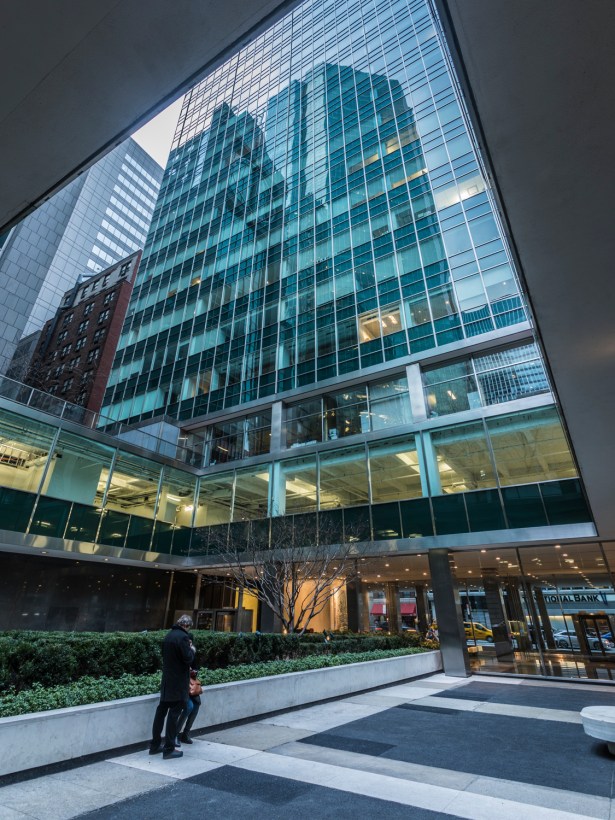 Rosen eventually moved RFR's offices into Lever House, and the building appears to retain a special place in his heart. "Basically, it was one of the most beautiful buildings ever made," he told Haute Living magazine in 2015. "But it was very dilapidated and run down—we restored it back to its original beauty." He would later tell Surface, "Lever House topped off our company. If you look at an art collection, there are always one or two paintings you need to have. For us to own Lever and the Seagram Building was a pinnacle of our careers."
One could assume, then, that Rosen—whose art collection reportedly exceeds 800 works—would loathe losing control of his trophy asset and will do everything he can to hold onto Lever House. It's also worth noting that Rosen and Fuchs have found themselves in similar situations in the past, particularly in the years following the 2008 financial crisis, when they risked losing several Manhattan properties to foreclosure. On numerous occasions, the pair ended up holding on to the property in question.
Notably, there was the drama over 610 Lexington Avenue (now more commonly known as 100 East 53rd Street) where RFR is putting the finishing touches on its new 63-story, Norman Foster-designed condominium tower—just one block away from Lever House. Rosen and Fuchs originally planned for a luxury hotel tower on the site before the economic downturn but ended up defaulting on a $145 million loan on the property—originally provided by Lehman Brothers and later transferred to ING Real Estate Finance and Swedbank—in 2009.
Despite losing subsequent court appeals that paved the way for ING and Swedbank to foreclose, RFR persevered—delaying the process and, eventually, arranging a deal to buy back the note on 610 Lexington Avenue at a sizable discount ($66.4 million, according to city property records) in 2012. Rosen and Fuchs then secured a $70 million bridge loan from the Union League Life Insurance Co. in 2013 and eventually brought in major Chinese investors Vanke and China Cinda Asset Management as capital partners to bring the condo building to fruition.
Around the same time, RFR found itself in a similar jam at its low-rise commercial building at 980 Madison Avenue on the Upper East Side: The firm's loan on the property was placed in special servicing after questions over whether anchor tenant Gagosian Gallery would renew its lease. RFR eventually re-signed Gagosian and resolved the matter, and by 2013, in the thick of the recovery, Rosen and Fuchs had succeeded in restructuring much of the troublesome debt in their portfolio. That year alone, they secured a $160 million syndicated loan on 980 Madison, refinanced their 160 Fifth Avenue office building with $100 million from Citibank and recruited Deutsche Asset Management to help recapitalize their office building at 90 Fifth Avenue with a preferred equity investment—one that bailed out a delinquent $62 million loan against the property.
"In the last cycle, we bought a lot of inventory," Rosen told The New York Times in 2010. "We have reshuffled all of our debt—we bought some back, refinanced it and pushed up maturity dates to 2015, 2016—and there's not one piece of debt that went back to the lenders." He added that RFR had "bought back and reshuffled over $3.5 billion worth of notes."
"For anybody who had debt maturing then, that was business as usual during a time that was anything but usual," Andrew Singer, the chairman and CEO of Midtown-based mortgage brokerage the Singer & Bassuk Organization, said of RFR's refinancing efforts around the turn of this decade. "Finance markets were severely constrained because the sources [of capital] were not there, and the difficulties that most people had were driven by market conditions."
Singer and his firm helped RFR obtain a $60 million construction loan in the late 1990s for the firm's Empire condominium development on the Upper East Side. He described Rosen as "one of the smartest people around" and said RFR has a "fine reputation" in the commercial real estate financing industry.
"Aby's done quite well, even on occasions where he's had challenged properties," he said. "I talk to lenders every day, and I've never heard a negative comment about RFR, no matter what travails they might be going through."
Yet, it remains to be seen whether Rosen and Fuchs will be able to reshuffle the deck once more and keep hold of the property. The fact that they only have a leasehold position in Lever House—as opposed to a fee position, and outright ownership of the asset—means the duo has their work cut out for them.
While an office tower with a similar size and location to Lever House could fetch up to $1,500 per square foot (or more than $390 million), a ground lease diminishes the market value of a building, according to one Manhattan office market source not involved in the matter, who spoke on condition of anonymity. And because land values in New York City are so high, "it makes free market rent resets unsustainable for the lease holder.
"The owner of the land has all the power and all the control in these situations, " the source explained. "If I owned the land, why would I renegotiate? If he defaults, I get the building." In that case, Omnispective could either assume management of the property itself or simply sell the Lever House leasehold on to another investor.
"We do a lot of work on ground lease reset cases, and it is a factor in what you pay for the leasehold and the amount of financing you can expect to get," Singer said of RFR's position at Lever House. "It's one in a basket of risks that investors have to consider. I think he's caught in a difficult time, but knowing Aby, I think he'll figure a way out of it that will work for everybody."
With RFR likely to continue fighting foreclosure proceedings on 390 Park Avenue—at least until they're able to work out a favorable deal potentially salvaging their ground lease—it could be several more months until a resolution is reached. And while Rosen and Fuchs have shown an ability to climb their way out of financial quandaries in the past, it's uncertain how this one will pan out.
"In Manhattan, because of the increase in property values, these disputes have a way of working themselves out," Morningstar's Dittmer said. "This will be a tough negotiation, though."
375 Park Avenue
,
390 Park Avenue
,
Aby Rosen
,
CSFB 2005-C2
,
CWCapital Asset Management
,
Edward Dittmer
,
Harry Lis
,
lever house
,
Michael Fuchs
,
Morningstar Credit Ratings
,
Omnispective
,
RFR Realty
,
seagram building
,
Wells Fargo