Lever House Loan Goes to Special Servicer
---
---
A $98.8 million CMBS loan on 390 Park Avenue, owned by RFR Holding, has been sent to special servicing with the note facing imminent maturity default, according to a Trepp report based on recent servicer data. CWCapital Asset Management is listed as the special servicer.
The news comes despite the fact that the 234,240-square-foot building known as Lever House is 96 percent occupied with its debt service coverage ratio at 1.33x, the property's latest financials show.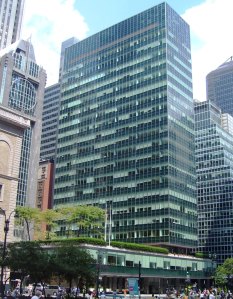 The loan is the largest remaining asset backing the CSFB 2005-C2 CMBS deal and represents more than 17 percent of the loan pool's remaining collateral.
"The CSFB deal has been one of the weakest performers among the 2005 conduit vintage," according to the Trepp report. Losses on the deal have totaled 15.2 percent.
When the loan was originated in March 2005, Aby Rosen, Michael Fuchs and Harry Lis were listed as the primary investors in the property. The 10-year loan, which carried an original balance of $110 million, is slated to mature in March 2015.
Alcoa, a global lightweight metals manufacturer, occupies about 33 percent of the building on seven floors under a lease that expires in 2020, one person with knowledge of the property told Mortgage Observer.
Alcoa occupies 71,400 square feet in 390 Park Avenue and is subleasing two additional floors to another tenant until June 2015. The company's total square footage in the building at the time of the loan securitization was 92,405 square feet, according to Trepp.
The downsizing of the Alcoa lease is a factor in the loan troubles, according to servicer watch list notes.
The office building, at the corner of 54th Street in Midtown, was constructed in 1952.
Mr. Rosen declined to comment through a spokesperson.