Brokers Banking on Midtown East Rezoning as They List Building With 20K SF of Air Rights
---
---
Florida-based Mercantil Commercebank is looking to sell the landmarked John Peirce Residence at 11 East 51st Street, which has 19,783 square feet of air rights, for more than $30 million, Commercial Observer has learned.
The six-story, 13,349-square-foot office building between Madison and Fifth Avenues sits directly across from St. Patrick's Cathedral. It is currently only occupied by the bank's offices, according to Ariel Property Advisors' Victor Sozio, who is marketing the property with colleagues Shimon Shkury, Howard Raber, Michael Tortorici and Andre Sigourney.  
The building's real attractive point is its air rights, which could become more valuable to investors if the Midtown East rezoning becomes a reality. The rezoning will allow developers to transfer air rights to a wider range of properties rather than just an adjacent property. Currently, the rezoning is in the public review process, and has garnered support from the Real Estate Board of New York and politicians. Community Board 5 and 6 have 60 days to hold hearings and submit recommendations on the rezoning plan, as CO recently reported.  
"It would provide a lot of more flexibility within transferring rights in the Midtown area," Sozio said. "I would say the Midtown East rezoning is going to be important for the site, because it would unlock more optionality to utilize the air rights."
Because of the building's zoning as commercial, Sozio said it would be suitable for a number of uses, including offices, a flagship retail store, a boutique hotel or a high-end dining and entertainment venue.
Mercantil Commercebank purchased the building for $20 million in May 2009, a month before it was designated a city landmark. Sozio declined to say why the bank was selling the building. While Ariel put the likely price tag at just over $30 million due primarily to the air rights, one investment sales broker who has nothing to do with the property said the more likely figure would be $23 million to $26 million.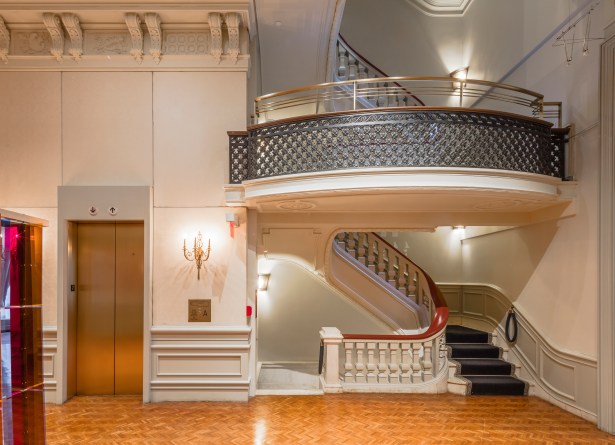 "The building has quantifiable value to investors, but users and opportunistic developers who understand the Midtown East rezoning can unlock additional value," Sozio said. "It's a one of a kind location with rich New York City history."
When it was erected in 1906, the building was the residence of stone contractor John Peirce. Peirce, who was known as the "Granite King," notably worked on the construction of New York City's first subway system, according to the Landmarks Preservation Commission.  
The Italian Renaissance-styled structure was designed by John Duncan, the man who crafted the Soldiers and Sailors Memorial Arch in Brooklyn's Grand Army Plaza.
"Once in a blue moon does a property like 11 East 51st [Street] come to market and this rare opportunity offers investors or owner-users the chance at owning a truly historic slice of New York," Sozio said.  
Additional reporting provided by Lauren Elkies Schram