With Air Rights Acquisitions, JHG Holdings' Chelsea Site Grows to 243K SF
---
---
It's a site that has been a couple of years in the making, but with the acquisition of roughly 83,000 square feet of air rights on West 24th Street, Jeffrey Dagowitz and his JHG Holdings can erect a development of up to 243,000 square feet in Chelsea, according to property records and sources familiar with the deal.
The assembled site—which will span a large swath of West 23rd and West 24th Streets between Avenue of the Americas and Seventh Avenue and has cost a total of $79.4 million—will likely be mixed use because of its size and the fact that it falls within two different zoning districts.
In the most recent deals, Dagowitz purchased approximately 49,000 square feet of air rights at the residential co-op at 130 West 24th Street between Avenue of the Americas and Seventh Avenue and 34,000 square feet of development rights at the neighboring residential condominium at 124 West 24th Street, for $9.3 million and $8.4 million, respectively, filings and sources indicate. The deals closed on Dec. 19, 2016 and were recorded with the city on Dec. 30.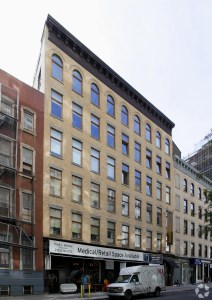 The air rights deals stretch back to at least 2015. In June 2015, Dagowitz's company filed a $22 million suit against 136 Loft Corp. for breach of contract after an air rights deal for 26,000 square feet at 136 West 24th Street went south that January. That case has since been settled, sources said, and Daogwitz instead secured the air rights at 127 and 131 West 24th Streets.
On Nov. 3, 2016, Dagowitz nabbed three neighboring Chelsea properties from The Archdiocese of New York for $50.4 million, property records state. The deal included St. Vincent de Paul church at 123 West 23rd Street and apartment buildings at 116 West 24th Street and 120 West 24th Street. The deal came after the Vatican okayed the sale of the church early last year despite parishioner protestations.
At the time of the $50.4 million deal, Dagowitz received a $65 million loan from Bank of America, which in part paid off $12.6 million of debt on the Chelsea Bed & Breakfast, public documents show. Dagowitz bought the former inn at 131 West 23rd Street in February 2015 for $11.3 million, property records indicate. The Fisherman clan opened the inn in 1998.
While in May 2015 Dagowitz filed a permit with the city to demolish the four-story bed-and-breakfast building, sources said Dagowitz is contemplating uses for the entire 243,000-square-foot site.
There were no brokers involved in any of the deals, sources said, and Dagowitz was not reachable for comment.
116 West 24th Street
,
120 West 24th Street
,
123 West 23rd Street
,
124 West 24th Street
,
130 West 24th Street
,
131 West 23rd Street
,
136 Loft Corp.
,
36 West 24th Street
,
Bank of AmericaBank of America
,
Chelsea Bed & Breakfast
,
Jeffrey Dagowitz
,
JHG Holdings
,
St. Vincent de Paul
,
The Archdiocese of New York