Manhattan Dance Company Takes 11K-SF Space in Astoria for Studios
---
---
Rioult Dance NY, a modern-dance company, has inked a 15-year, 11,000-square-foot deal for space at 34-01 Steinway Street in the Astoria section of Queens.
It will be located on a portion of the second floor of the planned six-story mixed-use building between and 34th and 35th Avenues, which is owned by Schuman Properties.
There was not an asking rent in the deal, but rents in the area for commercial space on the second floor is around $42 to $45 per square foot, according to the tenant's broker, Paul Wolf of Denham Wolf Real Estate Services.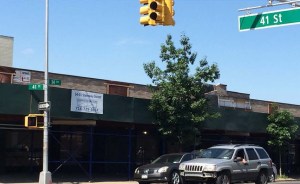 Currently, the company rehearses and operates in dance studios around New York City in temporary spaces. The lease for the Queens space will start in July 2017, and there will be six months of construction with an expected opening in January 2018.
"After 23 years of rehearsing in studios across the city, Rioult Dance NY is thrilled to make its permanent home in the Kaufman Arts District in Astoria, Queens," Pascal Rioult, the artistic director and founder of Rioult Dance NY, said in prepared remarks. "For the people of Queens, Rioult Dance Center will be a gateway into the dance community with classes for youth and adults alongside professional dancers."
Rioult Dance NY was drawn to the burgeoning arts district in the area, which is home to the Frank Sinatra School of the Arts, the Joffrey Ballet School, the Museum of the Moving Image and the Kaufman Astoria Film Studios.
"The arts community in the Astoria and Long Island City is really thriving," Wolf, who represented the tenant with colleague Lauren Davis, told Commercial Observer via email. "The area is also fairly residential and has a large population of families, which will be well served by Rioult's expanding educational programs."
The dance company's new digs will house a performance space, studios for rehearsals and classes as well as space for offices, according to The Wall Street Journal, which first reported news of the deal.
"In this end of Astoria there is a great cluster of amenities here," Schuman Properties' Andrew Ebenstein, who represented the landlord in-house, told CO. "There is the movie theater, the Museum of the Moving Image, and I think Rioult and his [dance] classes will make a great additional to the neighborhood."
34-01 Steinway Street
,
Denham Wolf Real Estate Services
,
Frank Sinatra School of the Arts
,
Joffrey Ballet School
,
Kaufman Astoria Film Studios
,
Lauren Davis
,
Museum of the Moving Image
,
Pascal Rioult
,
Paul Wolf
,
Rioult Dance NY
,
Schuman Properties