David Rockwell is Taking on NYC's Restaurants, Theater and Airports
---
---
When David Rockwell was 12 he crossed the Hudson River with his family, ate at Schrafft's, saw Fiddler on the Roof at the Majestic and fell in love with New York City—all in one day.
Today, so many of us who share the sentiment have Rockwell himself to thank.
The designer's handprint is everywhere from The Children's Hospital at Montefiore in the Bronx to JetBlue's JFK Terminal 5 marketplace in Queens to Imagination Playground at Betsy Head Park in Brooklyn to FAO Schwarz to Broadway theater (did you know he won a Tony?) to, most recently, the new Union Square Cafe.
"New" meaning new location (101 East 19th Street at Park Avenue South), new dimensions (11,200 square feet) and new design. The old Union Square Cafe—an original New Yorker if there ever was one—was restaurateur Danny Meyer's first eatery, which he opened in 1985 at 21 East 16th Street between Union Square West and Broadway, taking a 6,300-square foot space best described by every person we have ever known to go inside as "quirky." That is to say the service was outstanding and everyone liked the food—but the layout was somewhat perplexing, at least at first. The original, which was designed by the late Larry Bogdanow, had a narrow front room where you found the bar; a sunken dining room off to the western side of the restaurant; a back room to the north, with a balcony that was crammed with tables. Not too many other New York restaurants looked like it, but that became part of its charm.
Rockwell was one of many regular customers, first mostly solo at the bar for lunch, then in the front room as his business—headquartered in Union Square since 1993—grew. To say Rockwell had institutional knowledge of the original restaurant is an understatement. And his relationship with its proprietor evolved in tandem. Over the years the two had plans for various projects. The first to come together was Maialino, opened in 2009. And the second was the recently opened new Union Square Cafe.
"In neither case did we ask for a 'Rockwell,' " said Meyer, citing the designer's bold, clever, ingenious, theatrical house-style. "He can do that really well too, but I wanted his gifts as a human being, which is to really feel something then express that feeling through design, better than certainly almost anyone I know could."
Rockwell's understanding of Union Square Cafe's spirit and essence, Meyer said, was vital in asking him to design version 2.0, their second collaboration.
"What a great opportunity to take something that has created amazing memories and this culture, and X-ray that, look at it from every single point of view of what made it a great experience, and create a new design for it, and look forward, to be both familiar and surprising," Rockwell said.
The opportunity, he said, noting the "quirkiness" of the original space (told ya), trigged many thoughts about what makes New York City great. "It's made up of both big iconic pieces of architecture that merit being landmarked for their architectural quality, and experiences that are less about the landmark of the physicality than the experience itself."
If you go out for reasons beyond satisfying your hunger, or have ever been transfixed by an abalone shell chandelier (Nobu 57) or a blue tile wall of divers (Rosa Mexicano Lincoln Center), you know exactly what this means, both of which are Rockwell designs.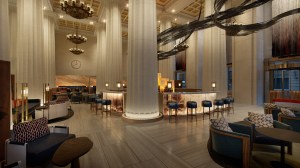 At the new Union Square Cafe, Rockwell created a plane, or a 2D line, of light fixtures that hang at the height of the original low ceiling: 9-foot, 8-inches. (The maximum height is a gargantuan 22 feet.) Seen from above, a ceiling is implied. From below you can imagine it too, an homage to the former scale.
A small bar on the second floor, eventually to be a cocktail mecca, contains part of the old, original bar top and is illuminated by East 16th Street's original light fixtures. Table heights and spacing were analyzed at length. Chairs recall the original bistro-style, this time engineered for great comfort. Staff participated in conversations about what worked and what did not, what should move, what should be created. 
"In my 32-year history I can't think of another place that invited that level of study, that was not obvious," Rockwell said. "Usually you can say 'Oh, it's because of the art deco ceiling' or 'we want to channel the beautiful inlaid marble that the original place had.' "
The studying paid off. Meyer said the new restaurant is Rockwell's masterpiece. And a customer recently told a bartender, who told us, "It looks like the restaurant we all thought it was."
It's so true, which should be no surprise to anyone who has worked with the designer, who currently lives in Tribeca with his wife Marcia Kirkley and his teenage children Sam and Lola.
"David Rockwell is a visionary who understands texture and the complexity of restaurants and is able to bring out their unique essence," said restaurateur Drew Nieporent, who hired Rockwell to create Nobu in 1994.
Until then, Meyer said of restaurant design, "The standard was, The better the food, the starker the environment. Nobu was a breakout restaurant that, beyond impacting its own brand, impacted the entire category of Japanese food. It blew it out of the water."
Rockwell went on to design most of the brand's restaurants and its hotel at Caesars Palace in Las Vegas.
"With Nobu," Nieporent said, "his myriad of design ideas synergized perfectly with the highly original food, and has become a global collaboration. All over the world diners have enjoyed the brilliant environments that he has created."
And the center of that world is New York City.
Rockwell, 60, who spent six years in Guadalajara, Mexico as a child (see Rosa Mexicano Lincoln Center for his stunning, playful, "sort of delayed response to Mexican culture and color"), moved to the city he loves in 1979, after graduating from the Syracuse School of Architecture.
"Most architects, I think, come to New York in search of big, heroic, tall buildings. You look at New York in the movies and it's all defined by these amazing skyscrapers in a very neat grid," Rockwell said. "What I was more interested in was the messier, more vital street life. And I was intrigued and really interested in the intersection of theatre and architecture."
In 1984, with experience including working for a lighting designer as a theater consultant, Rockwell founded his eponymous architecture and design firm, launched with the original Sushi Zen (and a "quick" renovation of Le Perigord).
The Sushi Zen budget was so small Rockwell said he borrowed money from a friend to lend the owner to complete the work. And he convinced an opera costume designer to work with him on the fabric mural installed along the whole space. "It was one of those life-or-death amazing opportunities," Rockwell said.
In this case, life surely prevailed.
Developer Douglas Durst of the Durst Organization, one of the restaurant's biggest fans said, "David Rockwell has been an integral part of New York City's culture and artistic life from the original Sushi Zen to the cultural Shed in Hudson Yards [expected to open in 2019]. His design for the original Sushi Zen complemented the excellent sushi. In all due respect to Chef Suzuki it is hard to imagine the tiny restaurant being so successful without David's design."
Rockwell returns to that first experience with Sushi Zen regularly, as a teachable moment to design students (he has taught a lot over the years but doesn't have a regular teaching gig) and new recruits at his firm. "One of the things I try to encourage them to do is not put every idea they've ever had into their first project," he said, chiding his younger self, but not forgetting the lessons learned from every project. (Enthusiasm is a wonderful thing, but the young folks who are bursting with ideas don't apparently know how to hold back.)
"I was given the advice of having a tape measure with me. So when I see something that really works I start to look at how big it is, what it's made out of," he said, noting the importance of really delving in to what makes something great. He suggests aspiring architects and designers do the same.
"Start to notice everything, really start to key in on things that you find appealing. Watch buildings over time. Watch circulation patterns: how people enter; how people move through a space. Look at macro things: how buildings sit within the environment; how they're being used. Look at micro things. Use the city as your laboratory."
Asked to identify a building he finds irksome, he gets to Penn Station in four seconds. "Anything that's an entry point to the city wants to celebrate the city," Rockwell said. "It's just such a confusing, compromised entry point. The city can do better."
This, in fact, is another area of expertise for Rockwell. In 2000 he won a Presidential Design Award for his 1999 renovation of the Grand Central Terminal dining concourse, in collaboration with Beyer Blinder Belle. "What a glorious entry that is," he said of the century-old marvel. The Rockwell Group is also responsible for the new Terminal C at Newark Airport.
In 2015 Rockwell was named a fellow of the American Institute of Architects (AIA) and received the AIANY President's Award. He's also Chair Emeritus of Design Industries Foundation Fighting AIDS (DIFFA). Last year Rockwell won the Tony Award for Best Scenic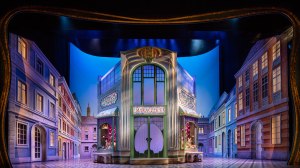 Design of a Musical for the revival of She Loves Me.
"That was insane," he said. "Theater was the idea bank that fueled my interest in architecture. It was something I looked at as a kind of mythic group of creative people in the city."
As he established his place in the design world so many years ago, Rockwell began reaching out to directors, meeting with them and sketching out ideas. In 1999 he designed The Rocky Horror Show set at Circle in the Square. Twenty shows later he was tapped for She Loves Me.
Rockwell said the experience would have been extraordinary with or without the Tony because he got to work with lyricist Sheldon Harnick, who also wrote the lyrics for Fiddler on the Roof. (See "fell in love" at age 12, above.)
"My work in theater really helps our work as architects," Rockwell said. "It fine-tunes my thinking, [and] it gives me a chance to collaborate with a wider range of creative people. It's been a phenomenal gift in my life to be able to do those two things in this city."
Since 2008, the year he won a Cooper Hewitt, Smithsonian Design Museum National Design Award, Rockwell has been co-architect for The Shed at Hudson Yards. The redevelopment of the West Side of Manhattan has been a major point of personal interest and will be a primary 2017 professional focus.
"What makes the city so amazingly livable are the public spaces. The most notable example of that is the way the city has opened up to the waterfront in the last 15 years," he said, citing Hudson River Park, Brooklyn Bridge Park, Hudson Yards, the High Line and the creation of bike lanes. "There's a growing recognition that the pedestrian-level activity in the public space is what gives the city its life. And that was what always attracted me to the city to begin with."
This year, Rockwell said, he's looking forward to seeing the finished projects of his peers, like architect Rafael Viñoly's estuarium at Pier 26 (part of the overall transformation of the 800-foot pier), the renovation of Pier 57 and its planned Anthony Bourdain marketplace and how London-based Heatherwick Studio will reinvent Avery Fisher Hall (a.k.a. David Geffen Hall).
He's also part of the move of Nobu from Tribeca to 195 Broadway in the Financial District. And he's working on a show that will run this summer at Lincoln Center. Details are private, but we suggest you pay attention if you like great theater. 
"New York is a place in which conversation is front and center," Rockwell said. "There's a strong community and that community has lots of strong opinions. That's something to really engage in and thrive in."
Recently, Rockwell has noticed an increase in the number of conversations about the importance of design in the city. He attributes it to technology (ideas are visible around the world instantly) and the finite amount of space.
"Even as we move out of the Manhattan-centric world to other boroughs ultimately there's a limited amount of real estate so everything is quite contested," Rockwell said. "And I think that's a good thing."
101 East 19th Street
,
195 Broadway
,
American Institute of Architects
,
Caesar's Palace
,
Danny Meyer
,
David Geffen Hall
,
David Rockwell
,
Douglas Durst
,
Drew Nieporent
,
FAO Schwarz
,
Heatherwick Studio
,
Imagination playground
,
jetblue
,
Larry Bogdanow
,
Marcia Kirkley
,
Montefiore
,
Nobu 57
,
Pier 57
,
Rafael Vinoly
,
Rosa Mexicano Lincoln Center
,
Sushi Zen
,
The Children's Hospital
,
Union Square Cafe
,
Durst Organization