The Plan: VaynerMedia at 10 Hudson Yards
---
---
When Spector Group was hired by social media agency VaynerMedia to design its new 88,000-square-foot offices on the 24th and 25th floors of 10 Hudson Yards at West 30th Street and 10th Avenue, Spector knew it had to create a comfortable, open and people-friendly feeling in a space that would be crammed with the company's 450 employees.
Having designed Vayner's original offices, at 315 Park Avenue South, the architecture firm understood the challenge.
"In that first go-round, they just packed the space to the full limit the certificate of occupancy would allow," said Dexter Tinapay, the design director for Spector Group.
"We were given that same directive here: that we pack them in. There were going to be a lot of bodies, a lot of desks, a lot of people in open areas. So the challenge was how to provide them with enough support spaces, conference rooms and breakout areas for them to function, even though there would be a lot of open desks and a lot of distractions—a lot of noise."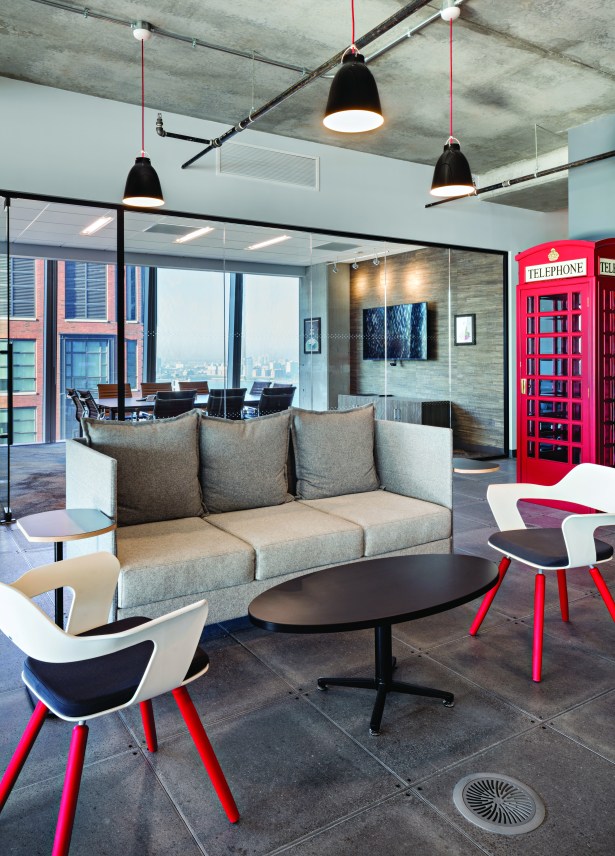 In addition to video screens galore and creative highlights such as boxing-glove wallpaper in one of its meeting booths, the agency's main desire was to have places where people could congregate and collaborate in the midst of over 560 desks on a floor and a half. Spector, which spent nine months on the project including three and a half on the build, created a series of warm open spaces while also providing escapes for those in need of focus or silence.
"The key was giving the space enough amenities for people to not feel stuck at their desks," Tinapay said. "There are a lot of these little breakout spaces, huddle rooms and conference rooms that people can go to if they need to collaborate, or have a private phone call. So there's a good balance with that."
Tinapay noted that the office's "town hall" pantry area has "a lot of benches, a lot of stools, countertops, sofas and soft seating," and he called it "a very relaxed, functional space that can be used for meetings and collaboration. It's a very interactive area."
As for the space's aesthetic, Spector initially presented VaynerMedia with two options for design concepts, asking the firm to pick one.
"The first emphasized neutral finishes," Tinapay said. "We loved the exposed concrete look and wanted to play off that. So the first concept was more about emphasizing the concrete—using dark and light colors, than complementing or warming it up with wood shelves. The second was more white and more colors—a lot of accent finishes. The Vayner team gravitated toward the first concept, a more neutral palate."
Adding to the excitement for Spector was that the building, part of the Hudson Yards complex, was brand new, giving the architecture firm a clean canvas on which to build. 
"It's on a raised floor, so all the HVAC was going to be coming from the floor," Tinapay said. "It was a really clean, bare space compared to the old buildings you see around New York. We were really excited about that. We loved the concrete slab. The concrete columns were very clean. That was one of the design elements we wanted to capitalize on."