A Look Inside 1 WTC's 'Piazza' in the Sky
---
---
Two summers ago, executives from the Durst Organization started to notice that tenants on upper floors of 1 World Trade Center began to mingle when they waited for the elevator. Because the 3-million-square-foot tower is 90 floors, any occupant of 65 or higher has to switch at the sky lobby on the 64th level.
Durst executives found this getting to know each other stuff to be so important that they decided to scrap an earlier plan to lease the 31,288-square-foot 64th floor and instead turn it into a place in which tenants could gather.
"What we had already started to see was tenants having these … 'accidental elevator conversations,' " said Eric Engelhardt, Durst's head of leasing for 1 WTC. "As a means to foster that, or encourage that more often and build a sense of community here at 1 World Trade, ownership and the team here decided to repurpose what would have been office space on the 64th floor for a commons."
Commercial Observer got a first look at the new designs of the Gensler-designed 25,000-square-foot space, which is scheduled for completion at the beginning of next year. Engelhardt said there will be a work cafe—selling coffee and grab-and-go food—a game room with table tennis and billiards along with a large room for meetings that can hold up to 180 people (it can alternately be split into two rooms each holding 90 people). That big meeting space is also set to hold fitness and yoga classes.   
Durst is talking to a third-party operator to manage the facility on a day-to-day basis, said Engelhardt. What's different about the amenity space from, say, the tower's observatory is that it's exclusively for tenants of the building and their guests, he added.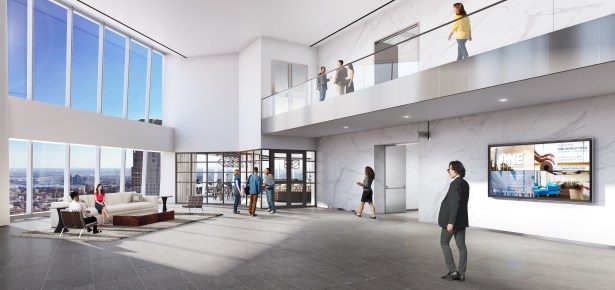 While the sky lobby is open with double-height ceilings along with bright walls and floors, the rest of the space was designed for the young companies that have occupied the building, said Gensler's EJ Lee, who headed the design team for the space. The idea was to create a gritty, almost unfinished look at the heart of the city's tallest building.
"The whole idea of the design was tech meets fashion," Lee said.
The cafe area, for which an operator has yet to be named, will have long, dark tables providing skyline views. The game room—featuring TV screens and console video games—has darker colors, wood floors and is boxed in by framed windows (think Midtown South breakroom).   
While there are some government and financial occupants, the tenant mix at 1 WTC has indeed become one of legacy and new media companies. Mega-publisher Condé Nast occupies about 1.2 million square feet since departing its eponymous Midtown tower two years ago. Millennial-focused news website Mic has an upper floor. Gaming developer High 5 Games leases two floors.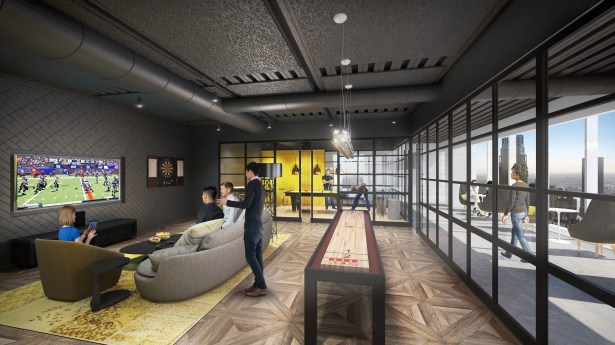 Tom Vecchione, a principal and design director at Gensler, said the amenity space is what tomorrow's workforce is looking for. "The look and feel that EJ is curating for this space…has that personality that office tenants of the next generation are looking for in an office environment," he said. "It's a shared piazza for the entire building."
And in a time when offices are dense with little privacy, Engelhardt said, it would also be a refuge for those seeking "a private conversation or a different change of scenery."
The remaining 5,000 square feet on the floor will be dedicated for a reception area adjacent to the elevator bank. Engelhardt said that area will be part of a lease to a large-scale upstairs tenant.
Because Durst owns the building with the Port Authority of New York & New Jersey, it had to go through the routine approval procedure with the bi-state agency's commissioners. The motion to convert the floor to amenity space from its planned office uses was approved in November 2015. The cost of the buildout and supporting infrastructure was estimated to be a combined $14 million, according to the minutes for that month's Port Authority meeting.
As the work nears completion, Engelhardt said that both prospective and recently signed tenants have responded positively to the amenity area. He said a newly signed deal actually hinged on having access to the 64th-floor common ground.
"We're very excited about it opening next quarter, he said. "We've gotten a lot of positive feedback from prospective tenants."