On the Hook: 5 Development Projects to Watch in Red Hook
---
---
"Spread love," counseled the Notorious B.I.G. "It's the Brooklyn way."
And is anywhere in Brooklyn getting more love spread than Red Hook?
For the past decade, or so, Brooklynites kept saying that Red Hook's moment was right around the corner. However, when Superstorm Sandy hit, a lot of people saw those dreams washed away.
The streets were flooded; debris needed to be cleared; businesses were under water (literally and figuratively) with no electricity, no running water and damaged supplies. Cars were floating out of parking lots and onto the streets.
"Five years ago, Red Hook was primed to be the next big thing," said Patrick Dugan, a director of brokerage at Cushman & Wakefield. "I think that Hurricane Sandy obstructed that a little. There was some pause within the creative-type users that were considering the area, and I think that pause allowed places like Industry City, the Navy Yards and Gowanus to leapfrog it in terms of attractability. I now see Red Hook in fourth place in the race to be the next big thing."
But perhaps the Chicken Littles were a little too quick to dismiss the potential of this area.
Last week, the engineering firm AECOM released a plan for 45 million square feet of development for the area, including 45,000 new apartments and three new subway stops.
It's true—the plan is just a plan at this point. But as far as real estate dreams go, this one seems like it has taken a page from Related Companies and Oxford Properties Group's Hudson Yards in terms of ambitions.
And it may fly in the face of the distinct Red Hook identity.
"The main draw for residents is this intimate community that has been isolated from everyone else but they're kind of proud of that," said Whitten Morris, the head of Newmark Grubb Knight Frank's Brooklyn office. "It's very homey and has a neighborhood feel that is different from anywhere else. There isn't a Starbucks—there's the community coffee shop and restaurants. There's a real lure to it. On the commercial side, does that mean it will succeed? You need to wait and see, because it's never been tried. But that's happening all over Brooklyn—whether it's achieving higher rents or putting an office building in an area where there never was one previously."
There hasn't been a critical mass of development so far, noted Ben Waller, the head of ABS Partners Real Estate's Brooklyn office. "What I've seen being successful is developers being nimble and catering to the types of tenants that can help make a neighborhood better," he said.
And a lot of developers have already started. Here are five projects that will convince the biggest skeptic it's time to get excited about Red Hook.
1. Red Hoek Point
One of the biggest landowners in Red Hook is the O'Connell Organization (which was founded by former-New York Police Department detective Greg O'Connell, and has now been passed down to one of his sons), which has been the key player in the area for decades. But some Manhattan names are also starting to appear, too.
Like, for instance, Thor Equities.
Details about Thor's new project, Red Hoek Point—a Foster +Partners-designed office and retail development at 280 Richards Street—are under wraps, but the company just engaged CBRE as the waterfront complex's exclusive leasing agent.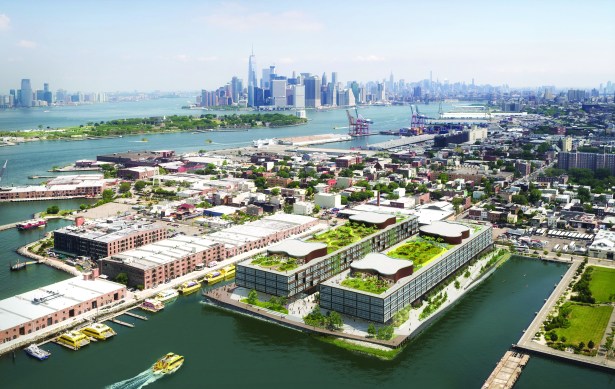 Thor acquired the former Revere Sugar Refinery site at 280 Richards Street for $40 million in 2005, according to New York YIMBY. The 7.7-acre campus, situated close to IKEA and Fairway Market, will comprise two heavy timber frame buildings with 23,000 square feet of retail and restaurant space, and more than 750,000 square feet of creative office space on three levels. The development will be surrounded by water on three sides and have views of the Statue of Liberty and Lower Manhattan when it opens in 2019.
2. 160 Imlay Street
Take a walk along Van Brunt Street, and perhaps the most striking redevelopment is that of the New York Dock Building that Est4te Four snapped up in 2012 for $25 million. The Milan developer was attracted to the area because of the waterfront location and European feel, said Patty LaRocco, the Douglas Elliman broker leading the building's sales efforts. "I immediately fell in love with [the building]," she said. "It's something you never see in New York any more, especially in a neighborhood that is so sweet and special."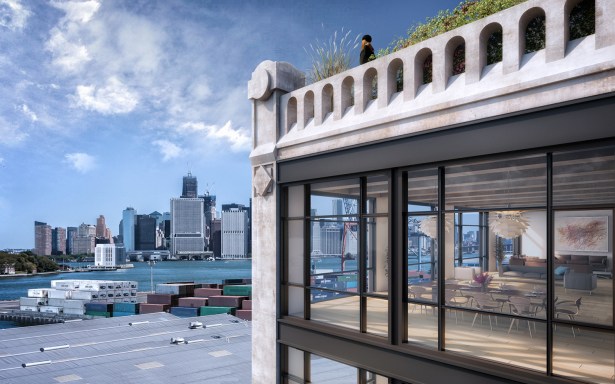 It took 18 years for the building to be rezoned for residential use. It has be en under development for some time but is now "full steam ahead," LaRocco said, with 58 units already in contract and 12 that will be sold upon completion. "I think it's the coolest building on the waterfront by far. They don't make them like they did in 1910. We have windows with an expansive of 16.5-feet by 12-feet high," she said.
3. 160 Van Brunt Street
A little further along the road is another buzzed-about addition to the neighborhood: electric car dealership TESLA's new base in the former Golten Marine Terminal at 160 Van Brunt Street. LIVWRK closed on the $21.5 million acquisition of the building in July 2014 before signing TESLA's showroom lease this February. Dan Marks, the partner at TerraCRG who negotiated the LIVWRK deal, said the fact that TESLA chose not only Brooklyn but Red Hook, for this showroom demonstrates the area's appeal.
"When we sold 160 Van Brunt the demand was tremendous," Marks said. "I remember we weren't really sure how to price it. When we agreed on an asking price we thought around $200 per square foot for the existing building was an appropriate number, but what we found out very quickly was that there were a number of developers that we would never even have considered that really wanted to own in this part of Red Hook. They really liked the bones of the building and the scale. We sold the property for $2 million more than what we brought it to market for. That taught us there is a strong demand from developers who want to be in this market, and there is a strong belief that if you build it they will come from a tenant standpoint."
Marks went on to explain why the property was such a smart choice for TESLA.  "The building is spectacular, it's a beautiful old warehouse building with spectacular features. It's also highly visible. If you're entering Red Hook, chances are you're coming via Van Brunt Street and this is one of the first properties you're going to see—so from a branding perspective it works very well. Lastly, from a transportation standpoint it's fantastic; you're above the tunnel, but you're only a few blocks from the BQE if you want to do test drives. To me, this project really tells the story of old Brooklyn being transformed to a newer repurposed Brooklyn."
And the opportunities for repurposing buildings are plentiful. Once one of the busiest ports in the 1850s, Red Hook has a number of shipping facilities scattered throughout its streets. As the maritime industry slowed down in New York's ports, the facilities' need for space became less necessary. "Businesses like Golten Marine didn't need to operate out of 100,000 square feet anymore," explained Marks. "The value of the real estate had hit such levels that it made sense to dispose of the real estate, continue elsewhere and allow that building to be utilized for the new economy that was coming and is here now."
Indeed, interesting properties with plenty of character are one of Red Hook's many charms. Est4te Four has snapped up several shipping warehouses including 202 Coffey Street and also the former Snapple distribution center in its plans to build the Red Hook Innovation Studios, four office buildings aimed at creative tenants.
4. The 1 Train?
The main impediment to Red Hook's growth for development and leasing is one of the reasons the neighborhood is so treasured by its residents. (Charming, until you need to get somewhere fast.)
"There's no shortage of big projects coming to Brooklyn. They're all very aspirational and most of them are not in a transportation desert," said Joe Cirone, a senior director at C&W.
It's true that the neighborhood is effectively cut off from the rest of Brooklyn by the Brooklyn Queens Expressway. This could change soon, however. In July the mayor's office announced plans for the new Red Hook Ferry Landing at Atlantic Basin and last week's AECOM proposal urged the 1 train be extended in order to meet the neighborhood's growing needs.
And while some might believe that a good subway line is the whole ballgame, one shouldn't be too hasty in dismissing Red Hook even if the 1 train never happens.
"Ten years ago when Dumbo was starting to gain popularity, most tenants in Manhattan asked 'How do you get there? I can't be in Dumbo!'" Dugan said. "And now there's no availability, yet nothing has changed in terms of transportation. So I still think there is hope for an area like Red Hook. It has a ton of waterfront frontage and great views of Lower Manhattan. If the city and the developers in charge of projects manage to figure out how to get people there more easily it may be able to leapfrog the other areas."
5. Ding, Dong—AECOM Calling
The engineering firm AECOM's plan proposed last week includes the development of 45,000 residential units in Red Hook—one quarter of which will be affordable housing units.  
Chris Ward, the former Port Authority Chief turned chief executive at Metro New York at AECOM, talked Commercial Observer through why the neighborhood is ripe for the picking.  
"You'd be hard pressed to find an amount of land in the city of New York that is larger, better poised and creates larger opportunity to meet the growing needs of New York than Southwest Brooklyn," he said. "Nothing of this size or dimension can compare to it."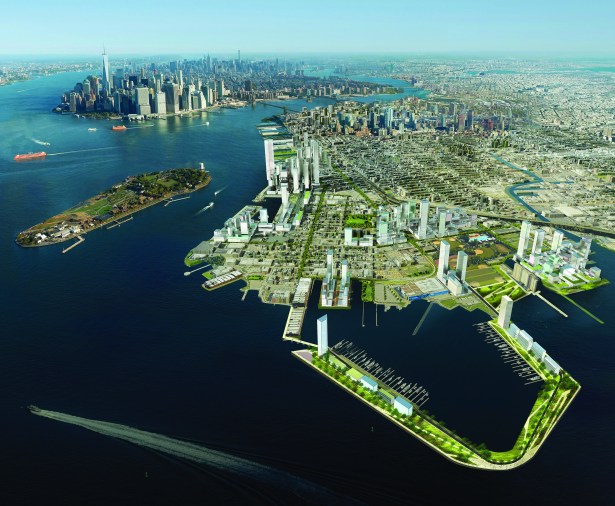 The idea of starting a project in a low-lying area when sea levels have been rising might sound, well, risible. But Ward said that starting from scratch, the right way, will not only mean a flood-proof development, but protecting and preserving what's already there.
"The challenge of climate change, and making sure that an incredible opportunity is protected, needs to be recognized," he said. "We must take the fact that sea levels are rising very seriously, and starting now may even be too late."
Superstorm Sandy decimated the neighborhood, including The Red Hook Senior Center at 6 Wolcott Street, flooding it with five feet of water. Redevelopment on the center is still underway, but now nearing completion, said Crystal Walker, the deputy press secretary for the NYC Housing Authority. "The inside of the building has been completely renovated but we are working closely with the design and engineering firm to resolve an issue with the concrete floor before the center can open."
The damage done by Sandy is something that AECOM's proposal aims to acknowledge and address. "I think there have been some really tough lessons learned," Ward said. "You can always build a four-foot or 10-foot wall, but is that going to allow people to experience and enjoy the waterfront? What we've learned from other topographical architectural strategies is there need not be a wall between people and the water. There are ways to deal with sea levels and storm surge and still keep the fabric of the waterfront," he said.
AECOM's idea of a 1 train extension and building three new subway stations to serve Red Hook—a $3.5 billion move—is something that some believe is a pipe dream. It also begs the "chicken or egg" question of what comes first, the development or the transportation? 
"That's an important question," Ward said. "The development could pay for the 1 train, much like the 7 train extension will be paid for over time by the value of Hudson Yards. Due to the timing, the residential property won't be spitting off enough revenues to finance the subway so some form of financial backstop to the tunnel project might be necessary. If you look at what the rental price level would be with 1 train access, it has to have a multiplier of 25 to 35 percent. If you can live in Brooklyn and look at Lower Manhattan, Governors Island and the Statue of Liberty, or be on Wall Street or in Soho in next to no time—that's an incredible spine of economic activity that will only increase in value."  
The next step must come from the community and elected officials, Ward said.
"It's just the beginning of a conversation. It's a massive imagining of the future of New York. The Regional Plan Association says an additional 1 million people will move into the city and we'll have to create 250,000 jobs," he said. "Given all the acreage that is down there [in Red Hook], now is the time to start. But it's going to take three to five years to get there. It's a big idea and in some ways it's a bold idea but it's only going to be realized if people discuss it, argue it and finally embrace what they want Brooklyn to be."
ABS Partners Real Estate
,
AECOM
,
Ben Waller
,
Chris Ward
,
Cushman & Wakefield
,
Dan Marks
,
Douglas Elliman
,
LIVWRK
,
NGKF
,
Oxford Properties Group
,
Patrick Dugan
,
Patty LaRocco
,
Related Companies
,
TerraCRG
,
Tesla Motors
,
Thor Equities