WeWork's Nail-Biting Summer Leaves Questions About the Company as it Grows Globally
---
---
WeWork has had a pretty awful summer.
A Bloomberg report in July revealed that everybody's favorite $16 billion startup had slashed its profit forecast by 78 percent, which the coworking giant then followed with a suit against the ex-employee who allegedly leaked those numbers. In late June, the National Labor Relations Board filed a complaint against WeWork regarding the company's requirement for staffers to sign arbitration clauses as a condition of employment.
But despite questionable spending habits and dwindling profit projections, WeWork is still the hippest provider of shared space across the globe. They say, if you can make it in New York, you can make it anywhere, and so far, that has been true for WeWork. Founded in New York City in 2010, the company currently has 64,000 users in 83 buildings in 22 cities across seven countries, soon to be 111 buildings in 30 cities across 13 countries.
But WeWork's rapid growth across borders is still relatively unproven, especially with the projection numbers Bloomberg reported from the leaked document: The company's revenue estimate was cut by 14 percent, and there was a 63 percent surge in projected negative cash flow. Those lower revenue projections were a result of delayed building openings, and issues arose from "higher spending on construction and lower-than-expected remodeling subsidies from landlords, particularly outside the U.S.," according to the article.
Indeed, WeWork, which refers to its landlords as "partners," heavily relies on those relationships to make its products work. And having those relationships transcend borders when the company is on track to open 28 more locations—India, Mexico and South Korea to name a few—is key.
"I think their whole model of not just renting space but being part of a community is somewhat untested in terms of a cultural fit as they continue to expand," said Heidi Learner, the chief economist at Savills Studley. "The model operates successfully in places like the U.S., the U.K. and Australia with Regus, but with some other markets like China, I think the jury may still be out. There's not enough data."
Across the Pond
In early July, Bloomberg reported that WeWork had canceled plans for a 45,000-square-foot lease at 7 Westferry Circus in Canary Wharf, London's Financial District. It was the first time the company held back on a project in the Ol' Blighty. WeWork has 11 locations with more than 10,000 members in London alone, according to a spokesman.
While it was unclear why that particular deal fell through, one WeWork executive that Commercial Observer spoke to explained that even in a market like London, which is receptive to coworking spaces the way that New York has been, things get different when it comes down to lease negotiations.
"Obviously, a big part of our model is having a good percentage of buildout paid for by the landlord," said David Fano, the chief development officer at WeWork. "Some markets don't have a culture of TI [tenant improvement] work or free rent instead of TI. When we go into markets, we need to adapt to that market, prove ourselves out [so we can get] the deal structures we need. Deal making is dealing making. You have to be flexible and figure out what's fair for both parties."
The leaked document obtained by Bloomberg showed that same issue: WeWork estimated that this year, 54 percent of capital expenditure for its office spaces would be covered by landlords, down from its original expectation of 75 percent. Mexico City, Seoul and Shanghai were among the markets where WeWork received less allowances from landlords.
But a deal that doesn't come to fruition is hardly ever because of finances, Fano said. Disagreements are more likely to arise because a landlord doesn't want to put a keycard in the elevators, doesn't allow dogs or bikes or wants to enforce a dress code.
"We're fighting for 200 companies that have such a wide range of cultural interests," Fano said. "We try to cover them all so our negotiations get really intense."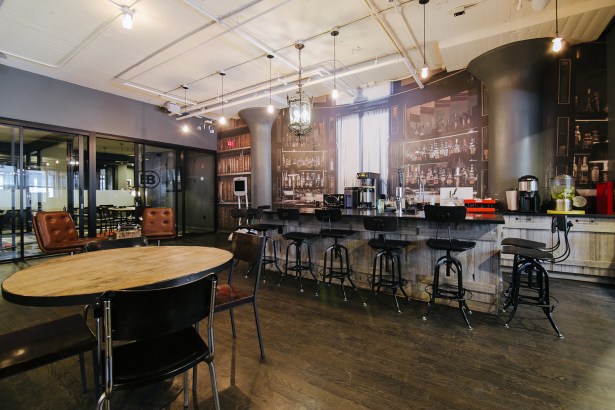 It Takes Two to Tango
When it comes to who pays what in regards to tenant improvements, it's between the landlord, WeWork and the market they're in. But, the price tag is still the price tag. While the spokesman for WeWork declined to share a price on buildouts for this piece, Mark Lapidus, the real estate chief at the company, told CO in February, "On usable square feet, we spend about, depending on the market, between $200 and $250 a foot." (Real estate experts that CO interviewed for this piece said that the average TI allowance a landlord provides a tenant with is roughly $70 per square foot in Manhattan.)
Shlomo Silber, the founder of Coworkrs, agreed that creating a coworking space is very dependent on the landlord, and no two are the same. "It really depends on who you're working with," he said. "There are certain landlords that don't even want to hear about coworking and landlords on the other end of the spectrum who are super gung-ho."
For Coworkrs, which currently has locations across Manhattan and Brooklyn with two more in the works, buildouts are typically $125 to $150 per square foot, Silber said, and being competitive requires not just a quality space but also a staff that is more akin to a hotel than an office.
"We try to look for landlords who believe in what we're doing. It's important for our business model," he said. "They'll be able to help us out if we want to get a rooftop deck, or extra amenities like bike storage. Sometimes you might be willing to pay a little more on your rents and get a higher TI, or get more free rent and a little bit less TI so you can catch up after. It's different every time."
However, Coworkrs operates on a smaller scale than WeWork, with spaces in the 40,000-square-foot ballpark—whereas WeWork is doing deals as large as Dock72 in the Brooklyn Navy Yard, where it will operate a 220,000-square-foot space. The coworking giant is partnering up with Boston Properties and Rudin Management Company on that $380 million, 675,000-square-foot development.
William Rudin, the CEO of Rudin Management, has been a WeWork believer since the beginning. He tested out a similar concept at 55 Broad Street in the 1990s with shorter-term and flexible leases for tenants, so when WeWork CEO Adam Neumann pitched him a mixed-use, coworking and coliving space WeLive, it resonated. Now, Rudin Management's 110 Wall Street houses WeWork and WeLive concepts.
A landlord himself, Rudin said that WeWork does prefer to get as much capital expenditure funded by the owner as possible but that it's just a part of "the dance and negotiation between owner and tenant."
"The owner has to weigh the benefits of having WeWork—do they perceive it as being a positive?" Rudin said. "[WeWork has] negotiated millions and millions of square feet of space, so they've obviously satisfied the landlord and their banks a significant amount."
When it came to 110 Wall Street, Rudin explained to CO that the company had to get its lenders comfortable with the concept. At that particular building, he said the original mortgage was paid off, and M&T Bank was brought in during negotiations. The Buffalo-based bank provided $26 million in debt on the property in October 2014, city records show.
"We had them meet with Adam and his financial team and walk them through their projects," Rudin said. "We've met with [the bank] on many occasions, kept them up to date on progress of the building, so it was part of the process. I know some lenders have rejected deals with them as tenants, but they obviously seem to be making most owners and their lenders feel comfortable with their model."
Rudin Management, along with Boston Properties, is currently in negotiations for a construction loan for Dock72. Rudin also noted that a number of lenders are already directly providing WeWork with funds, through corporate lines of credit. Last year, The New York Times reported that WeWork was in talks for a $750 million credit facility for Deutsche Bank, Goldman Sachs, Morgan Stanley and J.P. Morgan Chase.
"I honestly think it's easier now than it was a couple of years ago," said Rudin. "People are more aware of what WeWork is doing."
When the Cycle Ends
In 2003, Regus, a publicly traded U.K.-based company which provides flexible office spaces, filed for Chapter 11 bankruptcy and had to sell more than half of its business. Published reports state that the company fell into trouble because it could not work out rental agreements with its landlords. Over the last few years, Regus has been performing far better and fared the last downturn well. But unlike Regus, WeWork has yet to go through its first economic slowdown.
"Regus has been around for a while. I don't really think it's coworking," Fano said. "When you talk about coworking, it's like hotdesking. The fact that we have 50 person companies in our locations makes us categorically different. It's more of a space and a service, giving companies the ability to consume space at rate at which they [need]."
One caveat, however, is that when WeWork signs its leases, which tend to be 15 years or more, both the firm and the landlord are relying on rent from subtenants who can rent spaces with WeWork for one month, six months or a year.
"Even if you end up a member and are rolling over a series of one-year leases, that's essentially a floating rate, so it's subject to what the market [rate] is," Learner said.
An additional layer of risk comes from the subtenants. If a large start-up company is hesitant to take on its own lease, it could be for reasons that make it more suspectible to market fluctuations, she said.Learner explained that in some cases, a WeWork tenant or user may not meet the credit quality a landlord would be comfortable with, may not have a security deposit, or have future headcount growth. "Presumably, that's why a tenant is paying for WeWork, because they might not otherwise meet the creditworthiness of a landlord's demands. It's a little bit risky," she said.
A lender, who asked to remain anonymous, compared WeWork and the phenomenon of coworking to hotels. "It becomes analogous to hotels," the individual said. "In good times, everybody thinks they're a hotelier. They see the returns, and if you do it right and your property is properly leveraged and you get traction with your brand, the hotel business is incredibly lucrative."
Continued demand is what will ensure continued success for WeWork, Learner said. While apartments are safeguarded because people will always need a place to live, "It's not always clear in a downturn what people will have a willingness to spend on," she said. (A membership at WeWork starts at $45 per month, a hotdesk starts at $220, and a dedicated desk goes for $325.)
Rudin sees the other side of that scenario and said that during an economic slowdown, "everyone who is smart and well trained doesn't just disappear off the planet." Flexible office space like WeWork would allow those individuals to try out their businesses for a while, and even if it didn't work out, "there's always somebody behind you or in front of you trying to do something similar."
But during a downturn, it isn't just coworking spaces that will be available for smaller businesses and startups. At the height of the last slowdown in 2009, Downtown, Midtown South and Midtown had 15.9 million square feet of office space available for sublet, more than double the 7.6 million available in 2007, according to data from Savills Studley. Earlier this year, that sublet number was at 7.7 million square feet. As of March, CoStar Group pegged WeWork's total square footage in Manhattan at 2.1 million.
More Than Just Coworking
In March, WeWork raised $430 million from Chinese investors to fund its expansion into Asia, and according to Fano, in China in particular there is a receptiveness toward the WeWork concept.
"Shanghai is going to continue to go strong. Hong Kong is about open, and Seoul is about to open this month," he said. "Even later this year, we feel very good about Melbourne and Sydney. Do we think they're 100-location cities? No, but Shanghai could be. China alone has three or four cities that could be that."
And despite the lapse in London with the Canary Wharf deal, Fano said that culturally the city is "spot on" and that WeWork will continue to "invest heavily."
But WeWork is looking to grow not just in scope but also in concept. Fano said that the $16 billion company is considering becoming what he referred to as a "community manager."
"At WeWork, everything is on the table. It's not a part of our strategy right now, which is to be an asset-lite company and develop good partnerships," he said, emphasizing that the company is getting very comfortable at operating its locations and may eventually start to provide those same offerings outside of its WeWork-branded locations.  
"Your space can be powered by WeWork without needing to be in a WeWork," Fano said. And investors have given the thumbs up because it reduces the company's need for capital, which is primarily driven by costs to build. "It's a way to expand our revenue stream without needing to invest so much in building out these spaces."
But that expansion may be a ways away. According to Bloomberg, the leaked document stated that because of pushing its capital spending budget by more than $100 million, WeWork may have $385 million in negative free cash flow this year—$236 million more than its original prediction.
"WeWork has been a phenomenal success," Learner said. "It could be the wave of the future, but it's still new enough that the model hasn't really been tested. Regus went through similar growing pains. The question always is, Can you learn from others' mistakes?"
Boston Properties
,
Cowork|rs
,
David Fano
,
Dock 72
,
Heidi Learner
,
M&T Bank
,
Mark Lapidus
,
Regus
,
Rudin Management Company
,
Savills Studley
,
Shlomo Silber
,
WeLive
,
WeWork
,
William Rudin