Jeff Winick on Duane Reade, East Coast Expansion and His Heir Apparent
---
---
Jeff Winick has had his heart broken.
Late in 2014, Duane Reade, one of Winick Realty Group's oldest and most prized clients, picked up shop and moved to SRS Real Estate Partners. Winick had spent 30 years supersizing the pharmacy, bringing it to hundreds of locations around the city. The loss was hard to take. (Although, Winick still does a good deal of business with Duane Reade's outer-borough locations and dispositions.)
But when one has one's heart broken, it's wise to turn to family for solace. And recently, the founder and chief executive officer of Winick Realty brought his daughter, Danielle, into the business. Danielle, whose mother Lizzete is no longer married to Jeff, is his only child.
Of course, real estate is very much a family affair, but Danielle isn't just some relation to get off the streets and on the payroll. Jeff sees his daughter sitting in the executive suite, running the 45-broker retail leasing and consulting firm as a partner and, who knows, maybe jumping into the developer side of the business.
The 22-year-old graduated from New York University's Stern School of Business in May and recently joined her dad at his brokerage in its Manhattan offices on the eighth floor of 655 Third Avenue between East 41st and East 42nd Streets.
And she's not coming to the firm with a blank CV. Even though she's still in her early 20s, she interned at Winick Realty last summer and did an internship in 2013 at Vornado Realty Trust. But she also brings a knowledge of a generation's likes and dislikes that her father, who recently turned 66, may not possess.
Since Duane Reade's departure about 70 percent of the business has shifted to marketing for landlords' properties, and the remaining focuses are on tenants. Winick Realty is representing just under 1 million square feet in the country and completed 480,000 square feet of leasing last year. And Winick is planning to broaden their horizons as well with a major geographical expansion. Both father and daughter spoke to Commercial Observer about what the future holds for Winick Realty—and for them.
Commercial Observer: When Danielle interned here, what did she do?
Danielle Winick: Last summer, I started working on my first property, which was 1051 Third Avenue.
You repped the building on a team?
DW: Yes. I was working with another broker, [Patty Holmstrom], at our firm on that.
Did you complete any transactions?
DW: No.
Jeff Winick: She did canvassing and learned how to make all the calls.
When you interned at Vornado in 2013 how much different was it than Winick?
DW: Well, I worked in their retail division. So in some ways it was similar, but I also did see some other things that we don't do here, like there was pitching for a project, which was a development project, which they were going to do all the retail for. It was interesting to see—they had an extensive amount of books about the development and what they were proposing to do with that project. That was really interesting.
JW: She worked under Sherri White [who has since joined The Witkoff Group as an executive vice president.]
So she didn't get any special treatment because she is the boss' daughter?
JW: No. She did the training program here like everybody else that comes in here.
Danielle, what did you think about working under women like White and Holmstrom while interning in this male-dominated industry?
DW: That was one of my favorite things about working at Vornado. It was a small retail division, but I would say the  majority of them were women, who were really impressive actually, and that was really nice for me. I got to see strong women, who were super knowledgeable.
Does being a woman make it harder to excel in the industry?
DW: I wouldn't say there are any negative effects. I would say you definitely want to know what you are speaking about and prove yourself and look professional. But I think that when a woman shows up to a meeting they are treated the same as long as you know what you are talking about. I don't really see it as a difference. And I think learning from a woman is nice, obviously, but I don't think it's any different. I am also following my dad and a ton of other male brokers here.
Jeff, are you grooming Danielle to take over the company?
JW: Well, she is going to be a partner one day. I hope she also goes on to become a developer.
Why a developer?
JW: Because I want her to do both. Because a developer gives you a cash flow, and you don't have to go and find your next deal.  And earnings are always better. [But] I think that's a sideline. I think the brokerage will remain.
You started in residential brokerage. What happened?
JW: I started in the residential market [in the 1980s] and I didn't like the residential market. Basically, renting apartments [and] selling apartments was not exciting for me. I'd rather deal with more professional people instead of showing housewives apartments. It just was not my thing.
So you went into retail. You could be credited with the expansion of Duane Reade, right?
JW: We took them from 40 stores to 360 stores.
How did losing the Duane Reade account affect your firm?
JW: We still do all of their dispositions—all of their surplus properties—in the city and in the boroughs. [But we're not doing] the new stores. When you built a drugstore chain for 27 years and all of a sudden it stops, yeah, it kind of hurts. It breaks your heart. But you move on. We are out there everyday looking for new tenants to represent, and we have always done landlord side and tenant side. So you work a little harder and find more tenants or you represent more landlords. I mean we are doing some major projects today.
Specifically, what are you doing for Duane Reade now?
JW: [East] 57th Street and Second Avenue. Duane Reade just closed the store. They have five years left and are still paying the rent. We are subleasing the property for them. We are looking for a tenant for 1160 Third Avenue. That store is open, but we are looking for a tenant [to sublease].
Who are your biggest clients now?
JW: Chipotle. That's [Kenneth Hochhauser's] account. AT&T, that's run by my partner Steve Baker. Personally, I am doing more and more landlord work.
What buildings are you representing?
JW: The big project we are doing now is the redevelopment of J&R [Music and Computer World]. It's 1 Park Row, 15 Park Row and 25 Park Row. So basically we are recreating that whole corridor. It's the same owner who owns all the buildings, Rachelle Friedman. This is going to be almost 65,000 square feet of retail on four floors at 25 Park Row. They've demolished everything that was there before. Fifteen is getting renovated, and we are going to have 21,000 square feet, and we are going to combine it with the corner, which is 20,000 square feet.
What would be asking for the retail there?
JW: $400 to $500 per square foot for the ground floor.
And what would be the best use for it?
JW: High-end clothing. The corner will be somebody that would match up with Zara. Zara is [already] on one corner. It's like one block from the World Trade Center. So Ann Street's a really busy block today. But I think mostly fashion, cosmetics—that's our target market.
What are the projects in Coney Island that you are doing?
JW: This is [Rubin] Schron's developments [at 532 Neptune Avenue and 626 Sheepshead Bay Road]. This is like 170,000 square feet. It's an exciting project because we have been involved since day one with it, giving input on designs, sizing and moving the tenants. This is a high-end project. I think it will start changing the neighborhood. You'll see it as all high-rises one day. In the next 10 years, I think it changes completely.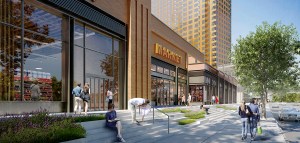 There is basically only entertainment in Coney Island: Do you think other kinds of retail could work there?
JW: There really is no retail—services retail. Yeah you have Brighton Beach Avenue under the elevated train, but Coney Island doesn't have retail. I mean 532 Neptune will have hair salons, clothing stores, we are going to have coffee bars, bagel stores and boutique stores. The nearest place to go for that is really Brighton Beach Avenue.
Another hot area you have been working in is Long Island City. Do you see Long Island City finally starting to evolve?
JW: We are probably doing 75 percent of all the [retail] leasing in Long Island City. It's still underserved. Because originally they didn't build for retail. It was more about doing the apartments. So they have the drugstore, and they have the supermarkets, but they don't have the clothing and the boutiques. Cooler bars are going and cooler coffee shops, but it's still underserved because there are 5,000 housing units that are coming in the next few months online that needs services.
It's the same thing in Williamsburg. There was nothing in Williamsburg years ago. Retail uses went for $30 to $40 a foot on Bedford [Avenue] and now it's $250 a foot—if you find a spot. The same thing is going to happen in Long Island City.
How much of your business now is doing landlord representation?
JW: It used to be 50-50. Right now it's more 70-30—70 for landlords.
When did that change occur?
JW: Over the last two years.
Is that a response to some kind of shift in the market?
JW: No, you still want both. But Duane Reade was a major player of our business. But it goes back and forth. Sometimes it's a landlord side; sometimes it's the tenant side.
Do you see your niche retail business as limiting? Or is it not good to have a multifaceted business?
JW: We are a boutique in the sense that we only do retail. We are expanding into the Florida market right now. We are already in the New Jersey market. I don't think it helps retailers [to be a big firm]. A lot of people get lost at big firms. They don't get the attention that they'll get from me or they'll get from my daughter, or they'll get from one of my partners.
Tell me about branching out to Florida?
JW: We just signed our first 100,000 square foot exclusive in Florida—Miami, in the Design District. I think we want to expand from Boston to Florida.
How is your relationship with John Catsimatidis?
JW: I've known John for 15 years. We are good friends—our families travel together during the holidays.
Where?
JW: We go to the Bahamas a lot. It's like our thing. Every Thanksgiving for the last 15 years, we are in the Bahamas with [the Catsimatidis family].
You quit smoking a while ago, but are you still off cigarettes?
JW: I'm trying to be a nonsmoker. It's not easy.
DW: I'd say that's the hardest thing about us working together.
What was Jeff like as a father?
DW: Well, he was definitely always working. I'd say that is part of how of I came into wanting to be in this business. Growing up, some of my first memories are [that] we would go to the Hamptons in the summer. I remember there was a property he was putting signs up in Westhampton, and he had me, like a 6-year-old, holding things and taping signs up.
On the weekend, that's what it was. Driving around, looking at properties. And I didn't really know obviously at a younger age, but as I became older, it was fun, and it was something we did together.
Do you ever get approached to sell Winick?
JW: All the time.
And?
JW: I listen to them, and I say, "Thank you."
So you are not interested in selling, yet, but is there a price?
JW: It's not in my grand plan. [But] there is a price for everything.
I heard you throw awesome, wild parties. Is that true and does it still happen?
JW: Is that The Real Deal story? They wrote that I filled up my pool with Cristal every Friday.  
Well, is it true?
JW: Do you know how much it would cost to fill up a pool with Cristal every week? About $1 million or $2 million. I think they are out of their minds. No. I grew up with kids in my house. [Danielle] used to have 20 kids over every weekend.
There were rumors that you wanted Danielle to marry [Winick Executive Vice President] Darrell Rubens, is that true?
DW: (Laughs) He's like my brother.
JW: That's funny because she introduced Darrell to his wife, and she is dating Darrell's brother-in-law.