Gene Whiz: Talking Shop With Gene Kaufman, One of NYC's Most Active Architects [Updated]
---
---
In 1990-something, architect Gene Kaufman was working on a design for a residential building at 320 Pearl Street when the job came to a halt.
The developer on the project "pulled the rug out from under me and sold the site," Kaufman told Commercial Observer last week from his Soho offices. "He said to me, 'I sold the site, maybe you can work for the new guy and I bet he'll become your biggest client.' "
The buyer of that site? Sam Chang.
"I was introduced to Sam and I think at that point he had done one hotel," Kaufman said. "We got to talking. I laid out a building for him, and it seemed to make sense, and we started working together."
That Pearl Street location became the nine-story Hampton Inn Manhattan-Seaport-Financial District Hotel.
"And very shortly after, he came with another project and two more projects," said Kaufman, the head of Gene Kaufman Architect, aka GKA, as well as Gwathmey Siegel Kaufman Architects (the latter since 2011).
So began a long and prosperous relationship between one of the city's most prolific hotel developers (Chang, the president and chief executive officer of McSam Hotel Group, previously told CO that he has completed at least 60 hotels in New York City) and one of the city's most active architects (Kaufman said he currently has 20 buildings under construction in New York City).
"He always does a good job for me," Chang said. "He's not like most architects. They have an ego. 'I have to have this, this and that.' That's the problem with most of the famous architects. They want their own style. They don't care about me."
Kaufman, 58, estimates that he has designed at least 30 hotels for the budget-hotel maverick, making Chang Kaufman's biggest client.
"I have to give Sam a lot of credit," Kaufman said. "It has been an enormous opportunity for me to work on his projects. I would say of the great and successful developers in New York, there is something about him that is different. He has made a mark for himself by showing that mid-market hotels for ordinary people were in desperate need in the city. With him, we were able to build thousands of hotel rooms which means thousands and thousands of people have been able to come and stay here and enjoy the city and contribute to the city's economy."
Perhaps it's because Kaufman has been so closely tied to low- and middle-market hotels (and therefore has had to work within serious financial constraints) that his style has come under scrutiny.
"He's able to design spaces at a very low cost, which is a more developer-type architect," Spector Group's Scott Spector told CO. These are "not your starchitect-type hotels. To me it's banal, background architecture."
Another arrow at Kaufman, courtesy of Spector: "It's almost pre-fabricated architecture," he said, comparing Kaufman's designs for the low-end hotel market to creating "big-box retail."
This is the kind of criticism that has dogged Kaufman for a long time. Crain's New York Business called him the "Baron of Bland Buildings" in a headline. Curbed also used the "b" word in a header: "Midtown to Grow Even Blander With New Gene Kaufman Hotel" in talking about a Chang-developed Holiday Inn at 585 Eighth Avenue between West 38th and West 39th Streets. Architectural Record called his hotels "cheesy."
Kaufman's response to such criticism: "I think it is a little naïve to expect that every building is going to be a great monument. I think that a lot of the fabric of New York City are good but ordinary buildings, and they need to be afforded by the people that live in them or that stay in them if they are hotel rooms. The number one complaint in this city is that it's too expensive. So to expect a building to be a palace and then hoping that people can afford it is naïve."
But does he think any of his buildings are "bland?"
"I think that we are proud of the buildings that we've done," Kaufman said. "Even if they're not monumental, I don't consider them bland. A hotel has many, many, many identical—or similar—rooms. I think a building like that should not strive to be acrobatic, should not strive to be something that it's not."
One project that Kaufman said is "not shy or bland" is the Four Points by Sheraton at 326 West 40th Street and Fairfield Inn & Suites, a Marriott hotel, at 330 West 40th Street, a two-pack hotel between Eighth and Ninth Avenues that he designed for Lam Group (headed by John Lam, a former partner of Chang and also a champion of the city's budget hotels).
"These hotels are by Times Square and respond to the vibrancy of that area," Kaufman said. "The Marriott lights up at night and becomes part of Times Square's night light show. They are not shy or bland buildings. The building needs to suit the site."
Kaufman and his team of 35 (25 of whom are architects) work on GKA as well as Gwathmey Siegel Kaufman & Associates Architects projects.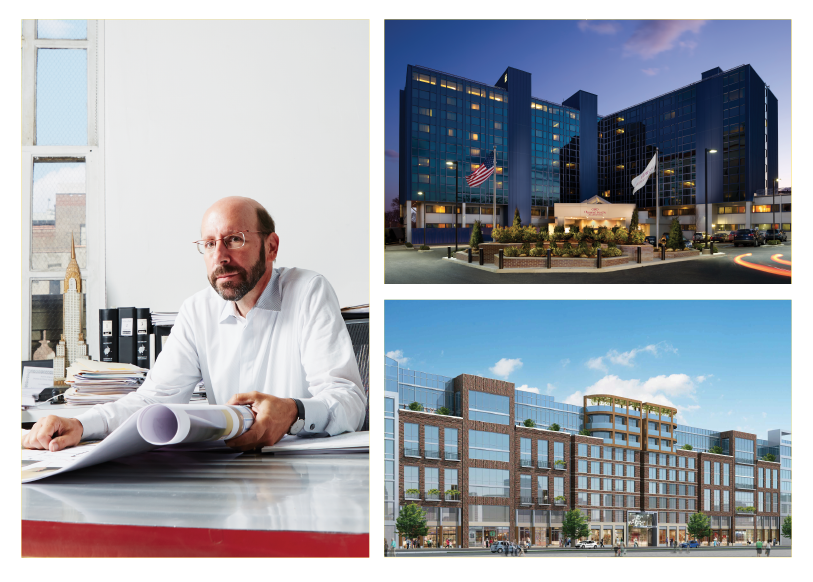 Kaufman distinguishes Gwathmey Siegel Kaufman & Associates Architects—a renowned firm formerly called Gwathmey Siegel & Associates Architects and founded in 1967 by architects Charles Gwathmey and Robert Siegel—as maintaining a "modernist design aesthetic." At GKA, Kaufman said, "We're flexible on style. We've done some more traditional-looking buildings; we've done some modern buildings. It's more a practical kind of approach than an aesthetic approach. I mean, we care about the look of the building but that's not the thing that comes first for us. We're doing a mid-range hotel. We want, at the end of the day, that people can afford to stay there. Mid-range hotels are not considered to be as consequential as museums or churches. We still want to make a building that looks good and fits well."
As an architecture student at Cornell University in the 1970s, Kaufman said as he flipped through a book of Gwathmey Siegel's designs with CO, "this is the kind of architecture work that students looked at as being what was the important work of our time."
While it wasn't a dream to buy that company, "it was like a dream, in a way, to be able to do that," he said.
In his first two years out of college, Kaufman worked for Rafael Viñoly, the starchitect behind the tallest residential building in the Western Hemisphere, 432 Park Avenue.
Starchitect is a term that Kaufman considers "a media phenomenon that is a little exaggerated. I think that an architect cares a lot about the ideas and the building, but it's really not about the person."
That outlook makes sense, considering he said he is always "trying to maximize the economic value" of a GKA project.
Will Obeid, a principal of Gemini, has tapped Kaufman for a number of projects including Crowne Plaza JFK Airport Hotel New York City.
"Gene is not bland," Obeid said. "He is a very innovative, creative architect that knows how to work with a developer, work within a development team. I've always found Gene willing to listen to my ideas and integrate his thoughts and concepts into what I want to have done in a project."
That innovative approach, Obeid said, can be seen in how Kaufman designed Crowne Plaza JFK.
Kaufman "reskinned the façade of that hotel," Obeid said. "That wasn't something ownership was thinking of prior. Basically we took an old 1950s Hilton box that was essentially obsolete and with Gene's help we transformed it into what looks like a brand new hotel. He came up with an innovative façade design and gave the lobby and the [food and beverage] a really fresh look and the guest rooms—they are fantastic. They are creative and well within the brand standards that Crowne was looking for."
Stellar Management tapped GKA to design the architecture firm's first Greenpoint, Brooklyn project, a residential rental building at 211 McGuinness Boulevard between Greenpoint Avenue and Calyer Street.
Stellar liked that GKA did the entire project in-house, according to Adam Roman, the chief operating officer and a principal at Stellar Management.
"He holds several consultant trades in-house [for example] MEP [or mechanical, electrical and plumbing], structural, expediting, etc., which speeds up the planning and design process, and he has extensive experience with inclusionary housing projects."
He further noted about Kaufman and his team, "They are consummate professionals, responsive and think outside of the box."
Lest people think Kaufman only does low-end projects, he worked on hotels including The Jade Hotel, now called Walker Hotel Greenwich Village, the Viceroy on West 57th Street, Hyatt Union Square and (the redevelopment of) 1 Hotel Central Park, as well as residential projects like Soho's 11 Greene Street (breaking ground this month), and Williamsburg's 56 North 9th Street and Schaefer Landing at 440-446 Kent Avenue.
"Gene caters to what his clients want him to do," Obeid said. "I really think of Gene as the developer's architect. He happens to have a lot of developers that cater to the select-service market. But he also has a lot of clients looking for the upscale projects."
As with many players in the real estate industry, he's been hit with a lawsuit here or there.
In September 2015, Great Neck, N.Y.-based SMA Equities sued Kaufman and GKA for $9.5 million over the sale of 152 Elizabeth Street between Broome and Kenmare Streets. The developer, who in 2014 sold the plot to Sumaida + Khurana for $21 million, alleged Kaufman advised the company that the site was only zoned for a 14,000-square-foot building. But Sumaida + Khurana ended up building a structure that was 6,000 square feet larger. SMA argued in New York State Supreme Court that Kaufman "negligently misrepresented" the square footage, thus leading to a lower sales value for the property.
Kaufman's lawyer filed for a motion to dismiss the charges last October, according to court documents, and the case was dismissed on July 14. Kaufman didn't remark on the case, his attorney did not return a call for comment and SMA's lawyers did not comment on the litigation.
In two other active New York State Supreme Court cases, different plaintiffs have alleged Kaufman tried to play up his role as an architect or consultant on a project, hitting him with allegations of fraud and breach of contract. Kaufman called the cases "absurd."
Meanwhile, business is booming, and while the performance of budget hotels has slowed down, Kaufman thinks "there is room for more growth" in New York City.
Outside of work, Kaufman is an avid collector of pre-Colombian art. He and his wife, Terry Eder-Kaufman, a professional pianist under the name Terry Eder, frequent the opera, other concerts and museums.
Kaufman led a bid in 2015 to revive the bankrupt New York City Opera, but then dropped it at the beginning of this year.
"I had thought that because the company was in bankruptcy, there would be complete freedom to reimagine how it would be done," he said. "But there were a lot of contrasting agreements, financial constraints. It was something beyond my ability, coming as an outsider, to do it. I didn't want to take on something that I thought I couldn't do well and do the way I felt it should be done. It wasn't apparent at first, but that was the case."
The Kaufmans live in an 1861 five-story landmark brownstone in the West Village, which Kaufman renovated (they have a tenant downstairs). The couple has a 21-year-old daughter, Maya, a senior at Kenyon College in Gambier, Ohio.
With additional reporting provided by Terence Cullen.
Update: This story was edited to reflect that the lawsuit by SMA Equities against Gene Kaufman and Gene Kaufman Architect was dismissed.
152 Elizabeth Street
,
211 McGuinness Boulevard
,
320 Pearl Street
,
326 West 40th Street
,
330 West 40th Street
,
432 Park Avenue
,
585 Eighth Avenue
,
Adam Roman
,
Charles Gwathmey
,
Cornell University
,
Crowne Plaza JFK Airport Hotel New York City
,
Fairfield Inn & Suites
,
Four Points by Sheraton
,
Gemini
,
Gene Kaufman
,
Gene Kaufman Architect
,
Gwathmey Siegel Kaufman Architects
,
Hampton Inn Manhattan-Seaport-Financial District Hotel
,
Holiday Inn
,
Lam Group
,
McSam Hotel Group
,
New York City Opera
,
Rafael Vinoly
,
Robert Siegel
,
Sam Chang
,
Scott Spector
,
SMA Equities
,
Spector Group
,
Stellar Management
,
Sumaida + Khurana
,
Terry Eder-Kaufman
,
Will Obeid