No Longer an Insane Asylum or a Prison, Roosevelt Island Is in a Construction Revolution
---
---
In 1887, the writer Nelly Bly voluntarily boarded a boat for Blackwell's Island where she would spend 10 days in an insane asylum. Her work exposing the brutal treatment of patients on the two-mile-long islet prompted change in the mental health system.
Nearly 130 years later, if Bly were to go there, she could either take the F train one stop or take the tram and get off at what's now named Roosevelt Island. The most extraordinary thing she would  discover is that the once little-visited island is now home to about 11,600 residents who moved there following a spurt of residential development in the 1970s. Today, residential rents for a one-bedroom apartment can be in the ballpark of $3,000 per month. And city officials hope that someday soon the island will become the nucleus of Silicon Alley. 
Clocking in at a quarter of a square mile, there is little room to develop on Roosevelt Island, but those lucky enough to do so include Related Companies, Forest City Ratner Companies and Hudson Companies. A planned residential community is nearing the end of 20 years worth of development, retail on the island's sole street has been spruced up and Cornell University is a mere year away from when classes begin at its island tech campus. Because it's part of New York County (specifically Manhattan's Upper East Side), Roosevelt Island is something of a village in the middle of the East River under the Ed Koch Queensboro Bridge—and one of the last pieces of Manhattan to experience the latest wave of development.
Cornell has the rights to develop more than 2 million square feet of educational, commercial and residential space just south of the Queensboro Bridge for its graduate engineering program. The university and Technion-Israel Institute of Technology won the rights to develop the 12-acre former site of the Coler-Goldwater Specialty Hospital—giving it the name Cornell Tech—in December 2011 from New York City after a bidding campaign coordinated by the New York City Economic Development Corporation. Officials realized the city could no longer rely on Wall Street as the main economic driver after the great recession, so they launched a competition to establish five engineering projects with national and international schools to diversify the economy away from the financial sector.
Cornell Tech is "going to take an area that had largely not been accessible to the public because it was a hospital," said Seth Pinsky, the president of the NYCEDC until 2013 and now an executive at RXR Realty. "It's going to bring life and activity to the island, and it's going to do it in a way that probably won't overburden the infrastructure."
Cornell Tech's three buildings—otherwise known as phase one and totaling about 650,000 square feet—have all topped out with façade work currently underway, according to the project's developers. An average of 400 construction workers are on-site per day to finish the project by next summer so that the school is ready for classes in fall 2017. Until then, the program is based in Google's building at 111 Eighth Avenue between West 15th and West 16th Streets in Chelsea. Phase one will eventually be able to accommodate 1,000 students.
The main building at the new campus  will be the 160,000-square-foot Bloomberg Center, designed by Thom Mayne of Morphosis and is being built by Barr & Barr. Classrooms won't be raised like traditional lecture halls but leveled and spacious to spur togetherness, said Andrew Winters, Cornell Tech's senior director of capital projects. He likened it to the types of spaces used in architecture and industrial design schools that require experimentation.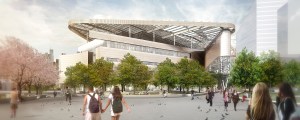 "That's sort of what we're trying to create here," he said. "You will see a few traditional classrooms, but most of the workspace is sort of a flat, open area that's really meant for collaboration." 
Also on the campus is The Bridge—an approximately 240,000-square-foot structure developed by Forest City Ratner Companies that will bring office space to the island like it hasn't seen before. The Weiss Manfredi-designed building broke ground in May 2015, and the structure topped out this March. Façade work has already commenced and will be completed by the fall. Cornell is leasing a third of the building, at the base, for just shy of 90,000 square feet. Above that will be another 140,000 square feet with a floor of coworking space, followed by two floors of office. That top portion is being shopped around to tech companies hailing from New York City, London, San Francisco and Israel, said Kate Bicknell, a senior vice president at Forest City.   
The idea of the building is to have tech companies at different lifecycles all in the same place, Bicknell added. By having tech grad students, the up-and-comers and established firms all under one roof, the new innovators of the world can intermingle and share ideas.
"As we have conversation with companies, for sure, talent is a key part of the story," she said. "Another key part of that story is the opportunity to partner and to collaborate with the incredible talent that is at Cornell Tech. They have been building some really impressive programs that people are responding really positively to."
The last part of the project is the 251-residential unit property at 1 East Loop Road, which is being developed by Hudson and Related with a design by Handel Architects. The 270,000-square-foot, 26-story building will be the first high-rise passive house, meaning it has a low carbon footprint that keeps low energy levels for heating and cooling, Winters said. Commercial Observer reported in April the project is slated to cost $117 million.
Cornell's first and last piece of the construction will be the infrastructure surrounding the campus, replacing systems that Winter described as "antiquated." In total, this portion of the project will cost more than $100 million, he added. Engineering firm AKRF has spearheaded the infrastructure work, which is now about 90 percent finished, and was required to build new streets along with gas, electric and water lines. Basically, the only thing that wasn't replaced was a sanitary line on the east side of the project.
"That was the first piece that we started," Winters said, "and that's going to be the last thing that we finish because the site work has to be completed after everything [else]. That's been a very big project." 
Despite the high-fangled technology that officials hope will be created in these buildings, the work itself has for the most part been seamless. Winters said residents on the island were naturally worried about certain parts of the project before developers broke ground. Because there's basically a single street as well as one land bridge that connects it to Long Island City, Queens, islanders were concerned about truck after truck busing demolition waste out and construction materials in. To calm inhabitants' issues, the developers have brought supplies to the site mostly on barges or have them trucked in during off hours when traffic won't be held up.
But isn't it hard to build when the island is barely 800 feet wide with little elbowroom? The developers said the expansive 12-acre footprint has made it relatively roomy to store supplies and to build the structures.
Developers of the project said the target is to create not just a learning center for tech workers but also to make the island something of an epicenter for New York City's tech scene. They argue that the industry is emerging in Long Island City (one stop away on the F train) and well established in Midtown South (about 12 minutes on the same subway line in the opposite direction). Companies will also be able to retain top talent because workers won't have to go to Stanford University or another tech mecca to get a post-graduate degree.
Indeed, the sector has become important to New York City on several levels. Computer systems and related services accounted for 67,700 jobs in New York City this April, according to the most recent data from the New York State Department of Labor. That's 21,000 more jobs than the 46,700 the industry employed in April 2008—months before the recession went into full swing.
"For the city as a whole, the expectations are that [Cornell Tech] is going to result in hundreds upon hundreds of new companies and produce billions of dollars in new economic activity," Pinsky said. 
The purpose of Roosevelt Island has changed as drastically as the surrounding East River's current. From the 1830s until the early 20th century, it was the site of a prison home to the likes of political kingmaker Boss Tweed, singer Billie Holliday (for prostitution) and actress Mae West (she did a stint for public indecency). A small pox hospital operated there from 1856 to 1875, and then it functioned as a hospital until the 1950s. And of course, there was the New York City Insane Asylum where the journalist Bly exposed foul treatment of the Big Apple's sickest. The facility long ago closed down, but its main entrance was converted into the lobby of a 500-unit residential rental development, dubbed The Octagon for the lobby's shape, that was completed in 2006.
After being christened Welfare Island in 1921 because of the land's several hospitals, the city renamed it Roosevelt Island in 1973 to honor President Franklin D. Roosevelt. Residential development followed, particularly through the Mitchell-Lama affordable housing program.
The Roosevelt Island Operating Corporation, a state agency that controls parts of the island through a ground lease, in 1997 put out a request to develop a 2,000-rental unit community on the island. Hudson and Related separately bid on the project; the RIOC came back and recommended the two develop in an evenly split joint venture, said David Kramer, the president of Hudson.
Fast forward almost 20 years, seven of the nine buildings have been completed, the most recent being Riverwalk Point at 480 Main Street. Rents at that building range from $3,000 to almost $4,000 a month for a one-bedroom apartment, according to Related's website. Kramer said a concrete timeline hasn't been established for the eighth and ninth buildings yet.
"I don't think in our wildest dreams we would have envisioned that, 19 years later, we would have had the success we had in turning Riverwalk into a residential community where people love to live," Kramer said. "Roosevelt Island was to some extent a blind spot to a lot of New Yorkers."
Hudson and Related also won the master lease to refurbish and manage 100,000 square feet of retail over 33 storefronts on the island's Main Street. That was completed in 2013, according to Hudson. A longtime diner's space was recently renovated and should be reopening soon, Kramer said. Other new tenants include an ice cream shop and a walk-in medical center. 
Adelaide Polsinelli, a principal of Eastern Consolidated who babysat for a family friend who lived on the island in the early 1980s, described the former look of the retail as "gothic" and cavernous, basically "the opposite of what retailers want." 
Hudson and Related are "trying to do a repositioning of it so that it becomes more of a user-friendly street," added Polsinelli, who recently did a marketing tour of the island.
The Four Freedoms Park, a long-planned memorial to FDR that was completed in 2012 at the very southern tip of the island, has also been a major draw to bring new visitors to the islet, real estate pros said. The quiet, almost village-like feel of Roosevelt Island likely won't change but will only get stronger when you add in the park, Cornell Tech and the continued residential development north of the Queensboro Bridge.
"The quality of living is so much nicer and not as rushed or congested as Manhattan proper," Polsinelli said. "When you get there, all of a sudden you feel like your heart beat starts to slow down, and the stress starts to fall away. There's just such a beautiful feeling about it that you can't experience it just by looking." 
1 East Loop Road
,
480 Main Street
,
Adelaide Polsinelli
,
Andrew Winters
,
Cornell Tech
,
Cornell University
,
David Kramer
,
Eastern Consolidated
,
Forest City Ratner Companies
,
Four Freedoms Park
,
Hudson Companies
,
Kate Bicknell
,
New York State Department of Labor
,
Related Companies
,
Riverwalk
,
Roosevelt Island Operating Corporation
,
Technion-Israel Institute of Technology
,
Weiss Manfredi