Shorewood Head Banks on Combining Crowdfunding With Coworking
---
---
What happens when you take one big trend in real estate (coworking) and add it to another monster trend (crowdfunding)?
You get S. Lawrence Davis' new project.
Mr. Davis, the president and chief executive officer of Shorewood Real Estate Group, is clumping those two relatively new innovations together with his partners at Prodigy Network, a crowdfunding development company, to create the first two The Assemblage projects, which will operate coworking office spaces and short-term residential rentals built via collecting funds from the general public.
"Shorewood is, along with my partner, thinking of 'how do we provide real estate to adapt and meet the demand from this disruptive trend and technology,' " Mr. Davis, 56, a 35-year veteran of the real estate industry, told Commercial Observer. "The idea is providing a service to someone who wants flexibility, who doesn't want a long-term lease, who doesn't want to do a build out, to offer them a collaborative service. What we are really doing is creating a community of like-minded people who want to work together."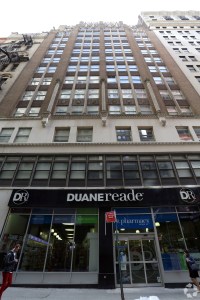 The Assemblage brand, under the Shorewood umbrella, will launch with the adaptive reuse of old buildings in Manhattan. First up, Shorewood plans to renovate an old apartment building at 17 John Street, between Broadway and Nassau Street, in the Financial District next month into a completely mixed-use structure that'll allow a true "live, work and play" community. Shorewood and Prodigy purchased the building in 2014 for $85 million, according to property records.
"Larry and I have a strong professional relationship and a lot of mutual respect for each other's skill sets," Rodrigo Niño, the chief executive officer of Prodigy, said via email. "I started working with Larry because of his ability to identify quality assets and his unique experience across many facets of real estate, particularly in the New York market."
The 17-story property will have 45,000 square feet of coworking space on the second through sixth floors, above an existing ground-floor Duane Reade and The Irish American Pub in the basement. The top 11 floors of the building will contain 81 short-term (up to 28 days through a membership) 600-square-foot rental apartments. Prodigy successfully raised more than $50 million to acquire the building and fund the $170 million project, which is expected to open in mid-2017. (Rudin Management Company is partnering with coworking giant WeWork to do something sort of similar at 110 Wall Street—but WeWork's project is slated to be more of a dorm atmosphere with common rooms and a community manager to plan events.)
And the second location of The Assemblage will be at a vacant 12-story building at 114 East 25th Street between Park Avenue South and Lexington Avenue, which will be comprised of a 54,000-square-foot coworking space. The $80 million retrofit of the building will be funded partly through Prodigy's platform, which has raised about 53 percent of the targeted $47.1 million in crowdfunding, according to the company's website. The joint venture is in contract to purchase the East 25th Street building for $49 million and expects the deal to close within about two months, Mr. Davis said.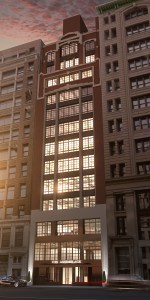 "I'm someone that likes to take an asset and change its use," Mr. Davis said. "To take a building that is vacant and say what could be the highest and best use not only financially but architecturally to enhance the real estate—I just find that is something that appeals to me."
While he is currently focusing on adaptive reuse projects, during the course of his real estate career, Mr. Davis has been many things, including a lender, a property manager, a broker, a developer and a consultant.
Mr. Davis, a married father of two (ages 18 and 21), grew up in Manhattan, born to a family that owned a few residential buildings in Gramercy Park, Chelsea and Greenwich Village—however, his initial passion was international politics.
With dreams of becoming a foreign diplomat, he studied international finance at Georgetown University but began having second thoughts in the wake of the Iran hostage crisis in 1979, where more than 60 American diplomats were held in Iran for 444 days.
"The government was unable to rescue them or negotiate their release. It kind of put a damper on my enthusiasm to be part of the diplomatic corps," Mr. Davis said. "What I learned about the public sector and government is that you could work very, very hard or you could work very little and got paid the same. And so I found that [a job] whereby you were paid more for your efforts was something that was philosophically more appealing to me."
He turned his focus to real estate and started managing buildings his family owned. He then became a broker with Julien J. Studley (now Savills Studley) in 1984 selling an office property in Westchester for about $19.5 million—his only sale as a broker—and used his commission from that deal to launch a career as a developer. He started snapping up buildings in the East Village and converting them to condominiums, including Pear Tree Place at 203 East 13th Street between Second and Third Avenues.
When the economy crashed in the late 1980s, he joined lender BRT Realty Trust and helped the firm work on a portfolio of bad loans. In 1995 he began a 10-year term with Emmes Group of Companies (today known as Vanbarton Group) and became a partner there running the asset management group and a high-yield lending business called Emmes Capital.
Mr. Davis left Emmes in 2005 and partnered with Sapir Organization to start SDS Investments. Together, with hotelier André Balazs, the partnership began developing the William Beaver House, a 47-story, 320-unit residential condo at 15 William Street in 2006.
At the time, the building was the first ground-up residential condo coming to the Financial District and garnered a lot of attention. It featured everything a young, hot-shot Wall Street professional would want, Mr. Davis recalled, including a 40-seat screening room, a pool, a basketball court and a dog run. And its funky yellow brick and glass design, which makes it stand out like a lighthouse in a fog of Downtown office towers, was the talk of the town—although some of the talk was negative.  
"A lot of people hate it, a lot of people love it, but everybody knows it," Mr. Davis said. "It was both a way to differentiate the building and to kind of point it out in the narrow canons of the Financial District. And it was a way of representing sunshine and reemergence after 9/11."
When the project opened in 2008, it was a hit with overseas investors who bought about one-third of the apartments. However, as the effects of the real estate crash began to be felt, the $900,000 to $2 million price tags on the units were no longer palatable. The developers eventually sold off the remaining units to Los Angeles-based CIM Group for $66 million, which in turn put the units up for rent.
"I am very proud of the building, although it didn't work out as we necessarily had projected because of the cyclical nature of the market," Mr. Davis said. (His current offices still don a model of the tower and a New York magazine cover with the building on it.)
In 2009 he founded Shorewood Real Estate Group, originally as a consulting company that also found financing for projects, before he returned to the development game. But this time he moved away from condos.
"[Shorewood] has adopted a more of a buy-and-hold mentality," Mr. Davis said, citing that with condos you lose the revenue stream after selling out the units.
Instead Mr. Davis reconnected with an old friend, Mr. Niño, who was the sales agent for William Beaver House, and started a crowdfunding development company Prodigy Network. Mr. Davis also formed a joint venture with Korman Communities to do an extended-stay hotel project at 84 William Street: AKA Wall Street.
Through Prodigy's crowdfunding platform the partnership raised more than $40 million in equity for the $125 million AKA Wall Street hotel project. A year later Shorewood and Prodigy also bought into AKA United Nations at 234 East 46th Street and raised $12 million in crowdfunding to renovate the property between Second and Third Avenues.
"We find it enjoyable working with Larry and Rodrigo," said Larry Korman, a co-chief executive officer of Korman Communities. "We like each other and we get along well. I think we understand what it takes to be innovative and do something different."
Mr. Korman added, "It's expensive to buy an older building and renovate it and design it. [Crowdfunding] is very innovative on their part. The world is changing around us and you have to evolve and adapt."
AKA Wall Street includes 137 units with a mix of studios and one- and two-bedroom apartments for weekly and monthly stays. The partnership has built three new penthouse floors on the existing 17-story structure and will add a fitness center and an outdoor rooftop area with a gigantic, weather resistant 10-foot-wide (120-inch) TV.
The hotel, which will also house a restaurant by renowned chef Wylie Dufresne, is expected to open in May, as CO previously reported.  
"We recognized that the furnished, extended-stay apartment business—there isn't a lot of supply in New York City," Mr. Davis said. "It's a very familiar concept in Europe and in Asia, but not so much here. There are tons of hotel rooms, but for someone who is in town for three or four weeks, they get tired of living in hotels—they want to have the opportunity to feel like they are living in their own apartments."
Since the advent of crowdfunding has proven to be a real factor for Mr. Davis—and he plans to continue using it as his coworking brand The Assemblage expands—he also sees the market for crowdfunding real estate exploding in the future.
"Crowdfunding is going to continue to be the source of alternative capital both in real estate and frankly in other businesses," Mr. Davis said. "I don't think it is going to replace institutional investors. I don't think it will replace the banks. But, I think it's just going to be another option for developers and investors to participate in."
110 Wall Street
,
114 East 25th Street
,
15 William Street
,
17 John Street
,
203 East 13th Street
,
234 East 46th Street
,
84 William Street
,
AKA Wall Street
,
Andre Balazs
,
BRT Realty Trust
,
Duane Reade
,
Georgetown University
,
Korman Communities
,
Larry Korman
,
Prodigy Network
,
Rodrigo Niño
,
S. Lawrence Davis
,
sapir organization
,
SDS Investments
,
Shorewood Real Estate Group
,
The Assemblage
,
Vanbarton Group
,
William Beaver House
,
Wylie Dufresne
,
CIM Group
,
Rudin Management Company
,
Savills
,
WeWork