The Power Architects That Are Reshaping New York City
---
---
In just about every corner and crevice of New York City, there's some sort of massive project under construction or in the planning stages—so it's time to get excited for design as the world's top architects reshape many parts of the city.  
Most of the new World Trade Center buildings Downtown, for example, have replaced the former Twin Towers, and the designs have been revolutionary. And that's the reason why Santiago Calatrava, who designed the $4 billion, eye-catching World Trade Center Oculus, and Bjarke Ingels, who imagined 2 World Trade Center, are both on this year's Power 100.
But other powerful architects are creating their expressions across the skyline, including SOM's design of Brookfield Property Partners' Manhattan West complex, and SHoP Architects, which has crafted JDS Development Group's 340 Flatbush Avenue Extension—currently planned as the tallest building in Brooklyn.
And sometimes size isn't the only factor that matters, as with Robert A.M. Stern's designs for 220 Central Park South and 30 Park Place that honor classic New York City architecture. On a smaller scale, Morris Adjmi Architects is also paying homage to the city with its new projects, including the brick condominium at 465 Pacific Street in Brooklyn.
T.J. Gottesdiener
Managing Partner at SOM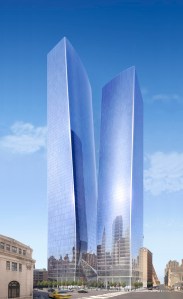 It's hard to top a project like SOM's 1 World Trade Center, a gargantuan 1776-foot tall, 3.5-million-square-foot masterpiece. But if any firm can try to outdo the 104-story tower, it's the 80-year old firm, formerly called Skidmore, Owings & Merrill, which also designed Brookfield Property Partners' Manhattan West campus in the Hudson Yards district. The $4.5 billion, 5-million-square-foot Hudson Yards project will have a 67-story, transparent office tower: 1 Manhattan West. There will also be a 62-story residential building with 844 apartments and a 60,000-square-foot public courtyard with green space.
SOM was also behind the curvaceous design of World Wide Group and Rose Associates' 65-story luxury residential building currently under construction at 252 East 57th Street. The 650,000-square-foot tower features a blue-tinted glassy façade and a mix of 173 rentals and 93 residential condo units.
And SOM is returning to an old project by revisiting One Chase Manhattan Plaza, which it designed in the 1960s as the first skyscraper in Lower Manhattan. The 60-story tower, which J.P. Morgan Chase sold to Fosun Property Holdings for $725 million in 2013, prompted the new landlord to want a $160 million redo of the 2.2-million-square-foot building. While SOM was at it, it looked to rehab the 200,000 square feet of space below ground for a subterranean retail center, which will have glassy boxed entrances that lead below ground, higher ceilings and shrunken columns. The project is under construction and set to be completed in 2018.
Gregg Pasquarelli
Principal at SHoP Architects
In the last few years, SHoP Architects has taken over the city when it comes to designing large-scale projects at old, underutilized sites. Examples include Related Companies' Hunters Point South on the Queens waterfront, Two Trees Management Company's Domino Sugar Refinery redevelopment on Brooklyn's waterfront, the Empire Outlets shopping center along Staten Island's north waterfront and the 2-million-square-foot mixed-use property Essex Crossing in Lower Manhattan.
And the mega-assignments are only continuing for SHoP. The firm is behind the design of 111 West 57th Street, which JDS Development Group and Property Markets Group are developing. Upon completion in 2018, the residential development will be nearly 1,400 feet tall with a terra-cotta, bronze and glass façade that imitates historic designs found around the city. The tower is being built within the landmarked Steinway Building.
SHoP is marking up the skyline of Brooklyn as well; it's designing what will be Brooklyn's tallest tower at 340 Flatbush Avenue Extension. The developers, JDS and the Chetrit Group, are building the structure 1,066 feet tall, with 73 stories and 500 rental residential units.
And not everything SHoP does will be reaching for the sky; the firm designed Howard Hughes Corporation's new 300,000-square-foot Pier 17 mall at the South Street Seaport. The retail mall is under construction now.
Robert A.M. Stern
Founder of Robert A.M. Stern Architects
When it comes to classic New York City architecture, Robert A.M. Stern serves as the sitting king. His limestone and concrete buildings, such as the 35-story 15 Central Park West (opened in 2008), harken back to old New York City like no other towers in recent memory.
And while glass boxes are becoming increasingly popular across the city, Mr. Stern is working on numerous towers like 520 Park Avenue that pay homage to the iconic and historic limestone New York City buildings. The 54-story residential tower, expected to be completed in 2017, is entirely clad in limestone. The building's entrance, a double-height arched doorway with a suspended bronze canopy, leads into a vestibule with coffered ceilings, and an imposing limestone fireplace.
On the block of the landmarked Woolworth Building, Mr. Stern designed the 82-story 30 Park Place. The building will rise in stark contrast with Downtown's shinier towers as it will be constructed with limestone and precast concrete materials. The 157 luxury condo between Church Street and Broadway will be in the same building as a 189-key Four Seasons hotel. The entire project is set for completion later this year.
In Midtown, Vornado Realty Trust has tapped Mr. Stern to craft a limestone building facing Central Park at 220 Central Park South—except this one will be about twice the size of 15 Central Park West at 66 stories. Demolition of the former 20-story rental building on the site commenced last year.
And Mr. Stern has also designed the residential building at 20 East End Avenue on the Upper East Side. The 17-story, 42-unit structure mimics 1920s and 1930s New York City architecture with limestone on the first and second floors and gray brick on the upper floors. The building, which will feature Juliet balconies, is scheduled to be complete in the summer.
Robin Klehr Avia and Joseph Brancato
Managing Principals at Gensler
The buildings being erected around the city come in many different shapes and sizes, but all have one thing in common: tenants. And in the past few years Gensler has been responsible for some of the most influential tenant buildouts, such as the Condé Nast headquarters at 1 World Trade Center.
Gensler was behind Cadillac's headquarters design in Soho too. The car company moved its marketing and sales operations from Detroit to 330 Hudson Street last year, after signing a 34,000-square-foot lease for the top two floors of the building in 2014. Gensler designed the sleek, modern space in the former manufacturing building—a design that pays tribute to Cadillac's famous crest with hints of yellow, blue and red.
And Gensler brought a captivating design to Microsoft's new flagship store at 677 Fifth Avenue, which is simple and spacious, allowing for a crowd to easily move through the five-level retail location and view Microsoft's full range of products. The store opened in October 2015.
Besides its tenant design, Gensler is also working on buildings.
Its most recent project, One Soho Square, is grabbing a lot of headlines as Gensler plans to combine Stellar Management and Rockpoint Group's 161 Avenue of the Americas and 233 Spring Street into one 768,000-square-foot office building. Gensler's design joins the two structures with an elongated two-story lobby. The renovation also includes three new penthouse floors, upgraded building mechanics and new elevators.
Morris Adjmi
Founder and Principal of Morris Adjmi Architects
Robert A.M. Stern isn't the only architect in the city that tries to pay respect to historic New York City architecture. But unlike Robert A.M. Stern, Morris Adjmi Architects looks not only to incorporate features that blend well with New York scenery but also include modern features—such as wider windows and reduced interior columns—to appeal to today's clients.
An excellent example is Morris Adjmi's design of 837 Washington Street in the Meatpacking District, which was completed in 2014. It almost mocks all-glass curtain walls by having steel beams netted around the building. Taconic Investment Partners and Thor Equities sold the six-story, 55,000-square-foot office and retail structure to TIAA-CREF for a Meatpacking District record $190 million in January 2015.
And 11 North Moore Street development in Tribeca, which replaced a parking lot, neatly completes the block as the building is clad in limestone and black granite. The 71,000-square-foot condo has 18 luxury units and was completed last year.
Just outside the historic Boerum Hill Historic District community in Brooklyn, the Morris Adjmi-designed 465 Pacific Avenue is a ground-up, brick building that matches the tones of the brick townhouses in the landmarked neighborhood. The seven-story building has 30 residential condos, and the project is expected to be completed this year. Developers Avery Hall Investments and Aria Development Group topped out the building this January.
And Morris Adjmi once again takes an old-school approach with plans for a new 26,000-square-foot, seven-story building at 134 Wooster Street. Developer Premier Equities filed for permits with the New York City Department of Buildings last December for the property and presented the plans to the Landmarks Preservation Commission, as the structure resides in the Soho-Cast Iron Historic District. It will be roughly the same size and shape as its neighbors and will sport the Roman-arched windows you see throughout Soho. The new building was approved by the LPC last month.
Jeanne Gang
Founding Principal of Studio Gang
Studio Gang is a Chicago based-firm known for its 82-story Aqua Tower in the Windy City, where a unique terrace design not only creates a rippling effect that is aesthetically pleasing but also provides residents with ample views.
Ms. Gang and her squad have just a few projects in development in New York—all with a bold vision for the design. Her Solar Carve Building on the High Line at 40-56 10th Avenue does precisely what its name suggests. The planned 186,000-square-foot office building will be sculpted in such a way that it allows sunlight to access the High Line, which a typical building would deflect. The project is being developed by William Gottlieb Real Estate. Permits were filed in November 2015 with the New York City Department of Buildings to construct a 12-story structure.
Ms. Gang is also responsible for the American Museum of Natural History's expansion—the $325 million Richard Gilder Center for Science, Education and Innovation. The 218,000-square-foot building is set to open in conjunction with the museum's 150th anniversary in 2019. The new wing will allow more room for exhibitions, labs, a library and a live butterfly conservatory. And the new central exhibition hall solves a layout problem by combining public spaces, galleries and classrooms in a canyon-like space with high ceilings—the reinforced concrete walls also structure the interior rooms like columns.
Gene Kaufman
Founder and Principal of Gene Kaufman Architect
New York City is going through a hotel boom at the moment, and there probably aren't many architecture firms as prolific as Gene Kaufman's when it comes to hospitality.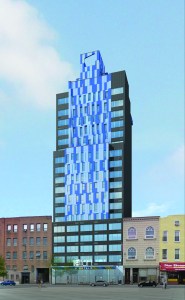 Two Hilton Garden Inns designed by Mr. Kaufman will top out this month and will eventually bring a combined 400 rooms to New York City. The first, 6 Water Street, is being developed by Magna Hospitality and will feature 152 guest rooms, a fitness center, an office center and a restaurant and bar (with harbor views, to boot!). The other property is a 22-story, 250-room hotel at 326 West 37th Street, which will have a gym, a restaurant and bar, an office center and a terrace. Sam Chang's McSam Hotel Group is developing the 89,000-square-foot structure.
And those are just the tip of the iceberg. Mr. Kaufman also designed the 19-story Aloft Hotel at 27-45 Jackson Avenue in Queens, which is among the tallest all-hotel buildings in the borough. The 176-key property, which is owned by Nissim Seliktar, topped out last year and is expected to open within the year.
Last year, McSam Hotel Group also topped out the Gene Kaufman Architect-designed DoubleTree by Hilton hotel at 350 West 40th Street, where the developer is building a 35-story, 594-key property. It topped out in October 2015 and is expected to be finished by the fall.
And the 12-story, 246-key luxury Holiday Inn Brooklyn Nevins Station at 300 Schermerhorn Street, imagined by Mr. Kaufman, opened earlier this month. Developed by father-and-son team K.K. and Sanjeev Mehta, the property has 4,000 square feet for a dining room, a bar and a lounge; an indoor pool with a spa, sauna, steam room and Jacuzzi; and a fitness center.
1 Manhattan West
,
1 World Trade Center
,
11 North Moore Street
,
111 West 57th Street
,
134 Wooster Street
,
15 Central Park West
,
2 World Trade Center
,
20 East End Avenue
,
220 Central Park South
,
252 East 57th Street
,
30 Park Place
,
300 Schermerhorn Street
,
326 West 37th Street
,
340 Flatbush Avenue Extension
,
40-56 10th Avenue
,
465 Pacific Street
,
520 Park Avenue
,
6 Water Street
,
677 Fifth Avenue
,
837 Washington Street
,
american museum of natural history
,
Bjarke Ingels
,
Empire Outlets
,
Essex Crossing
,
Gene Kaufman
,
Gene Kaufman Architect
,
Gensler
,
Gregg Pasquarelli
,
Hunter's Point South
,
JDS Development Group
,
Jeanne Gang
,
Joseph Brancato
,
McSam Hotel Group
,
Morris Adjmi
,
Morris Adjmi Architects
,
One Chase Manhattan Plaza
,
power 100
,
Property Markets Group
,
Robert A.M. Stern
,
Robin Klehr Avia
,
Rose Associates
,
Sam Chang
,
Santiago Calatrava
,
SHoP Architects
,
SOM
,
Studio Gang
,
T.J. Gottesdiener
,
Two Trees Management Company
,
World-Wide Group
,
Brookfield
,
Chetrit Group
,
Howard Hughes Corporation
,
JPMorgan Chase
,
Microsoft
,
Related Companies
,
Taconic Partners
,
Thor Equities
,
Vornado Realty Trust