Michael Steifman is Bringing Down Energy Bills One Audit at a Time
---
---
"The analogy that I like to use is that we are like tax attorneys for utility bills," said Michael Steifman, the founder and chief operating officer of UtiliSave.
Tax attorney might not sound like the most glamorous endeavor. And maybe it's an odd way to advertise yourself (we thought people call their tax attorney out of necessity—not because it sounds cool). But just like in a tooth-and-nail tax audit where millions of dollars can hang in the balance, the same is true for an energy audit. In the fight for energy efficiency and lowering utility bills, it is difficult not to take note of the staggering amount of money UtiliSave has brought owners over the years.
"We look at the regulations and the tariffs, and we look to see where we can find instances that aren't being applied in the optimal benefit of the customer," Mr. Steifman told Commercial Observer last week at his Midtown South offices on the 11th floor of 129 West 27th Street between Avenue of the Americas and Seventh Avenue.
UtiliSave is an energy auditing firm; the main goal is to examine utility bills—water, gas, electricity, etc.—and look for errors, which it reports to the utility companies and city agencies to reclaim money.
Back in the early 1990s when he founded the business, Mr. Steifman just worked solo and started with one property, but now his 40-employee company serves more than 16,000 properties owned by about 600 landlords nationwide, including top dogs like SL Green Realty Corp., Silverstein Properties, LeFrak and RFR Realty. And it's not just commercial and residential buildings; his clients' properties include universities, hospitals, government buildings and hotels.
UtilitySave has recovered about $350 million to $400 million in the quarter of a century since the business launched, Mr. Steifman estimated.
After making his evaluation and seeing what rates are available, if the utility companies want to challenge his findings, then Mr. Steifman's UtiliSave often takes the opposing firm to the courtroom—on his own dime.  
"We have been very happy with their service," said Mario Gaztambide, a senior vice president at LeFrak, which has been a client of UtiliSave for four years. Mr. Gaztambide would not reveal exactly which properties UtiliSave worked on but said it was a "variety of buildings" in LeFrak's portfolio. And UtiliSave was able to find errors on electricity bills, which led to refunds over the years.
Mr. Gaztambide added: "Reducing our utility consumption is a top priority, and we feel that it is an area [where] we can really add a lot of value by being vigilant on our expenses and on our billing, and we feel that UtiliSave has been a good partner for that."
So what's UtiliSave's business model? The firm offers a risk-free evaluation for the landlords, as the firm only charges if it is able to get a refund. If UtiliSave is successful, it snags 40 percent of the recovered money and gives the rest to the landlord. This set up is mostly to convince landlords who are skeptical of the service to hire UtiliSave.
"What we say to them is maybe you have everything under control, and if you do, then we won't find anything," Mr. Steifman said. "You'll have like a free audit: We'll come in, we'll find nothing, it'll validate that you have it all under control—that's a win-win proposition."
To further attract clients, Mr. Steifman offers free consulting and technology features packaged with the audit. Those features include free software like Utility Management Interface, which collects and analyzes utility usage data. This helps with benchmarking requirements by providing accurate utility consumption measures so landlords can comply with government regulations, such as the city's Local Law 84, which requires owners of buildings bigger than 50,000 square feet to report energy use. UtiliSave also gives clients a software tool called UseAudit, which analyzes meter usage.
"There are [other companies] that are charging for these things; there are people whose whole business is to take the client's data and put it online," Mr. Steifman said. "Because we can do a lot of [those things] very easily and we are happy to give them to our clients as a thank you, it gives us a competitive advantage."
UtiliSave's competitors include utility auditing firms like Utility Audit Solutions, National Utilities Refund and accounting firm BDO, which has a group dedicated to finding real estate-related errors on bills. However, Mr. Steifman started his company earlier than most. (BDO, which is a more than 100-year-old firm, has been auditing specifically for real estate as of 20 years ago.)
"He was kind of the innovator," said Steve Rossi, the director of management services at Milstein Properties. "He was kind of a standalone and there weren't a lot of people doing what he was doing back then. Now there isn't a month that goes by that someone doesn't call me with—I don't want to say a similar service—but with a company that provides utility audits."  
Mr. Steifman became one of the pioneering utility advocates, after working on the developer side as a real estate developer and wondering about how to lower utility bills.  
After graduating from Wharton School of the University of Pennsylvania in 1986, Mr. Steifman started at Starrett Corporation, the firm that built the Empire State Building, Stuyvesant Town-Peter Cooper Village and Starrett City in Brooklyn. He rose to the level of vice president at 26 years old, before realizing that he wanted to do something on his own.
"In the course of doing a large project in Connecticut, I learned about this idea," Mr. Steifman said. "It was about what a utility company dictates or how they bill you or what rate they bill you at isn't set in stone. And that was just fascinating at the time."   
Mr. Steifman, a native of Flatbush, Brooklyn and a married father of four children (ages 23, 20, 19 and 11), struck first on the energy auditing front with the Lincoln Square Synagogue in Manhattan which was being charged the wrong water tax rate for a religious organization. He was able to recover about $80,000 for the synagogue. From there, the business grew through referrals.
One of his earliest users was landlord and property manager Milstein Properties, which now owns or manages 20 residential buildings in Manhattan. Mr. Steifman was able to recuperate thousands of dollars with Milstein early, on and the company has stuck with him for almost the full 25 years, saving "over $1 million," Mr. Rossi said. He added that about 70 percent of refunds have been related to errors on water bills in residential properties, such as 200 and 300 North End Avenue or 30 Lincoln Plaza.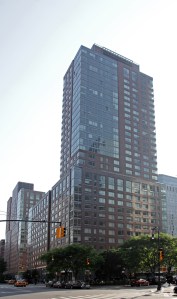 "Michael was very instrumental in getting those erroneous bills remediated and getting credits where they were deserved," Mr. Rossi said.
While UtiliSave faces competition from similar companies, that's not where Mr. Steifman sees the toughest challenges. His true rivals are companies that want to sell energy products, like air conditioners, or do engineering services and throw in auditing services on the side. Through this method, he said, those companies are missing out on ways to find refunds, because they simply want to sell a commodity. But as a result, landlords believe that they have already been audited and don't use UtiliSave's services.
Another challenge is when there is an energy manager in-house who is responsible for purchasing the utilities but doesn't want to cooperate with UtiliSave because it means allowing a company to encroach on the energy manager's area of expertise.
"Our biggest competitor is when we are precluded from doing the work as opposed to someone who is directly going to provide the same service as us," Mr. Steifman said. "We can be the energy manager's best friend or he could perceive us differently."