Top 6 Reasons to Choose the 'Hi-Tech, Hi-Touch' Office Solution
---
---
[Sponsored Content]
The way of the future is with automation, fast-results, and the sharing economy (think Uber or even mobile banking). However, when it comes to business, there is still a need and a place for service, as relationship-building and differentiation still trump automation – and those rely on customization and human touch. In terms of coworking, serviced office and virtual office space, it's important to strike the perfect balance between quick automation and a full-service environment. Servcorp does just this – concierge service when you need it, hidden when you don't, offered on a pay-as-you-go (or don't go) basis. The goal is to help run your business in the most efficient and effective way possible to create maximum ROI. Servcorp calls this "Hi-Tech, Hi-Touch" service and here's why choosing this office solution is smart:
Reason #1: Best Buildings in the Best Locations
Servcorp chooses locations asking: Is this address impressive enough for our clients to impress their customers and realize a higher ROI as a result? From there, only the most prestigious buildings in the most dynamic cities are selected to serve clients. Locations include most major cities in the United States, Europe, Turkey, South East Asia, China, Japan, Saudi Arabia, the Middle East, India, Australia, and New Zealand.
Reason #2: High-end yet affordable
Aside from allowing clients to avoid high traditional lease fees and long-term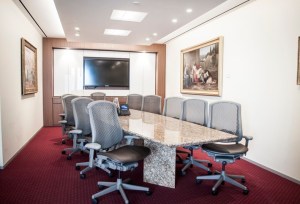 commitments, Servcorp offers value through its own affordable pricing structure. Case in point: starting at just $750/month, you can take a 5-star coworking space at Servcorp's flagship location on the 85th floor of One World Trade Center. For the relatively affordable cost, the space features an elite combination of prestigious views and luxury furniture for companies or individuals to enjoy.
Reason #3: Global Connections through a Global Network
All locations are equipped with a multi-lingual staff greeting clients and visitors – to provide a luxury "hotel-like" experience, making it easy for you to use the global network with ease – confidently schedule meetings sight unseen and be able to impress guests and clients without concern. Here are some specifics on Servcorp's exclusive apps:
OneAp
Using OneAp, Servcorp's exclusive smartphone application, you can come into Servcorp's
5-star coworking lounge at One World Trade Center and the app will automatically register your dedicated 212 phone extension provided to you by Servcorp and initiate WiFi services once you reserve the seat. Working where you want and having all of your customized services follow you has never been easier.
OneFone
Servcorp's proprietary global VoIP telephony application downloads your office phone to all of your wireless devices, enabling your office line to follow you anywhere in the world. Make calls from your mobile phone or any device, while dialing from your office extension, appearing as though you are in the office. For example, you can be in China and using OneFone, you can set it so that it appears you are calling New York locally.
Reason #4: Turnkey Space in under 30 minutes
Servcorp can work as quickly as you need to ensure that you are operational almost-instantly – whether for a meeting, coworking lounge spot, or full-time private office. Each Servcorp office is furnished with custom-made executive furniture and is fully IT-equipped with cloud style telecommunications and a secure wireless business-class broadband network. All meeting rooms and board rooms are fully IT-enabled, equipped with whiteboards, Wi-Fi, global communications technology and video conferencing. 
Reason #5: Flexible Space for any situation
Choose from an array of space options including full- or part-time private, semi-private or
open offices, coworking spaces or virtual office memberships – or don't choose just one and create a customized combination package that best suits the needs of your business. Regardless of the space you choose, any Servcorp office solution is perfect for keeping your business agile and mobile. With no long-term commitment or lengthy contracts you can be operational in any city around the world instantly.
Reason #6: Concierge Service…or not
It's up to you how hands-on the Servcorp concierge service team is. Clients have a choice of services to utilize through a client services team – all possessing a wide-range of talent levels, skill-sets, languages spoken, and services provided. However, guests and clients will always deal with a real person – never a recording or unpredictable prompt system. It's your business, so you can decide which services you need. Whether it be support via appointment setting, calendar management, recruiting and interviewing, event planning, marketing collateral or even running errands, your local client services team at Servcorp is always there to help support your growing business.