Downtown Brooklyn to Go Without Office Space for Quite a Bit Longer
---
---
Downtown Brooklyn may be comprised of 17 million square feet of office space, but it is desperately in need of more.
Compared with "other major areas," the neighborhood barely has any room left for office tenants, according to a new market report by the Downtown Brooklyn Partnership provided to Commercial Observer. Its vacancy rate is 1.6 percent while Lower Manhattan has a 9.4 percent vacancy rate, Midtown South is at 6.2 percent and Midtown hovers under 9 percent.
There are only five new office properties under construction or in the pipeline in Downtown Brooklyn, according to the study, while there are 26 such residential projects—with more than 13,000 residential units. Experts agree that the office development market will heat up as developers have noticed the demand, but not for a while. It takes time to plan, finance and construct new projects.
"What you are seeing now hit the market in terms of the residential projects are just what was started many, many years ago," said Joseph Cirone, a senior director at Cushman & Wakefield, who is marketing an office conversion project at 41 Flatbush Avenue in the neighborhood. "It takes a while for people to realize 'oh yeah the numbers work,' and if you can actually get the rents to justify that you can do that over residential."
Office projects are penciling out. Their asking rents were in the $20s and $30s per square foot about five years ago, but today some premier buildings reach the $50s and $60s per square foot, Mr. Cirone said.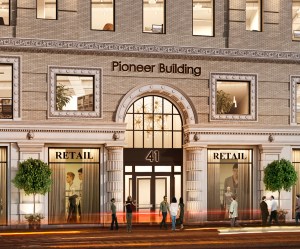 Quinlan Development Group and Building & Land Technology are converting 41 Flatbush Avenue, also known as the Pioneer Building, from a 10-story storage facility into a 260,000-square-foot Class A office building.
The developers' $90 million March 2015 purchase of the site with the intention to go commercial "was the first sign that developers were willing to forgo residential in lieu of office," said Dan Marks, a senior vice president at TerraCRG and a Downtown Brooklyn expert. "That means the financing is there for this, which means the financiers believe in the [office] market."
That project has a completion date of this summer.
Mr. Marks added: "As more development sites become available you are going to see more and more developers choosing to build commercial over residential or in addition to mixed-use projects."
Within the past decade, only 10 office projects have been developed in Downtown Brooklyn of which one was a ground up development—the medical office building at 447 Atlantic Avenue in 2007. But there are at least two ground-up office products on the horizon in the neighborhood.
JEMB Realty is hoping to build a 400,000-square-foot office property from scratch at 420 Albee Square. The developer is slated to break ground in October and be done in two years, as CO recently reported. Rents at 420 Albee Square will start in the low-to mid-$60s in the base and escalate as you go higher in the building, Mitchell Konsker, a vice chairman at JLL who is leasing 420 Albee Square, previously told CO.
And Greenland Forest City, a partnership of Greenland USA and Forest City Ratner Companies, is planning to construct Brooklyn's tallest office building as part of its Pacific Park project near the Barclays Center at 590 Atlantic Avenue, if it can transfer some air rights from nearby land that it owns, as Crain's New York Business previously reported. Plans have not yet been finalized.
While not ground-up, Tishman Speyer purchased a portion of the Macy's at 422 Fulton Street in Downtown Brooklyn for $170 million this January, and plans to renovate the upper floors into 360,000 square feet of office space. As part of the deal, Tishman Speyer is giving Macy's $100 million over a three-year period for renovations of its on-site store. Sections of the renovation are slated for completion in 2018, as CO previously reported.
"There is still a lot potential for [office] development in Downtown Brooklyn," Andrew Kalish, a director at the Downtown Brooklyn Partnership, said. "I think there is a lot of potential for site assemblages. And you'll see property owners thinking of doing true mixed-use projects."
41 Flatbush Avenue
,
422 Fulton Street
,
590 Atlantic Avenue
,
Andrew Kalish
,
Barclays Center
,
Building & Land Technology
,
Cushman & Wakefield
,
Dan Marks
,
Downtown Brooklyn Partnership
,
Forest City Ratner Companies
,
Greenland USA
,
JEMB Realty
,
JLL
,
Joseph Cirone
,
Macy's
,
Mitchell Konsker
,
Quinlan Development Group
,
TerraCRG
,
Tishman Speyer