Brooklyn's Coming Office Stock Bonanza Is About Amenities and a Curated Lifestyle
---
---
Residential condominiums have long leveraged the value of adding a few shiny amenities (think gyms, swimming pools and wine cellars).
This is a trend that New York City commercial buildings were slower to adapt—but with the last boom, a few of the Manhattan developers started including residential condo-style amenities at addresses like the Empire State Building and 75 Rockefeller Plaza.
As one might expect, the movement is finally making its way to Kings County, as a crop of high-end commercial office buildings comes into focus. Welcome to Office Brooklyn 2.0.
Whether add-ons, like bike storage, roof decks and food and beverage options, drive up rent is debatable, but they do help draw attention to a building and in turn, real estate pros say, hasten absorption.
Boston Properties and Rudin Management Company are collaborating with WeWork in erecting a Class A ground-up office building called Dock 72 in Brooklyn Navy Yard, which will have the most extensive array of amenities for tenants in the borough.
Michael Rudin, a vice president at Rudin Management, said at Dock 72, in the city-owned Brooklyn Navy Yard, there will be a 13,000-square-foot food hall (for all Navy Yard tenants), a 15,000-square-foot health and wellness center (for building tenants only) with a gym, studio rooms, spa treatment rooms and a locker room (no vendors have yet been selected, Mr. Rudin said). On the rooftop, there will be a conferencing and event facility. Plus, on the ground floor there is planned 10,000 square feet of outdoor space with a half-court basketball court, bicycle valet, outdoor game tables and an open lawn (available to Navy Yard tenants).
"Our research indicates that TAMI [or technology, advertising, media and information] tenants want to provide these services to their employees so they don't have to leave the space," Mr. Rudin said. "If we can provide that in our base building package and then allow tenants to dedicate more space to their specific space needs and to drive efficiencies we think it'll be a big attractor."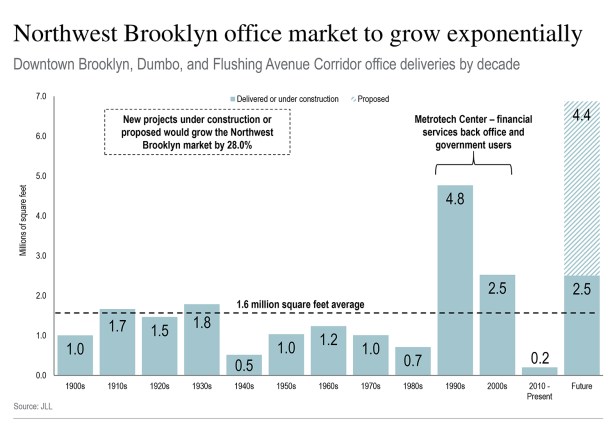 Rudin Management and Boston Properties assumed a 99-year ground-lease from WeWork and are developing the site into a 16-story Class A office building with the coworking giant acting as a consultant on the building design and amenities. WeWork will even help with the operation of all of the building amenities.
"We've always wanted to expand outside of Manhattan, and the opportunity presented itself," Mr. Rudin said. "We think Brooklyn is ripe for ground-up new development."
When it opens in two years, the 675,000-square-foot Dock 72 will serve modern-day manufacturing or modern-day industrial creative-type tenants, Mr. Rudin said. Asking rents will start in the low-$60s per square foot—which is certainly a figure you hear more often in Manhattan than Brooklyn. And a $60-plus-rent seems to be the new normal for some of these office projects. (Overall asking rents in Brooklyn average $32.26 per square foot, according to CBRE's fourth-quarter 2015 Brooklyn market report; but that's nowhere near the figure Commercial Observer saw at some of these buildings.)
"WeWork is curating the amenity package at Dock 72 at the Brooklyn Navy Yard, which will include a health and wellness center, specialty food and beverage offerings and a rooftop conference, among other offerings," Mark Lapidus, WeWork's head of global real estate, said in prepared remarks. "We have the benefit of incorporating feedback from our community of over 45,000 members to offer services that will empower them to connect with each other in new ways, in beautifully designed spaces."
Midtown Equities is developing the 400,000-square-foot office park called Empire Stores in Dumbo, where furniture store West Elm plans to open a 135,000-square-foot office. Amenities include a ground-floor marketplace with restaurants and retail shops (akin to Chelsea Market), Wi-Fi-enabled public spaces and private terraces. On the rooftop, there will be another restaurant, which David Beare, the director of leasing for Midtown Equities, said would be full service. 
"There's a restaurant on the roof," Mr. Beare said. "If this is my office, I can walk across, sit outside on the roof, eat and drink, work on my laptop. Just having that in itself is unique. And Dumbo really hasn't had that yet. You're starting to see that now. With a lot of the developments, they're really deliberate about creating  lifestyle retail, and catering to not only the neighborhood but the tenants in the building and just people coming to the [Brooklyn Bridge] park." 
Developers Kushner Companies (company head Jared Kushner is also the publisher of Commercial Observer), RFR Realty and LIVWRK are converting Dumbo Heights into a mixed-use development including 953,000 square feet of office space. The developers are providing short-term flex space (with an accompanying app to come) to appeal to prospective tenants in the Dumbo building.
Regarding the app, Asher Abehsera, a principal of LIVWRK, said, "Anyone in the campus will be able to use it to book either conference rooms or the rooftop or even interact with the retail tenancies to coordinate food for their own events. So it's going to be smart and in sync within the community in that respect."
But more importantly, the developers are banking on great retailers.
"The biggest story of our amenities was how we chose to program our perimeter retail to create a very strong experience that will serve as an amenity to both the campus and the communities," Mr. Abehsera said.
Dumbo Heights' developers aren't the only ones emphasizing the "curation" of retail tenants catering to their office tenants.
Keith Caggiano, a senior vice president in CBRE's Midtown Manhattan office, has recently brought Glacier Global Partners' 10-story, 200,000-square-foot 10 Jay Street to market as an office property. The full-building redevelopment includes 20,000 square feet of retail, which CBRE's Lon Rubackin is marketing.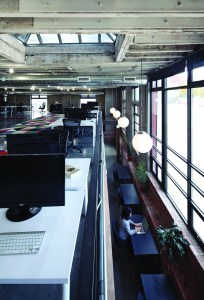 In terms of amenities, the focus is on the "specific interplay" between retail and office tenants, Mr. Caggiano said, and "on attracting the right tenant mix to service the office tenancy."
On Madison and Fifth Avenues in Manhattan, when it comes to selecting retail tenants, landlords focus on pricing, but in Brooklyn "there is a focus on curating the right amenity mix that is going to be a point of attractiveness for the office users."
He added: "I think it adds to desirability of the building. Having the right retail mix is an enhancement and an improvement and allows any building to be more attractive and competitive to prospective tenants." Mr. Caggiano noted the asking rents at 10 Jay Street will range from $65 to $85 a foot.
The 16-building Industry City in Sunset Park has boasted a lot of amenities for its tenants with a great focus on carefully selecting food tenants.
"I'd like to say we started the trend with highly amenitizing the food," said Michael Phillips, the president of Jamestown, which is co-general partners with Belvedere Capital on the project. "We have a gym at Industry City and an event facility, gallery space…" IC offers meeting spaces and conference facilities, short-term flex space, dog-friendly areas, bike storage and bike repairs. He said IC will soon have barber shop tenant that will cater to the rest of the tenants.
Tenants have come to expect some bells and whistles at work.
"The tenants in the market today are looking to make these workplaces more adaptable because as you are attracting all these millenials you want to give them as many amenities…to give them a better work environment," said Mitchell Konsker, a vice chairman at JLL who is leasing 420 Albee Square.
At 420 Albee Square, the first new Class A commercial office building in Downtown Brooklyn in at least the last decade, JEMB Realty is including extras like a bicycle storage room, lockers, private outdoor setbacks of 1,500 to 3,000 square feet, a roof deck and possibly a food and beverage operator atop the building. The 37-story, 473,000-square foot office building will feature floor-to-ceiling glass and column-free floor plates. The developer is slated to break ground in October and be done in two years.
"All of the product out there is dated, and we're delivering something unique to the marketplace," said Morris Jerome, a principal of JEMB Realty, pointing to the wide-open floor plates, minimal number of columns and 12-foot ceiling heights. He is mulling putting a gym and a locker room in the basement along with a bicycle storage room.
While amenities may draw attention to an office building, perhaps their greatest impact is on the pace of leasing.
Mr. Konsker said that that he would not link amenities to rent increases but to lease up. They "speed up the process," he said. Rents at 420 Albee Square will start in the low- to mid-$60s in the base and escalate as you go higher in the building.
"I always believe amenities bring at least a 10 percent increase to the property," Mr. Konsker said. "That's also including roof decks and terraces."
Mr. Phillips spoke about the correlation between building perks and leasing velocity.
Amenities are "more about absorption and desirability" than rent, Mr. Phillips said. "Being in the real estate business today is about creating a clear path to success and acceleration for your tenants. I don't think it's necessarily about getting more rent."
The residential explosion in the outer boroughs is fueling the office development in the outer boroughs. Brooklyn's commercial office space is poised to grow by more than 14 percent during the next three years, according to JLL. But, compared with Manhattan, it's paltry.
The current existing inventory in Brooklyn is 46.2 million square feet (in Brooklyn Navy Yard, Downtown Brooklyn, Dumbo, South Brooklyn and Williamsburg/Greepoint), according to data from CBRE. Manhattan (in Midtown, Midtown South and Downtown), in comparison, is 392.7 million square feet.
With companies looking to relocate within Brooklyn, move to the borough from elsewhere or open a branch there, developers have stepped on the gas in terms of building commercial product in Brooklyn.
It's been noticeable over the last six months, said Tucker Reed, the president of the Downtown Brooklyn Partnership, a not-for-profit that champions Downtown Brooklyn. Whereas developers who purchased or were considering purchasing a parcel in Downtown Brooklyn would consult the partnership about what type of residential building they should erect, now developers are including office buildings in those discussions.
"Rudin, Kushner, Tishman Speyer, these are major real estate players in the city who are looking to Brooklyn for office," Mr. Reed said. (Tishman Speyer earlier this year paid $270 million for the Macy's in Downtown Brooklyn and will be building 10 floors of office space at the site.) "It makes the office market seem more feasible."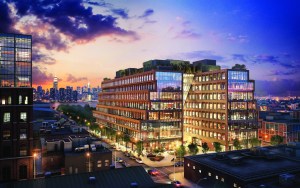 The pioneer of Dumbo, Two Trees Management Company, which has three commercial buildings with a total of 1.4 million square feet, has changed its approach to amenities as its tenant mix has changed.
"Decades ago, our big office buildings in Dumbo started as a mix of storage and light manufacturing uses, so we had to put in real elevators and lobbies," Jed Walentas, a principal at Two Trees, said over email. "Starting in the late 1990s we began to attract tech and creative companies, so we upgraded them with high-speed Internet, bike parking and shared conference rooms."
Heritage Equity Partners and Rubenstein Partners are looking to emulate the approach that coworking tenants have taken, providing their office tenants at 25 Kent Avenue with collaborative space, according to Heritage Equity Partners Founder Toby Moskovits.
For multitenant floors in the ground-up, Gensler-designed, eight-story Williamsburg building, the developers will provide a communal kitchen and conference room. These spaces will all be in a glass portion of the building with views of a courtyard.
"That's pretty innovative," Ms. Moskovits said. "It's an approach that is relatively new in the market, outside of traditional co-working spaces."
At the base, inside the building, will be small-scale retailers, à la the San Francisco Ferry Terminal Market. Plus there will be a tenant-only "great rooftop we are building out," Ms. Moskovits said, parking for bicycles, showers and lockers, and they are hoping for a gym as a tenant.
And like other developers, the focus is on picking retail tenants that will serve the office tenants.
At her Bushwick office prebuilt building, with Lichtenstein Group, 215 Moore Street, "we're working on bringing great retail and curating our tenant mix to build a great sense of community."
With additional reporting provided by Terence Cullen.
10 Jay Street
,
215 Moore Street
,
25 Kent Avenue)
,
420 Albee Square
,
75 Rockefeller Plaza
,
Asher Abehsera
,
Belvedere Capital
,
Brooklyn Bridge Park
,
Chelsea Market
,
David Beare
,
Dock 72
,
Downtown Brooklyn Partnership
,
Empire State Building
,
Glacier Global Partners
,
Heritage Equity Partners
,
Industry City
,
Jared Kushner
,
Jed Walentas
,
JEMB Realty
,
Keith Caggiano
,
Lichtenstein Group
,
LIVWRK
,
Lon Rubackin
,
Macy's
,
Mark Lapidus
,
Michael Phillips
,
Michael Rudin
,
Midtown Equities
,
Mitchell Konsker
,
Morris Jerome
,
Rubenstein Partners
,
San Francisco Ferry Terminal Market
,
Toby Moskovits
,
Tucker Reed
,
Two Trees Management Company
,
West Elm
,
Boston Properties
,
CBRE
,
Jamestown
,
JLL
,
Kushner Companies
,
RFR
,
Rudin Management Company
,
Tishman Speyer
,
WeWork