The Plan: RFR Makes 90-Year-Old 285 Madison Hip
---
---
When Aby Rosen's RFR Realty purchased 285 Madison Avenue from advertising firm Young & Rubicam in 2012 for $189.3 million, it effectively bought a blank slate.
The marketing company, which occupied the entire 26-story, 530,000-square-foot office tower between East 40th and East 41st Streets, vacated the following year and RFR began a $65 million gut renovation of the property in 2014, designed by Studios Architecture.
Mr. Rosen wanted to modernize the office building and add one thing it desperately needed: a little fun, or in his words, "a bridge between work and leisure," according to a press release that came out when RFR's plans were announced.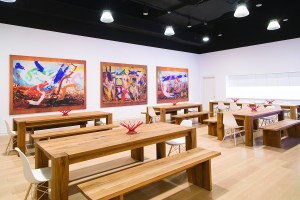 Now, after completing the renovation in December, the building boasts plenty of fun. (There was some fun in the interim—the retail space was used to show off some rare Italian motorcycles last year.) There's a rooftop terrace, a recreation room with a Ping-Pong table, a tenant lounge, a gym with showers and a 50-slot bike storage—amenities that come standard with newer buildings in other areas of the city to help attract today's office tenants, but don't appear with every Madison Avenue property pushing 90 years old (as is the case with 285 Madison, which was erected in 1926).
"The building has got new energy and for all intents and purposes, it's a brand new building," AJ Camhi, a senior vice president at RFR, told Commercial Observer. "It has the same, if not better, amenities than all the buildings in Midtown South. And there are no other buildings near to 285 Madison that offer the same amenities that we do."
The lounge, which is located on the ground floor behind the elevator banks, will be connected through an employee-reserved door to the planned 9,020-square-foot Benjamin's Steakhouse and a 1,040-square-foot café—both which were recently signed as retail tenants. Employees of tenants will be able to use the lounge as a cafeteria or meeting place, and there are flat screens mounted on the wall for teleconferencing. The recreational room of the roof also includes a kitchen for a change of scenery during a meal to reduce the stresses of a workday.
In addition to the amenities, the lobby was doubled in width and the ceiling height raised to nearly 25 feet. New elevator cabs were included in the renovation. And artwork, including an awkward, metallic creature called Tin Foil Man, was added throughout the building. The art with be rotated with art in other RFR buildings. (Mr. Rosen's hunger for art is legendary.)
Asking rent for the base of the tower is in the mid-$60s per square foot and the top of the structure will be priced around $80 per square foot. The typical financial tenants that have inhabited Midtown East for decades are showing great interest in 285 Madison.
Dirk Ziff's Ziff Capital Partners already has the entire 18,242-square-foot 20th floor of the building and GreyLock Capital Management has the entire 11,400-square-foot 24th floor for its offices, as Commercial Observer previously reported. And Mr. Camhi said that RFR has about 100,000 square feet of office space in negotiations with various tenants.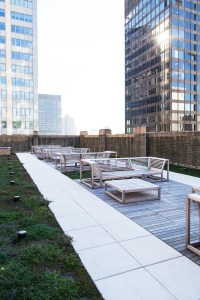 "As they are trying to change their typical Manhattan boring office structure, they are looking for something a bit different, which we can offer," Mr. Camhi said.
RFR is also pre-building suites of about 6,000 square feet each in the building to cater to smaller technology, advertising, media and information, or TAMI, tenants. In total, there will be about 30,000 square feet of offices in move-in condition.
"The idea is to a have a diversified tenant roster where you get the opportunity to bring in a tenant of 6,000 square feet that may grow within the building," Mr. Camhi said. "It's like the famous saying, 'build it and they will come.' "