Gameswoman Suzy Reingold Is Paving Her Own Way With a Real Estate Consultancy
---
---
At 68, Suzy Reingold has a bright future ahead of her.
For the last year, she has been running her own real estate consulting business and has bagged some big New York City clients like Colliers International and JRT Realty Group. She has also helped a recruiter find management-level owner's representatives and was hired as an expert witness in a commission dispute.
Armed with a law degree from New York University, Ms. Reingold was the first—and only—female real estate partner at the law firm of Schulte Roth & Zabel. She transitioned from the legal world to real estate, working for Related Companies, Shorenstein Properties, Edward J. Minskoff Equities, Insignia/ESG and most recently as the chief operating officer of the tristate region office at Cushman & Wakefield. Ms. Reingold left the firm in October 2014, one year after filing a $20 million age and gender discrimination lawsuit against the firm for "paying her less than men who performed equal work in jobs requiring equal skill, effort and responsibility, and ultimately by failing to promote her to the position of president of its New York tristate region," according to the suit. In December 2014, the suit was dismissed with prejudice. (C&W declined to comment on the suit and Ms. Reingold's attorney, David Sanford of Sanford Heisler, didn't respond to a request for comment.)
Ms. Reingold, who grew up in Stamford, Conn., works out of her apartment at The Sheffield at 322 West 57th Street between Eighth and Ninth Avenues. Commercial Observer met with Ms. Reingold last week in JRT's Midtown offices to find out what she's up to and how she got where she is.
Commercial Observer: What was your first job?
Ms. Reingold: The very first job I ever had was at Goldfarb & Fleece. They represent the Rudin family. And so I learned a lot about the leasing aspects of law right away.
Did you always think you wanted to be in law?
I worked as a legal secretary from the time I was 16. My father came home one day and said, "I got you a job." And I said, "I'm only 16. I don't want to go to work." [Laughs.] He said, "No, you gotta do something after school. You'll get in trouble." And he was probably right. I went to work for a couple of young attorneys who had just started a practice; I worked every afternoon and I typed and I wrote letters and learned what it was like in a law firm. Then I worked all through college and law school as a legal secretary.
You decided to stick with it?
I came home and I said to my parents, "I kind of enjoy this. I think I will be a legal secretary. I'll go to college for two years. That's what I'm going to do." And they said, "Nah, nah, nah, nah. If you're interested, then you're going to go to law school." My parents were very cool. My mom was born in 1912 but she was a college graduate and she went to college during the Depression. For them, education was the most important thing. My mother said, "You have to come out with something you can do, either teach, be a doctor, be a lawyer. Have something specific as a career so you can always take care of yourself."
What did your parents do for work?
Actually, my mother had gone back to work when I was fairly young. She was an executive at Bloomingdale's in Stamford and my father was a traveling salesman and then a retailer in the menswear business. So from the time I was fairly young I knew I was going to law school. It was just one of those things.
Was that something you were happy about?
It was fine. Believe it or not, it's probably the only thing I said "yes" to that my parents suggested. I was not an easy teenager, but for some reason I went along with that without any issue at all.
For how many years total did you work in law?
I'd say 10 years, because I left in 1981.
How did you go from working at Schulte Roth & Zabel to real estate?
One of my clients, Bernie Mendik, came to me and asked me to come work for him, not practice law, [but] be in charge of his portfolio, do the leasing, as an owner's representative. It was Mendik [Company]. It's now part of Vornado [Realty Trust].
You've never practiced law since?
You use the knowledge. I'm a member of the bar and I keep my continuing ed active. I'm licensed and everything. In fact, that's what I do a lot for JRT.
What does that entail?
[JRT Founder and Chief Executive Officer Jodi Pulice] has commission agreements for me to review or things like that, and business advice. 
Did you broker deals?
I've done deals as an owner's rep and I've done tenant deals here and there, but I've not been a promotional broker. In effect, since 1998, I've been on the management side of the business.
What can you tell me about your time at Cushman?
It was great. [Joseph Harbert, whom Ms. Reingold works with at Colliers (CIGI) today] was great to work with. We had a great team. We instituted a lot of processes and broker management tools that Cushman had never had before, making the brokers more accountable to management [and] at the same time making them more collaborative with each other, so that the working environment was much more amenable to people getting business rather than fighting each other for business.
What made you decide to file a lawsuit?
Here I have to start being really careful because there are things I can and cannot say.
It was settled, right?
It was resolved.
Going back to my question, what gave you the gumption to take legal action?
Because it was the right thing to do. I think if I see something that isn't right, I need to do what in my heart is necessary to rectify it.
How do you feel in hindsight?
No problem. I would have done the same thing all over again.
What do you do for Colliers?
For Colliers, what I've been doing for [Mr. Harbert] is I helped start a program called Accelerate, which is for entry-level brokers. And so I interviewed, hired, set up a training program—a very intensive training program for them—and I've been supervising that program.
When did you start working for him?
Feb. 1. I'm working on a consulting basis. The first thing for me to do was to start interviewing people. I interviewed about 40 people and hired nine. And actually one of the nine was already there, but wasn't getting very far and wanted to start over again.
So were you just brought in for the hiring push and launching the training?
Initially that's what I was brought in to do. I've had other projects I've been helping with.
'If I go back to figuring out what I earned on an hourly basis, I'm not working for less, I'm just working less. I didn't take a pay cut.'
What's been your success rate with the attendees?
So far they've all stuck. We haven't lost anybody, which is good. [She knocks wood.]
How much of your time do you spend working for Colliers?
I tried to come up with some new training because I get ideas of new classes so I'm structuring some new classes, getting that organized. I'll be doing some work with [Mr. Harbert] and somebody else over there on some senior initiatives, for the more senior brokers. I work 10 to 15 hours a week for Colliers. I sometimes work from home depending on what I'm doing. I go to all of the classes because you have to be there to make sure they go the right way. I try not to teach, but I bring speakers in. So it's prepping the teachers, making sure when they do teach that they are following what you asked them to and they're not off doing something different.
How often are you at JRT?
If JRT needs me to look at a document, they'll send it to me. I don't come here necessarily to do that. I might do that and call and [Ms. Pulice will] hear my comments. Sometimes I come in, but not that often.
You're doing some legal-related work, too.
There are two other things I'm doing. One is I'm working with a recruiter. The company is Keller Augusta. Kate Keller is the head. I've been helping her find real estate candidates. And the other thing I'm doing: I was hired to be an expert witness in a real estate lease commission dispute. I shouldn't be talking about the details of it.
Who and what?
It's a brokerage firm who is litigating against an owner of a property where the brokerage firm feels they were wrongly excluded from a commission.
Which side are you on?
I'm on the right side. We're representing the landlord.
You're setting out on a new career. Some people might have thought about retirement.
When I first left Cushman, I will admit, the first couple of months I called everybody I knew to find a quote unquote job. I had to go to work. And then after I started the consulting for [Mr. Harbert] and this project [at JRT], I liked the fact that I did it in my time. And so for the last year I've been working on my time schedule.
But you're not earning what you did.
No. But, if I go back to figuring out what I earned on an hourly basis, I'm not working for less, I'm just working less. I didn't take a pay cut.
Are you married?
No.
Divorced?
Oh, I was married 40 years ago for a short time.
So you're single.
I'm single. I have great nieces and nephews. I have a granddaughter even though I don't have children because I lived with somebody for 19 and a half years and I broke it off two and a half years ago. His granddaughter is mine because obviously I'm the only grandmother she ever really knew. So she and I are very close.
What do you do for fun?
That's another whole thing. [The] building I live in, The Sheffield, has a pool and a gym, so I swim. I take swim lessons, I use the gym, I have a trainer. And I really have just been enjoying the city.
Swimming lessons?
Not that I can't swim, but how to do it right, how to breathe better. Just like I have my trainer for the gym. [For] 25, 30 years my hobby was foxhunting and when I moved back to New York [full time] and left my significant other two and a half years ago, I sold my horses and I stopped. 
Where were you hunting?
I would commute every weekend to Virginia. Before that, I had my own pack of foxhounds going way back.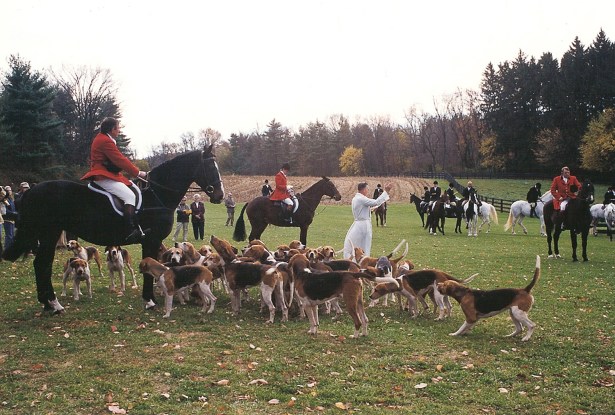 How many were in the pack?
I'd say about 60 English foxhounds.
When was the last time you went hunting?
Almost three years ago.
You miss it?
No, I was ready to move on.
322 West 57th Street
,
Bloomingdale's
,
David Sanford
,
Goldfarb & Fleece
,
Joseph Harbert
,
New York University
,
sanford & heisler
,
Schulte Roth & Zabel
,
Shorenstein Properties
,
Suzy Reingold
,
the sheffield
,
Colliers
,
Related Companies