After Being Walloped in 2009, Las Vegas is Back, Baby!
---
---
In the years following the Great Recession, New York investors went on the hunt for bargains in anticipation of a strong recovery.
Among the major destinations poised for a comeback few had greater potential than Las Vegas, which had been the fastest growing major city in America but was hit hard by the economic downturn.
Residential condominium unit owners fled en masse, construction on the strip ground to a halt and investors stood on the sidelines waiting for the right opportunity to pick up the pieces. In the last three years or so, a number of New York investment firms have placed their bets that the once-promising city in the desert would once again roll sevens.
"It's starting to come back now," said John Matt Stater, the research manager at Colliers International in Las Vegas. "We're seeing construction in the market primarily with industrial space. That's bringing in more industrial jobs."
Las Vegas had a record-breaking year in tourism last year, surpassing 42 million visitors for the first time and generating more than $50 billion in revenue, according to the Las Vegas Convention and Visitors Authority.
Commercial real estate investment was slightly down with $1.12 billion in investment sales on 171 transactions totaling 6.7 million square feet in 2015, compared with $1.36 billion on 280 sales totaling 9.1 million square feet the prior year, according to Colliers. Investment was led by industrial properties, Mr. Stater said, as warehouse and distribution space drove much of the new investment last year.
Asking rents for office space came in at $23.64 per square foot for the fourth quarter, up from $22.80 per square foot in the fourth quarter of 2014, while vacancy rates fell to 17.8 percent in the quarter, from 19.9 percent in the last three months of 2014. Asking rents for retail space rose nominally to $15.72 per square foot in the fourth quarter from $15.12 in fourth quarter 2014.
A partnership that includes Nakash Holdings, investor Eli Gindi and home curtains manufacturer Elyahu Cohen has completed its acquisition of the Showcase Mall in Las Vegas. The group completed its acquisition of the iconic property in December 2015 by paying about $83 million for the final 42,000-square-foot portion of the mall from investor Barry Feldman.
In 2014, the investors paid $145 million for a 190,000-square-foot portion of the mall and later acquired a 97,000-square-foot part for $139.5 million from Unilev Capital in January of 2015.
The iconic 330,000-square-foot mall, located at the southern end of the strip, includes a 100-foot Coca-Cola bottle on one side of the facade and an enormous bag of M&M's candy on the other.
"When you go to see this property it's like the Times Square of Las Vegas," said Jonathan Bennett, a managing director of Nakash Holdings, the investment arm of Jordache Enterprises. "There was upside in this first lease as far as some leases that were coming due."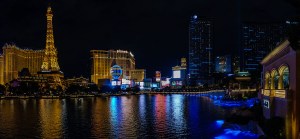 Mr. Bennett said the mall has a great roster of tenants, some with leases that go out for 15 years. There are plans to renovate the site, and the group is in negotiations with some "exciting new tenants," he said, that it plans to bring in the fold (he declined to cite specifics). He said architects a re already working on improvements at the mall.
Ladder Capital, the New York-based multifamily lender, and Pordes Residential Sales & Marketing, which is based out of Florida, have been in Las Vegas since 2013 when they acquired a stake in 427 units at the Veer Towers for $119 million from City Center, a venture between Dubai World and an affiliate of MGM Resorts.
"Typically when markets get overheated you get big busts," said Brian Harris, the chief executive officer and co-founder of Ladder. "We were able to pick up a very nice development in Veer Towers."
Blackstone has also made aggressive moves in anticipation of a recovery. The Manhattan-based private equity firm in 2013 acquired the Hughes Center, a 68-acre office park with 1.7 million square feet of space for $347 million. The firm also owns thousands of single-family homes in Las Vegas.
However the most compelling bit of real estate that Blackstone has acquired in Vegas is the Cosmopolitan of Las Vegas, which it bought for $1.73 billion in cash from Deutsche Bank in 2014, after the lender foreclosed on original developer Bruce Eichner in 2008.
 The massive property with 2,959 rooms and a 100,000-square-foot casino opened in 2010, when the gaming business was slumping badly, and has been one of the most high-profile underperforming assets on the strip.
"We saw what was fundamentally a great piece of real estate that was not being maximized from an operational standpoint," said
Tyler Henritze, a senior managing director of the real estate group at Blackstone.
Now the property is undergoing more than $100 million in renovations, including the addition of new restaurants, retail stores and entertainment that the company hopes will attract a wider range of hotel guests.
Recent upgrades include a custom-designed High Limit Slot lounge that opened in December 2015, a high stakes Talon Club with new table games that launched this month and an upgraded Race and Sports Book facility that doubled in size and just re-launched.
Also on the horizon for the Cosmopolitan are Beauty & Essex restaurant from the TAO Group and chef Chris Santos, opening 2016, a new restaurant, Eggslut, from chef Alvin Cailan, opening this summer, and a place for Japanese cuisine and cocktails, ZUMA, from chef Rainer Becker, opening late 2016.  
New York-based Trinity Hotel Investors in May 2015 acquired the former Hooters Casino Hotel from Canyon Capital Advisors in Los Angeles for more about $54 million and reportedly planned to enter a deal with IHG Hotels to manage the property. However a spokeswoman for IHG said no deal had been reached on management of the properties. Trinity officials did not return repeated requests for comment.
Starwood Hotels & Resorts in November signed the 1,613-room SLS Las Vegas, a three-tower property owned by Las Vegas Resort Holdings—it's fifth property in Sin City. The property's 289-room LUX Tower will be converted to a W Hotel after an extensive renovation this year, and the two other towers, called Story and World, have been rebranded under Starwood's newly launched Tribute Portfolio of independent hotels. Starwood officials were not immediately available for comment.
Barry Feldman
,
Brian Harris
,
Bruce Eichner
,
Colliers International
,
Eli Gindi
,
Elyahu Cohen
,
John Matt Stater
,
Jordache Enterprises
,
Ladder Capital
,
Nakash Holdings
,
Pordes Residential Sales & Marketing