New Rendering Revealed of Ian Schrager's 160 Leroy
---
---
Ian Schrager's 160 Leroy launched sales November 6th, with 40 percent of the apartments already in contract.
The 49-unit West Village condominium marks the third project Mr. Schrager has worked on with architecture firm Herzog & de Meuron—the first was 40 Bond, which Mr. Schrager was so impressed with that he selected the penthouse as his own residence. The following project, 215 Chrystie, is set to open in 2016.
As for the building's attention-getting curvy exterior, Mr. Schrager offered a rather practical explanation.
"Our basic approach was that there are 360 degrees, so why do we only do 90? Let's use all of them!" Mr. Schrager told Commercial Observer. "We did something curved, but for practical reasons—to maximize the view of the water; the Hudson River, down the Hudson River, and of the Financial District."
"When people talk about prewar buildings, and you realize that prewar was almost eighty years ago…" Mr. Schrager mused. "Prewar was almost eighty years ago…people live differently."
"We tried to get details of life, and design, and design an apartment the way modern people want to live today. I don't just mean millennials; I mean everybody, people of a certain kind of sensibility."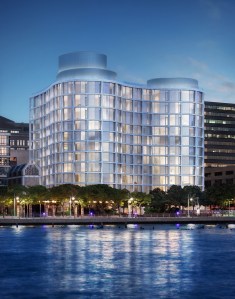 The 49 units in the building range from 1,100-square-foot one-bedrooms that start at $2.6 million to 6,000-square-foot five-bedrooms that start at $25 million. And, of course, there's the penthouse. Once again, Mr. Schrager is impressed with himself.
"I think it's the most spectacular penthouse in all of New York. It has a 7,500-square-foot roof deck. It has a private pool! I think it's the most spectacular, it's like a little park up there on the roof." The penthouse isn't yet available; Mr. Schrager told CO that it will probably be released in the spring. We do wonder how it will hold up when compared to Mr. Schrager's perch in 40 Bond.
The West Village has recently seen an influx of luxury condos, including 150 Charles and the Shephard. Mr. Schrager, however, isn't too concerned about the competition.
"I just don't think any of these other developments on that strip have a comparable level of finishes, or details, or sophistication that we have," Mr. Schrager declared. Christian Liaigre created custom furniture layouts (which can be purchased), and there's custom lighting by Arnold Chan. Features include 11- to 13-foot ceilings, imported Scandinavian floors, and Sivec marble, which Mr. Schrager boasted is "the same marble used in Roman baths."
Mr. Schrager enumerated the other perks: the building's courtyard, waterfront location, and selective amenities like a 70-foot pool and sauna.
"We've got 40 percent in contract already. In a market with an abundance of supply and a lot of product available, a lot of new product coming out to market, it just goes to show," Mr. Schrager said. "It's kind of reaffirming what I kind of live my whole life about—you do something really unique that people respond for."
For Mr. Schrager, whose past endeavors have included the Gramercy Park Hotel, and, of course, the legendary Studio 54, credits high standards for his success.
"We're pursuing excellence. Not that we don't want to make money—because we do—but money takes care of itself. We're trying to do something great."