Mini-World Tourist Attraction to Open in Times Square
---
---
Gulliver's Gate, a $30 million miniature-world tourist attraction, will be located in a 49,000-square-foot space on two floors of the former New York Times Building at 216 West 44th Street.
The operator of the display, which will include 300 3D-printed mini-sized buildings and areas such as Times Square and around Grand Central Terminal, signed a 15-year lease for the ground and second floors of the property, Crain's New York Business first reported.     
The asking rent for the ground floor was $300 per square foot and $100 per square foot for the second floor of the Kushner Companies-owned property. (Jared Kushner, the chief executive officer of Kushner Companies, is the publisher of the Commercial Observer).  
The tiny world will have a massive collection of places for patrons to look at, including the Panama Canal, Antarctica and even Mars. Admission for the tourist attraction will be $30 for adults. The kids' price was not disclosed, but will be discounted. Gulliver's Gate is expected to open in April 2017, according to a Kushner news release, and administrators of the project expect more than a 1 million visitors per year. It will also feature moving cars, planes taking off and even subways running underground.
"You can look into the windows from a skyscraper and then move below ground and see what's going on in the subways," Michael Langer, a co-founder of the project and a principal at Brooklyn-based real estate firm E&M Associates, told Commercial Observer. "There is so much happening to run a city of this size, so it's not just amazing, it's educational."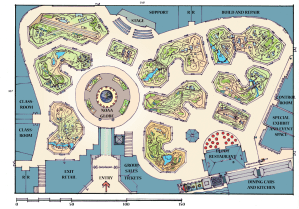 Mr. Langer told Commercial Observer that Gulliver's Gate will be taking about 2,000 square feet on the ground floor for a reception area, ticketing and a gift shop, while the second floor will house the exhibit.  
Erick Alberti of EFA Realty represented the tenant in the lease, and Gary Trock and Lon Rubackin at CBRE represented Kushner.
"Kushner Companies is thrilled to welcome this small world into our big city, where local families and visiting tourists can learn while enjoying the latest technological advances in experiential entertainment," Mr. Kushner said in the release.
While there are some mini-world attractions already out there, such as the Panorama of the City of New York at the Queens Museum (which is 9,335 square feet), the owners of Gulliver's Gate promise it will be a much better experience. One major feature, for example, will allow patrons to use a full-body scanner and make mini versions of themselves to insert small versions of themselves in Gulliver's Gate.

"This will be unlike any other mini-attraction in the world, thanks to the state-of-the-art technology and the truly remarkable design we are creating in the tourist capital of the world," said Eiran Gazit, a co-founder and the CEO of Gulliver's Gate.