Hightower Unveils New Leasing Platform For Tenant Reps
---
---
While landlords and their brokers have been able to cast aside Excel spreadsheets to manage their leasing business in favor of Hightower's online platform, tenant reps have been left in the dark.
But as of a week ago, the commercial leasing management company introduced such a product specifically for tenant brokers.
"This is going to create a very clear competitive advantage for tenant rep brokers," Brandon Weber, the founder and chief executive officer of Hightower, told Commercial Observer.
With the new product, tenant rep brokers can manage everything (documents, contacts, analyses, etc.) related to their pursuits, deals and clients from one mobile and Web interface; track the buildings they are looking at and the proposal terms associated with them; generate side-by-side financial analyses for proposals; invite partner brokers and clients (the latter for free) to collaborate directly on specific deals; track potential commission revenue and next actions with reminders; and manage their market data like tenants in the market and comps.
"We're the only platform in the industry that has a leasing solution for commercial landlords, agency brokers and tenant rep brokers," he said.
The new Hightower tenant product took between six and nine months to develop in collaboration with 50-plus tenant reps from major brokerages in Washington, D.C., New Jersey, San Francisco and Seattle, Mr. Weber said. The company finished the beta period with 120 users and just a week after launching, they have 150 broker sign-ups. Ten percent of them are in New York City and Long Island and 600 deals have already been added to the system. The cost of the current product is free and for-pay components will be added over time. (Thrive Capital is an investor in Hightower; Thrive is run by Josh Kushner, brother of Commercial Observer publisher Jared Kushner.)
Jayson Siano, a managing principal at Garden City, NY-based Sabre Real Estate Group, has been using the tenant rep platform since it was in beta mode. He has found it most useful to stay organized. Prior to his trial period, he said he primarily used Dropbox and Google documents to manage his tenant business.
"I do a pretty significant volume of transactions," Mr. Siano said, and the new Hightower tenant product "helps me and my assistant stay on top of all of the deals I'm working on. What's really nice about it is the mobile platform. I can upload a letter of intent and other information on the deal. It's all there on my iPhone."
Mr. Siano said his company rolled out Hightower's landlord module across his organization a while ago and it has been beneficial as all brokers on a project, as well as the client, can see updates in real-time.
Ryan Miller, a tenant broker and first vice president for CBRE in Tysons Corner, Va., has also found the new platform instrumental.
"We thought it would better help manage our practice and allow us to be more interactive with our tenant clients," Mr. Miller said. "It's a great way to track the information and give our tenant visibility. They get access to the platform. They get visibility into the work we are doing on their behalf."
Since launching in July 2013, Hightower has become a leader in commercial leasing process digitization and commercial real estate executives have warmed to the idea. Hightower's customers have included New York City brokers from Newmark Grubb Knight Frank, as well as JLL and Cushman & Wakefield. There are almost 100 institutional owners on the platform, Mr. Weber said, with over 3,000 active users. The landlord rep platform costs $99 per month and the owner platform is sold on a price per square foot basis, depending on the type of real estate and other factors.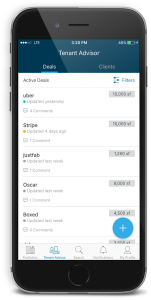 In February, Hightower teamed up with Floored, an interactive 3-D property visualization company to allow potential tenants and brokers to take virtual tours of a property, as CO reported in February. The partnership has made Hightower the only leasing platform to offer 3-D tours on a mobile application.
With Hightower, brokers can see what their business looks like in terms of potential revenue. They can see their commission pipeline for existing and potential business. The tenant product will allow brokers to keep track of everything they are working on so that "no balls get dropped," Mr. Weber said.
Real estate asset management platform VTS has been a big competitor to Hightower, and is working on its own tenant rep platform.
Ryan Masiello, a founder and the chief revenue officer for VTS, said his company is currently in beta-launch mode for a tenant rep platform and the product will be released early next year.
"We do have a tenant rep platform and it's far superior to [Hightower's]," Mr. Masiello emailed CO. "We have 10 times the tenant rep experience internally and are working with the biggest brokers on planet earth to build this portion of VTS." Those big brokers, he said, include Peter Riguardi, the president of the New York region for JLL (with whom Mr. Masiello used to work closely at JLL), and Robert Alexander, the chairman of the New York tri-state region of CBRE.
"VTS tenant rep platform gives the tenant rep brokers the data they need so that they can make the best judgment with presenting information to users of space, who are trying to track which buildings are the most active and understand deal comps," Mr. Riguardi told CO.
VTS executives don't seem to be sweating the competition.
Hightower boasts that it is at an 80 percent win rate for competitive trials with VTS. A spokeswoman for Hightower noted: "We encourage landlords and brokers to evaluate both platforms and make an informed decision."
Brandon Weber
,
Floored
,
Hightower
,
Jared Kushner
,
Jayson Siano
,
JLL
,
Josh Kushner
,
Newmark Knight Frank
,
Peter Riguardi
,
Robert Alexander
,
Ryan Masiello
,
Ryan Miller
,
Sabre Real Estate Group
,
Thrive Capital
,
VTS
,
CBRE