Bringing Residential Aesthetics to Cutting-Edge Office Design
---
---
Sponsored Content
Essential Design + Build, a New York-based design and construction firm, differentiates themselves in the industry as an innovative turnkey contractor with full architectural, construction, interior design, and decorating expertise. Having built a solid reputation for top-quality craftsmanship since 1971, they  collaborate directly with clients and other creative partners on design, planning and implementation to achieve spectacular, award-winning results.
Their versatile office staff, which consists of architectural and interior designers, project managers, field superintendents and others fluent with DOB expediting, work together with project teams, clients and owners to create magnificent spaces to meet any need. Additionally, in the field, Essential Design + Build retains a field crew consisting of carpenters and laborers.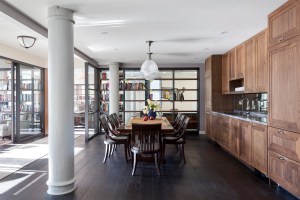 Utilizing this depth of talent, their full range of services can be tailored to suit any space in the commercial, residential, retail, hospitality and industrial sectors. The company regularly updates their software and exposure to new materials in order to maintain cutting-edge capabilities in designing, rendering and constructing innovative projects for their clients.
Among the many impressive projects in their vast portfolio, the company recently completed the construction of a new working environment for the New York offices of a longstanding national media company. The high end commercial space, located in a landmark Union Square office building, integrates details both old and new for a residential feel rooted in history and libraries, while maintaining modern specs and luxury. As the general contractor on the project, Essential Design + Build coordinated with architectural firm, thread collective and design firm, Dan Fink Studio, to create the exceptional space.
Under the reliable oversight of Essential Design + Build, this prestigious client now has the distinction of being the building's first full floor tenant. The offices boast a light-filled, airy space, with three exposures and expansive views of the park and inspiring cityscape from its generous windows. According to Rich Hiler, president, Essential Design + Build, "The space provides something different, bringing a cozy feel to a commercial space, complete with a walnut wood and marble pantry as the communal gathering spot for the staff to collaborate and reconnect."
Working alongside the building owner on substantive infrastructure improvements, which included the installation of new windows throughout the building, Essential Design + Build was able to complete the work within an aggressive timetable of under 16 weeks from DOB approvals. The ambitious renovation included all new mechanical, electrical, plumbing and sprinkler infrastructure as well as custom millwork, shelving and glass wall systems, and tile and stone finishes.
With its inviting communal pantry space, class-A library and comfortable surroundings, the end result is not just an office but also a real home for the company.