How Tyler Morse Went From Ski Instructor to Constructing JFK's Hotel
---
---
Hotelier Tyler Morse's earliest influence in the hospitality industry came from skiing trips at resorts, both foreign and domestic, with his family.
Born and bred in Los Angeles, Mr. Morse shred the slopes of mountains from Europe to Colorado. While it was never his goal to become a professional skier, he continued his pastime by working at local ski resorts. Then he went global.
At 19 years old, Mr. Morse traveled to Chile to be a ski instructor at Termas de Chillán Ski & Spa Resort. With no job, he sold his car to afford a plane ticket and flew with a Costa Rican airline to Santiago, Chile.
"I stayed in a fleabag rat trap for $2.50 a night," Mr. Morse, now 40, told Commercial Observer. "You had to bring your own lock. It was one bathroom for the entire hotel. And it was amazing."
Mr. Morse was also a ski instructor at Squaw Valley Ski Resort in California—the site of the 1960 Winter Olympics—and was a part of the ski patrol at Mammoth Mountain, also in California.
But he never planned to work on the slopes forever. A graduate of University of California, Berkeley and Harvard Business School, Mr. Morse began his professional career at Ernst & Young as an accountant, and also worked at Morgan Stanley as an investment banker.
And prior to founding MCR Development in 2006, he worked as an assistant to Barry Sternlicht, the chief executive officer of Starwood Hotels & Resorts Worldwide.
Today he is the CEO of MCR and lives in Chelsea with his wife and two daughters. The company has 88 hotels around the country (he's traveled to about 95 countries, and stayed in 1,000 different hotels) many of which are Marriott and Hilton brands, and Mr. Morse claims it's the seventh largest hotel owner and operator in the country.
And soon to be added to MCR's portfolio will be a $265 million, 505-room hotel at the JFK TWA (Trans World Airlines) Flight Center. The Port Authority of New York & New Jersey recently approved a 75-year lease to MCR and JetBlue to convert the landmarked building and operate the hotel. The hotel will be MCR's largest in the country and includes 40,000 square feet of meeting space, restaurants, a spa and a 10,000-square-foot observation deck. It is expected to open in 2018.
Among his properties is the 60-room High Line Hotel, which was converted two years ago from a red-brick seminary that dates back the mid-1800s. Commercial Observer sat with him there to discuss the ins and outs of the hotel business.
Commercial Observer: As someone who is in the hotel business, you have no doubt seen a diverse mix of people and places. Why do you choose to live in Chelsea?
Mr. Morse: I love it. I love the artists, the gallerists. We had an event here [at The High Line Hotel] the other day that was the Facebook hackathon. So it was all the coders with their headphones on hacking away, whatever that is. Google is right over there [at 111 Eighth Avenue]. The restaurant scene is great Downtown. It is a very eclectic mix.
What do you think of the High Line?
The High Line has brought a lot of very interesting people Downtown. If you go on the High Line for one hour, you will probably hear 15 different languages just from other people walking up and down [it].
So at 19 how does one say, "I want to become a ski instructor in Chile?"  
I taught skiing at Squaw Valley in Lake Tahoe, Calif. for two years prior to that. And I had so much fun; the South American winter is in the summertime, so I wanted to just keep going. So I jumped on a plane, and I had no job, sold my [Volkswagen] Jetta and I flew I think it was called Lacsa—I don't think that airline is around anymore. But I stopped six times from Los Angeles to Santiago, Chile. It was a great experience, but I stayed in a filthy, dirty hotel there.
Having been to 95 countries, what have been some of your favorite places?
I had a great trip to Tokyo about two years ago. My wife and I just jumped on a plane and went to Japan. We wanted to stay in that hotel where Lost in Translation was filmed. That was a ton of fun. That's the Park Hyatt Tokyo. They have a pool on the 50th floor of the building. I [also] took a great trip to Africa. I climbed Mount Kilimanjaro.
What's your travel routine like?
We always rent cars wherever we go, instead of taking buses or taxis. Even if it's a big pain in the ass to deal with some weird insurance stuff. We rent cars so you can experience getting lost, so that you can kind of fend for yourself, if you will. We were traveling in Cuba one time and unbeknownst to us our gas tank was filled with water. And so that killed the car. And we had to get towed across the island of Cuba. They don't have AAA in Cuba.
What propels you to visit so many places?
I think it's an enjoyment of breadth of experience. As the world becomes more homogenous and more consistent from Europe to Asia to the United States, I think it creates a greater need to expand your horizons and see interesting things and have different experiences. People speak English everywhere now. Twenty-five years ago, that was very different. Now you go anywhere and it's all English.
After starting off as an accountant at Ernst & Young, how did you transition into real estate?
So after Ernst & Young, I did investment banking for Morgan Stanley. And then I went to [Harvard Business School]. When I got out of graduate school, I worked for a hotel company, Starwood Hotels. Working for a hotel company was a perfect intersection for me—finance, real estate and travel, because real estate and development is a ton of fun, and it's very complex and challenging.
Why hotels?
Hotels kind of bring all those pieces together and it's not just real estate. Just real estate is owning an office building—you collect rent, you build it, you collect rent. It's very profitable, it's a good business, but hotels are more of an operating business. And you could really have an impact on the guests and the team through policies and procedures—whereas an office building doesn't have employees, per se. It has tenants, but not really employees. But hotels are incredibly dynamic and have to change with the times and their character matters. I was always attracted to that. I like traveling and I like staying at hotels. When I go on trips now, I go visit other hotels for fun.
What do you think about the status of hotels in the city?
Oversupplied. New York City—I should be specific, Manhattan—used to have 70,000 hotel rooms; it's approaching 100,000 hotel rooms. So that's where the product needs to be even more differentiated to have an impact. There is a lot of cookie-cutter product out there. So The High Line Hotel is very unique as are some of the other products that we are working on.
Is there a bubble in New York City's hotel industry?
If you go back 30 years in New York City, the city is always full. There are always people who want to stay in New York City. It's a question of what the rate is, the ADR, the average daily rate. And RevPAR—revenue per available room—in New York City over the past couple of years is down 3 or 4 percent. The hotels are full, but it's a good economy right now and hotels can't push rates.
"The building has been closed for 15 years. It's been in the dark. So relaunching the building to the public and having the public be able to experience Eero Saarinen's masterpiece is very important."
There is a lot of focus right now on developing hotels in the outer boroughs. Are you sold on that?
Specifically, we are not interested in Brooklyn. There is a lot of activity in Brooklyn. Generally speaking, construction costs are the same as Manhattan, but the rate is lower. So it's a fairly simple mathematically equation.
How about Long Island City in Queens?
Same equation. Long Island City is the same cost to build, but lower rate.
So you'd prefer to just do projects in Manhattan when it comes to New York City?
I think you need a point of differentiation. We are not interested in doing a cookie-cutter here in Manhattan, because the building costs are so high and the land costs are so high. Where the majority of our hotels are, the land is reasonable and the cost to build is reasonable. But land in Manhattan is very expensive and so is the cost to build, so you need a high room rate and I think that a high room rate is becoming harder and harder to come by.
It must have been tough to start a hotel business two years before the recession.
From a RevPAR perspective, it was pretty rough. Rates fell a lot. Occupancies fell a lot. People weren't traveling. Corporate budgets were cut. Back then, gas prices were very high. People weren't driving that much. You kind of had a perfect storm of things that hurt the hotel business.
How did you navigate through the perfect storm?
Very carefully. I think we had good partners. We have good products. We didn't over-leverage any of our hotels. We have never blown a debt covenant. We have never had a loan issue. We have never gone bankrupt. I think that was a fairly conservative, disciplined investment strategy.  
Before you jumped into The High Line Hotel project, what about the building piqued your interest?
I think the architecture is spectacular. It's just such a unique place to stay. I think Chelsea is quite a discerning crowd. It attracts a discerning crowd, as contrasted to a Times Square or Midtown. It's not bankers and lawyers. It's not the tourists here to see Elmo in Times Square. That's a very vibrant market. It's a great marketplace, but this is a growing, artistic, eclectic neighborhood that I think appreciates a product like this.
What kind of feeling do you want people to have when they come in here?
I hope they see the unique character of the building and they appreciate it: the unique books, the unique furniture, but being mixed with modern technology. The theme of the hotel is vintage eclectic Americana. So it's kind of a mouthful. It's collegiate Gothic. This building goes back to the 18th century. It's old New York; it's from the first settlers in New York. The Hudson River used to cross the corner of the property. The building across and everything west of us is landfill. The [original] deed of this property is written in longhand, in kind of old English. It says, "This deed is hereby bequeathed under the Constitution of the United States of America." It's very rare. We own a lot of property, and the deed does not reference the Constitution of the United States. But when a deed is written in 1792, it references the Constitution because that's the source document. It's older than vintage.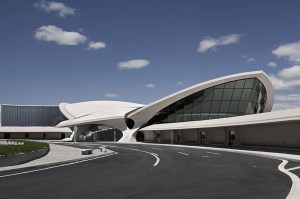 How did you get together with JetBlue for the JFK TWA Flight Center hotel project?
Well, it's a natural connection, because they are physically connected to the building. And we met and we hit it off. And it's been a great team effort. It's certainly a notable project. This is a very important building and so we are taking it very seriously.
What makes the building so special?  
The building has been closed for 15 years. It's been in the dark. So relaunching the building to the public and having the public be able to experience Eero Saarinen's masterpiece is very important. The building was commissioned by Howard Hughes—he owned TWA at the time—and it was a cutting-edge building, then and now. It's one of the youngest buildings ever to be landmarked. I think it's visually spectacular and structurally spectacular. Its 125,000-square-foot volume is held up by four points of contact with the ground. It has columnless space, and remember: this building was designed pre-computers.
What sort of things will the center feature besides the hotel?
There is going to be a museum component to the project as well and we really are going to showcase a few things: TWA as an air carrier and TWA versus Pan Am, the head-to-head race. It was the race to Europe, it was the race for the first transcontinental flight. And it's a fascinating history: Howard Hughes versus Juan Trippe. Number two is the coming of the jet age in New York City. All the big carriers were based here, from Pan Am, TWA [to] American Airlines. It was a really exciting period.
Are you only going to work on the interior, since the building is landmarked?
Various spaces are landmarked, not the entirety of the building that you see sitting there today is historically significant. There is some stuff that was built in the 1980s that was tacked onto the building. We are bringing the building back to how it was in 1962. From a rehabilitation standpoint, it is going to be just as it was in 1962, including the ethos of the era—not just the building, but the spirit.