Landlords Are Curbing Big Starbucks Offers, Making Way for Artisanal Coffee Joints
---
---
If you've entered Grand Central Terminal from Lexington Avenue lately, you might have noticed that the Starbucks Coffee long occupying a 759-square-foot space is gone, with another coffee shop in its place.
When the longtime tenant's lease in that store expired last year (it has another location in the terminal), the Metropolitan Transportation Authority put out bids for another retailer to come in. Starbucks put in an offer—as did the Brooklyn-born Café Grumpy, which has five other locations, including Manhattan's Chelsea and Brooklyn's Park Slope. Grumpy eventually opened at the rail hub.
Although Starbucks bid $315,700 more in rent over a 10-year period, an MTA spokesman said the entity wanted a more eclectic brew of local and national retailers in the terminal. A retailer with more than two locations wasn't necessarily banned, but independent or smaller outfits were preferred. 
"We try to maintain a diverse mix of retailers," the spokesman said in a statement, "with a healthy representation of local stores, because we believe that in the long run, Grand Central will attract more people and make more money for us if we have an interesting and unique selection of stores. For this reason, we seek to limit instances where one chain has more than one branch in Grand Central."  
This is just one example of how the coffee scene is changing all over the city, but particularly in the heart of Manhattan. When it comes to hipper, trendier areas to the south of Midtown, such as Chelsea, the Flatiron District or the Meatpacking District, landlords are opting for the Café Grumpys, the Caffé Benes and other coffee establishments with just a few stores and coffee that might take a bit longer to brew. While these shops might not have the wherewithal of Starbucks, they're ushering in another wave of coffee drinkers who are choosing coffee companies with unique character.
"There are more artisan and organic coffee shops than ever before," said Alexander Hill, the founder and managing principal of AHA Real Estate Group, who works with coffee retailers and restaurants. "The buzz is a combination of caffeine and customer loyalty to boutique brands, which all differentiate themselves well—I don't see coffee shops going out anytime soon." 
One of those retailers gaining a foothold in Chelsea, especially along the High Line, is Blue Bottle, a California-based company that first came to Williamsburg about eight years ago. The company has a spot at 450 West 15th Street between Ninth and 10th Avenues, as well as a station literally on the High Line at 10th Avenue and West 16th Street.
Blue Bottle has been aiming at interesting real estate with "character," said Matthew Seigel of Thor Retail Advisors, who the company hired to find new locations about six months ago (Thor wasn't on the Chelsea deal). Its first deal was at a Bushwick warehouse, in which Blue Bottle took 15,000 square feet to roast beans for its New York City operations, as well as for a café and bakery.
"In retail in general, it's all about authenticity," Mr. Seigel said. "Blue Bottle built this business because their founder and their team are crazy about quality control and product."
Mr. Seigel doesn't seem to think the coffee chain's emergence will chip away too much at the Starbucks crowd, adding that Blue Bottle is serving a different kind of coffee consumer. Instead, he said, it's drawn a steady following of coffee drinkers who have the time and are willing to wait a few minutes for a drip cup of coffee.
"People who know the brand and know the product really live by it," Mr. Seigel said. "It's a very sticky customer and it's a young customer. It's the audience that most of these coffee purveyors really want to reach."
On a larger scale, the South Korea-based Caffé Bene has been blitzing New York City with its locations, and has been on the offensive in the lower regions of Midtown South. Last month, it took a two-level space at 33 Barrow Street in Greenwich Village at the intersection of Bleecker Street and Seventh Avenue South.
That followed a June deal in which Caffé Bene took 800 square feet at 24 St. Mark's Place in the East Village, as Commercial Observer previously reported. Brokers on the deal said at the time that Caffé Bene was hoping to hit the New York University crowd, as well as tech employees at 51 Astor Place, which is a block away.
Starbucks, meanwhile, seems to be shifting how and where it operates in the Big Apple. In March, CO reported that some of the company's longtime New York City locations were being priced out as their lengthy leases expired. Starbucks' sizable Lincoln Center location with 2,811 square feet at 156 Columbus Avenue is on the market, and a tenant can assume the space next January.
At the same time, Starbucks opened another outpost at the Empire State Building. But it's not another traditional store: it is delivery-only—meaning, a barista essentially delivers a drink to workers in the building. (There's no place to sit down.) David Firestein of SCG Retail, the coffee brewer's broker in Manhattan, declined to comment for this story.
But other institutional landlords are taking a different route and opting for the type of coffee house that doesn't have many locations. That was the case in the Related Companies' Abington House at 500 West 30th Street, just south of its Hudson Yards project. The developer signed Think Coffee to about 1,000 square feet of retail at the base of the 312-unit rental building.
Daria Salusbury, a senior vice president at Related, said the landlord was attracted to Think Coffee because it only had a handful of outposts in the city—most of which were based in Midtown South. Instead of something that might have the overhead of a big coffee company, she said Related wanted a coffee retailer that jibed with the urban, independent culture in Chelsea.
"It just seemed like an ideal spot for them," Ms. Salusbury said. "We like the fact that there aren't a ton of Think Coffees all over the place."
Having a coffee shop in a building serves both the residents heading out in the morning who need a pick-me-up, as well as the neighborhood as a whole, she added.
"Dunkin' Donuts is great, and I've had my fair share of Dunkin' Donuts and I love them," Ms. Salusbury said. "[But] with a lot of these different boutique cafés, they really bring a different perspective to the neighborhood. I think they actually add to the neighborhood."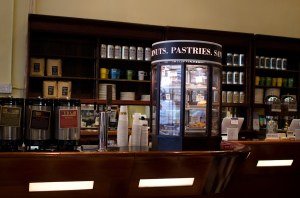 The same goes for office tenants at Two Trees Management Company's 50 West 23rd Street in the Flatiron District. The landlord has been attracting tech companies such as SoundCloud and electronics retailer DataVision to its sole commercial holding in Manhattan. Two Trees signed the Brooklyn Roasting Company, a coffee company with three locations in its namesake borough, which opened in 3,000 square feet on West 23rd Street this May.
Two Trees, which has long been focused on the Dumbo section of Brooklyn, wanted to bring some of the borough's flair to the Flatiron District building, Principal Jed Walentas told CO via a spokeswoman. Two Trees' goal was to attract tech tenants in that neighborhood the same way it had in Dumbo, and Brooklyn Roasting Company became a part of that lure.
"New Yorkers like supporting their home-grown businesses," Mr. Walentas said. "Brooklyn Roasting Company is a local success story that's turning out a great product that residents love, and we're excited to have them in the Flatiron District."
With additional reporting by Lauren Elkies Schram
450 West 15th Street
,
50 West 23rd Street
,
Abington House
,
Blue Bottle Coffee
,
Cafe Grumpy
,
Caffe Bene
,
Food & Drink
,
Grand Central Terminal
,
Matthew Seigel
,
Related Companies
,
Starbucks Coffee
,
Two Trees Management Company